Rate Now
Share Your Experience
Have you seen Dr. Mark Wayne?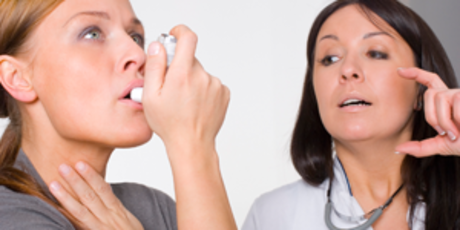 Asthma
More than 22 million Americans of all ages have asthma. Prepare to talk to your doctor about symptoms, diagnosis and treatment options.
Quality Rating
Highly Satisfied
30 Ratings with 8 Comments
1.0 Rating
April 16th, 2016
I would leave no stars if I could. Worst Dr. I have ever took my kids to see. No bed side manners. I think he chose the wrong profession. Took my son in for a fever. He said it was a cold. Sorry but my son is asthmatic and doesn't ever get a fever from just a cold. His body was fighting something obviously... Hint the fever. He refused antibiotics which was ok. But he didn't exam my son well enough knowing he has asthma and always get upper respiratory infections or strep. He only did a flu test. This was a Friday and my husband took him in to see dr Wayne. Being a concerned mom with a 5 yr old who's fever wasn't breaking with meds or bath I called the nurse to see if he could call in antibiotics since we were going into the weekend. Dr Wayne called me back sounding irritated by my concerns and told me I should've taken my son in instead of my husband if I'm so concerned. I was at complete shock from his response I just ended the call. Well come Sunday I took my son into the ER and he developed pneumonia. Which I believe could've have been prevented if he would've did a thorough check.. Especially since he's asthmatic and could get upper respiratory infection. But besides all of that, I'm still in shock with his bed side manners. Also while sharing this story I've come to find out others who have experienced same horrible bed side manners. How does he still have his practice?
2.0 Rating
August 21st, 2015
My child (age 4) was sick (fever, cough) and he took a throat swab with a negative rapid strep result so he sent it off for culture. 2 days later the symptoms were worse (high fever, incessant non-productive cough, loss of appetite, one loose stool). I went back and he wouldn't see him for the same reason and told nurse to tell me it sounded like a virus and to treat the fever and wait for the culture. It was Friday and the culture wasn't due until Saturday and even if the culture was negative, he clearly has more going on than a virus and needs to be looked at. Their office is closed until Monday. I took my child elsewhere on Friday and he was seen and diagnosed with strep and given an antibiotic. Fever free by the next morning. I don't know if perhaps it is an insurance thing or an arrogance thing that caused him to turn my baby away for a second visit for worsening symptoms... but I am a frustrated Mama who will not be going back there.
1.0 Rating
February 4th, 2013
Didnt run test and that lead to our son getting pneumonia
I must first say bedside manner is great, and we can be seen the same day. However, his "children get sick attitude" made our son get very sick to the point on pneumonia. I took him in on a Monday with a cough that was not very bad, he checked his ears, throat, and eyes, however never ran any test. he told me if he runs a fever come back, but he never ran a fever. Our son ended up having RSV which lead to pneumonia.
5.0 Rating
January 27th, 2013
Very Caring!
My daughter has been seeing Dr. Wayne since she was born five years ago and we have been very happy with the relationship. Dr. Wayne listens to mom but then allows our daughter to tell him how she is doing and what is bothering her. When she was younger and shy, he took time to draw her out of her shell. Except for shots, my daughter loves going to visit Dr. Wayne!
5.0 Rating
October 28th, 2011
5.0 Rating
March 22nd, 2010
5.0 Rating
February 24th, 2010
No nonsense approach
Dr Wayne was the pediatrician on call when my younger son was born nine years ago, and we have seen him ever since. We even switched my older son to him after a few visits because we were impressed with his rapport with the boys. He has always listened to our concerns, and had very logical and reasonable approaches to resolving them. He has been interested in their emotional development as well as their physical development through the years. He does not prescribe antibiotics unless necessary, and he does believe very strongly in proper immunizations. He is very candid and straightforward about things; I can see that some parents would not appreciate that aspect of his "bedside manner" but I think it's what sets him apart. He is realistic and is not afraid to tell you when you are worrying too much. We've been through broken bones, mono, and eating issues, as well as the regular slew of colds, flu, stomach bugs, etc., and have always felt that he has been helpful and supportive in resolving the problems.
1.0 Rating
October 24th, 2009
Ignored my 4 year old who has MRSA infection
Saw our regular Dr. during the week who diagnosed our 4 year old with MRSA. Our Dr. prescribed Bactrim. The Dr's office calls on Sat. to tell us the MRSA is resistant to the Bactrim and that they will call a different ABX in to the pharmacy. 5 hours later, no call and no ABX(antibiotics) We called repeatedly to motivate them to call in a script that would work. After a 20 min. wait for the nurse to come back she tells us the Dr. is right there next to her but must first see 2 more patients before he can approve a med to treat her MRSA. A 4 year with a life-threatening condition can wait over people that are just now seeing the Dr. Hmmmmmmmmmm....It would take 2-4 minutes to look in the records and have the nurse call in the script. You make the decision. Do you want your child to be taken care of by this Dr?
5.0 Rating
May 17th, 2017
5.0 Rating
July 30th, 2016
4.0 Rating
July 14th, 2016