Rate Now
Share Your Experience
Have you seen Dr. Marlyn Leisy?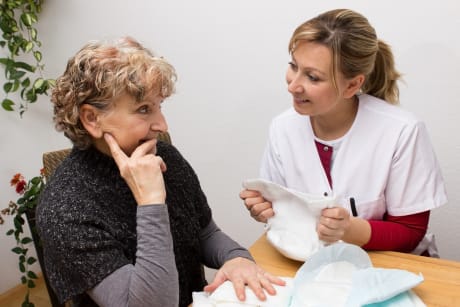 Urinary Incontinence
Learn about the symptoms and causes of urinary incontinence or urge incontinence.
21 Ratings with 13 Comments
5.0 Rating
February 7th, 2017
Dr Leisy is a great Doctor
1.0 Rating
August 25th, 2016
Confusion and Tears: One Horrible Roller Coaster Ride
I left my first appointment with this doctor in tears.She was rude and did not care about anything I had to say.Even felt like she needed to comment excessively about my breast augmentation(which had NOTHING to do with my appointment). Imagine a unpleasant mother-in-law...that is the vibe you will get. I should have run but followed through with a SIS procedure where she found a "substantial fibroid" that ended up not being that substantial after I paid yet another co-pay and didn't need surgery after all. You will wait for hours...and you will leave in pieces. I was told on one appointment, six different times, that I was 35...as in, why am I wasting time worrying about an irregular cycle because I'm too old anyway to do anything. This was just a bizarre, frustrating, and heartbreaking experience beginning to end. Went in for my annual and left with a list of procedures, blood work, etc. that did not amount to anything other than money out of my pocket. I feel for her support staff, because when they would call me back with results they too seemed confused by her notes and excessive follow-up appointments. The one good thing I can say is that she was kind enough to refer me elsewhere. Adios!
1.0 Rating
April 15th, 2016
Don't walk, run
2.0 Rating
December 3rd, 2015
LONG wait times
Her bed side manner is like a cold robot with a smile. Does not seem to genuinely care. I recently have waited with my 4 year old for a "informative" pre colposcopy appt . Just for her to talk to me for five minutes-for THREE hours. When I came in to do my procedure... I waited and waited again only to be left saying she had to leave to go deliver a baby- and that I could reschedule...LOL I mean I know that she also delivers babies... But really I felt like it could have been handled better. I ended up asking if another dr could perform my colposcopy- which I was lucky it worked out. I am sorely disappointed with her. I am switching practices now.
1.0 Rating
October 7th, 2014
Rude, horrible bedside manner, long wait times, rude staff, worse experience ever. Will NOT be going back to a place where I'm treated as a number and staff has no compassion for their patients. Courtney and Kathy are beyond rude, as was Leisy the entire pregnancy. STAY AWAY from this place. They are THAT bad!
1.0 Rating
July 4th, 2013
Dr. Leisy is not my primary dr. My doctor Dr. Cottom is great! I was rescheduled to see Leisy after cottom was going to be out for the week. I didn't think anything of it, since my experience with the office and Cottam has been nothing but good. Well... Little did I know what was in store for me. I am a high risk patient due to type 1 diabetes. I take very good care if myself and see high risk specialists throughout my pregnancy at UT hospital. I am in tight control of my disease and have been very proud of myself and how I've managed my disease throughout pregnancy. Dr Leisy.... Not knowing anything about me, drilled me on my condition and made me feel like I knew nothing and was doing nothing right. When I stood my ground with her, she quickly dismissed me and the appt was over. Horrific experience! DO NOT see her if you are high risk patient. She has no compassion and does not listen worth a darn. I hope I have helped someone else avoid a situation like this in the future. Btw... I called my high risk dr at UT to explain what happened and make sure I am not doing anything to harm my baby and she told me not to think another thing about it.... This dr Leisy must have a "reputation" in the medical field!
1.0 Rating
June 10th, 2013
terrible - keep looking
5.0 Rating
January 28th, 2013
caring doctor
5.0 Rating
January 22nd, 2013
Excellent OB!
I love having doctor Leisy as my OB. She spends time with each patient so they get a full understanding of what's going on and why and to answer any questions you may have. I have never had any problems. My wait time sometimes were long but it's a doctors office and anything is possible. She was always there during my pregnancy in 2011. I highly recommend her to anyone.
1.0 Rating
November 13th, 2012
This office is terrible. The staff does not care about you as a patient. You are only a NUMBER to them. You are treated like cattle run through a stock yard. If you have questions or concerns after the visit you are treated like an idiot and a waste of their time. A patient suffering is no concern to them.
1.0 Rating
March 30th, 2012
Run away as fast as you can!!!
I went to this doctor for my first pregnancy and I wish I had anything positive to say about this woman at all. It was horrific from the first appointment to delivery. It is my fault that I never switched doctors thru this process. My first appointment was over five hours long and I maybe had a total of 15-20 min of actual interaction with staff. The new nurse barely speaks any English and you spend most of your time asking her "what". It got to the point I had to threaten to leave every appointment after an hour and a half of waiting and magically I would end up in a room. When leisy actually cam in the appt would generally last 1.5-2 min. Ridiculous.
1.0 Rating
February 3rd, 2011
I am very disappointed with this Dr and her group. There are several reasons why I will be finding another group soon. First, the wait time for Dr. Lisey is horrible. I have had to wait in the exam room many times for over 35 mintues for her to come and do my annual exam, not to mention all the other wait times in the waiting areas. Second, the dr made me make a follow up appt just to change my birth control pills from Generic to Brand, ridculous! Third- the Dr. thought she found a "mass" in my abdomen, had me scared to death , thinking it was cancer , came in for the ultrasound and nothing was even there! But I didn't even find out that there wasn't a problem until I had to finally call them after 2 weeks, all that time worrying, and they couldn't even call me to assure me, then when they called the nurse mispoke and said , " I am calling about the lump in your breast", I then get another brief scare thinking something else is wrong when in fact she meant to say "mass" in abdomen! Then, and the is the last one, since I am leaving their group now, I had a urninaylsis and there were blood and nitrates found , the nurse thought there might be a urinary tract infection, so they had me come back the next day, more work missed, to do a urnine culture, said that would take 3 days to read. After 7 days of no calls back on my results I called their office and a nurse said that was negative, but that the dr couldn't call me anything in for my urinary tract infection that I had now had for over a week! I have had so many negative experiences with this office that I am finding another one. I hope women will read this to prevent them from going thru this!
Nearby Doctors

Dr. Marlyn Leisy is similar to the following 3 Doctors near Knoxville, TN.