Rate Now
Share Your Experience
Have you seen Dr. I Levy?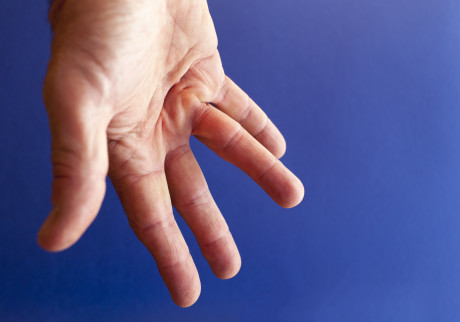 Dupuytren's Contracture
Dupuytren's contracture is a thickening of the tissue beneath the skin of the palm of your hand
15 Ratings with 6 Comments
2.0 Rating
March 1st, 2017
I will never go to this Doc. Levy again. He is rude arrogant, does not have any bedside manners at all. He does not take the time to speak with you. He, rushes you out of his office and doesn't want to hear what you have to say. How, is he going to tell me that he knows the extent of my pain and what I go thru day in and day out because of my knee. How the heck is he going try to compare my knee to his. I would like for him to go do my job for one day and see how long he last out in the streets. The worst doctor I have ever seen. He is truly not professional at all.
1.0 Rating
May 29th, 2014
Nasty, Rude, Staff knows nothing
Dr. Levy may have been in the business for years but his attitude is downright cocky. His staff is young and stupid and it appears that they are more into talking about parties than doing their job. Dr. Levy treated me like I was in an assembly line. Get in and get out and without even doing a thorough examination, a bogus diagnosis was made. My insurance was also charge incorrectly.
5.0 Rating
February 18th, 2014
highly instrumental in saving my knee
1.0 Rating
October 9th, 2013
Rochelle R
Dr. Levy may have 33 years of experience, but he has very little to show for it in his lack of ability to connect with a patient, or conduct himself in a professional manner. Dr. Levy reclined in a lounging position throughout a superficial visit, and behaved in such a way as though I was wasting his time, and don't I have something better to come up with than my presenting problem. He has a very pompous and arrogant manner, and despite a recommendation from another (excellent) doctor on his floor I would never have seen him, nr would I return in the furure!!
5.0 Rating
January 14th, 2012
back to work
2.3 Rating
May 26th, 2011
Bad experience.
I'll say this immediately: Dr. Levy may very well be an excellent doctor. He has extensive experience in his field and if you speak to anyone in the medical profession that is familiar with him you will discover that he has a very solid reputation. He was even recommended to me by two close friends.However, his bedside manner and overall demeanor leave much to be desired. As soon as he came into the room I immediately understood that he was just trying to get me out of there as soon as possible. He was not at all interested in anything I had to say about my injury or my injury history. The entire visit must have taken less than 3 seconds. I did not feel like I was in a hospital with a professional MD, I felt like I was on a conveyor belt being handled by a factory worker. His office staff is extremely rude and unprofessional. I had to chase them around for weeks after my initial appointment due to various complications with paperwork. In the course of these conversations I was frequently spoken to in a disrespectful manner and blatantly lied to by various members of his office staff. I don't know the amount of oversight Dr. Levy has regarding these staffers but, to put it simply, these are not people that I enjoyed dealing with. It's a shame. After getting fed up of trying to coax Levy and his staff into doing their jobs, I went and saw another doctor in the area and was absolutely relieved to be treated like a human being. Dr. Levy is a very competent man. However, this is New York City. There is no shortage of doctors that bring both competency and a genuine desire to take care of their patients. I did not in the least bit feel that Dr. Levy saw me as anything more than a name to be crossed off a checklist.
5.0 Rating
July 28th, 2016
5.0 Rating
April 28th, 2016
4.0 Rating
August 23rd, 2015
5.0 Rating
May 21st, 2015
5.0 Rating
March 24th, 2015