Rate Now
Share Your Experience
Have you seen Dr. Matthew Gornet?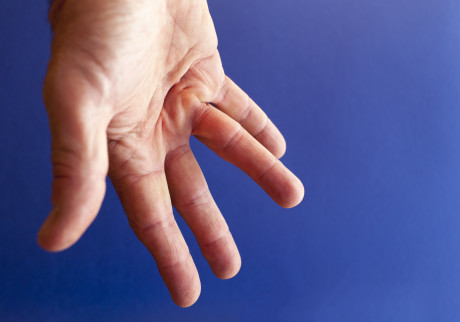 Dupuytren's Contracture
Dupuytren's contracture is a thickening of the tissue beneath the skin of the palm of your hand
141 Ratings with 40 Comments
5.0 Rating
March 24th, 2017
Dr. Gornet explained everything were I could understand it. He helped me get off of pain pills which where destroying my life. After which I had spinal fusion and I have never felt better. He was a answer to prayers. I thank god that he was the doctor who did my operation and after care. Anyone would be blessed to have him as your doctor.
5.0 Rating
March 7th, 2017
I couldn't be happier
1.0 Rating
January 2nd, 2017
after failed neck surgery that provided zero relief he blamed all of my pain on depression even though I had documented multiple injuries he refused to address.Every visit after surgery I was forced to fill out dozens of questions about depression that were worded in such a way that no matter how you answered could be taken as depression.
3.0 Rating
September 17th, 2016
He is a good surgeon, but did not tell me the surgery I was having was experimental, and I only found out it was not FDA approved from my insurance company. He also is fairly pushy about getting patients to participate in clinical studies , and the wait time is completely ridiculous - literally at least 3 hours on multiple occasions, even when the appointment is scheduled for soon after the office opens.
5.0 Rating
April 18th, 2016
5.0 Rating
October 21st, 2015
4.0 Rating
October 6th, 2015
5.0 Rating
July 20th, 2015
He is the best doctor we have ever had the pleasure of meeting.
1.0 Rating
July 13th, 2015
This Man doesn't deserve to still have his medical license, he is Arrogant, and thinks he's God! Unfortunately he changed a lot over the years and I be developed the GOD SYNDROME! Good Surgeons will always put their patients first no matter the outcome or how it looks, Dr Gornet cares nothing about the patients only what it will do or look like to his Study or Research!!! I know first hand!! I was one that he messed up on big but swept aside to die and left to other Drs to care for(thank God for a WONDERFUL SURGEON) or I wouldn't have made it, and it was ALL RIGHT IN FRONT OF HIM!!! He knew! Then took it even further and paid off Attorneys so not only did I about loose my life, can't wor and he even got off financially( like he can't afford it) Everyone Please Be careful
1.0 Rating
February 5th, 2015
Never Again ..
I was sent to him through my attorney can I book after having a car accident and suffering from severe neck and lower back pains. there is absolutely no way I would recommend him for anybody because for my first visit I spent 4 hours in his office only to see him for about 5 minutes then sent out to get testing done had one prescription give into me that lasted me for only one week and his recommendation was to set up a future appointment for two months down the road. because his office wouldn't returned any of my phone calls after my prescription ran out I had to resort to going to an urgent care to refill my steroid prescription and also get any anti inflammatory for the pain in my neck. I had to beg his office for 2 weeks to help me and my pain and finally he referred me to pain management for an injection in my neck but still refused to consider taking any action with my lower back. I tried contacting their office for 3 days straight and never received a response so then I resorted to calling my lawyer to see if they could get a hold of him and I never got a response from them either. the staff in his office is a joke. they need to learn how to have more compassion when it comes to dealing with patients in pain. over the phone by one of his nurses I was told that I needed to understand that my phone call messages were taken down for the past 3 days and Dr gornet would answer them when he got to them. and in that 3 days time that I was trying to get a hold of this doctor I miss 3 days of work because I could not move from lower back pain. it took me going to see a compassionate doctor at a foreign ERto get anything done with my lower back. I wouldn't even suggest this physician to my worst enemy. I definitely do not feel like a patient in his office, I felt more like he was there to get a paycheck.
1.0 Rating
December 27th, 2014
He loves to pray. Bills almost 1/2 mil. I need tp pray.,,,,,
Nearby Doctors

Dr. Matthew Gornet is similar to the following 3 Doctors near Chesterfield, MO.