Rate Now
Share Your Experience
Have you seen Dr. Meenakshi Jain?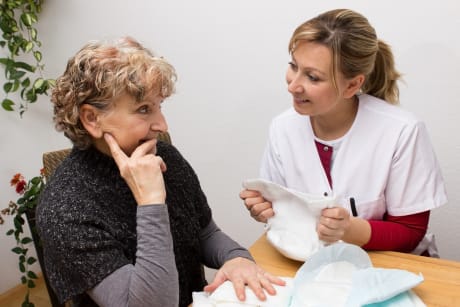 Urinary Incontinence
Learn about the symptoms and causes of urinary incontinence or urge incontinence.
114 Ratings with 50 Comments
4.0 Rating
August 21st, 2017
wait too long too many appts. at the same time
4.0 Rating
May 30th, 2017
Surgery was done 01/03/2017 & 02/06/2017, I think I seen her once or twice. Dr. Jain, asked me to come back, when I did, to my surprise I was asked to change my insurance, I did not know about this, I still don't understand.
change my insurance, I did not know about this, I still don't understand, I feel Bad that she want to see me to give me a follow up last one at least, I didn't know my insurance had changed! I find out that everyone of my doctors except this insurance that I have, it pays in and out of network so I still don't understand.
2.0 Rating
January 23rd, 2017
5.0 Rating
January 4th, 2017
GREAT DOCTOR WITH TOO MANY PATIENTS
1.0 Rating
November 21st, 2016
1.0 Rating
November 8th, 2016
Long waits, overcharged, dumb staff.
I'm New patient. Had an appointment and waited 2 hours. Just needed a prescription refill and they charged me for a "problem visit." Apparently she thought during my exam that I either had gas or a cyst, so I got charged $50. They do not have depo in-house, so I had to pick it up from the pharmacy, then come back to get the injection. I was told that I did not need an appointment, came when they suggested and when I got there, they said the doctor had an emergency and had to leave. They told me to come back another time. I called ahead to make sure she was there, and tried again. Waited 2 1/2 hours and the nurses weren't sure why I needed a pregnancy test before getting injected with depo after being off of it for 3 months. (Because of a new job, I had to wait 90 days). This is the worst experience I've ever had with an OB/GYN.
3.0 Rating
November 8th, 2016
TOO BUSY
2.0 Rating
September 19th, 2016
They keep call me
I stop going there because the long wait and all the unnecessary procedures she wanted me to get done. Its been a year and they keep sending me letters and calling me trying telling me I need to get something done. I'm already with another doctor and everything is ok. He asked me why I stopped going to Dr Jain office, I explained and he told he knew her reputation...smh all about the money. Shame! shame! shame!
1.0 Rating
September 5th, 2016
Worst experience ever!!
It's been almost a year that I stopped going there. The reason constantly waiting for more than 2 hours and never managing to see the dr cause I had to leave to go to work. I only successfully saw her once and that after 3 hour wait she suggested to do an exam with another doctor in her office something about my bladder. I scheduled an appointment next available a month after. I was in time for the appointment just to go in and the girl at the window tell me that they tried to call me that this dr has surgery for the next month so I scheduled another appointment. The same story for the next three times. So I stopped going because of that. Then after this incident the office started calling me and sent me mails that dr Meena saw something on my ultrasound that worries her so I schedule again an appointment that she asked for it . I go there again on time waited for 3 and a half hours and had to leave to go to work when I asked the girl why even that she requested that emergency so called appointment I had to wait for that long she just told me the dr is too busy. That was it I never went back again. They continue sent me mails and calling me that the dr has to see me but I didn't want to go there again and wait for a ridiculous time even though I have an appointment. See at the same time I have a job to do and it's not always easy to call off. After this whole time and me changing houses a week ago I get a phone call from her office asking me for my new address so they can update their system. I politely refused to give them my new address cause I never intend to see that dr again. The girl then said they needed to sent me a bill about my bladder test that I never succeeded to do. So I told her that I never did the test and I only managed to see dr Meena once all this time. She insisted that I had done the test and needed my new address so I told her take me out of your list and don't even think to charge me with any exam that I never done cause I would move legally against them and hang up the phone. So bottom line is don't ever go to this dr cause the only thing you'll get is a long wait, cancellations and an overcharged bill of things you never done. WORST EXPERIENCE EVER.
1.0 Rating
July 13th, 2016
Rudest staff & doctor that shows no respect to others
I waited 4 hours for my first appointment, and meanwhile, had to straighten out the misconceptions the secretary had about Medicare and my insurance , then still waited. For a clinic supposed to be about urology problems & OB, there is no bathroom available until you literally bang on the glass partition and door so you can use the bathroom by treatment rooms. After the 4 hours, led back to a treatment room, told to undress, given a paper gown, then I had to wait undressed for an hour and a 1/2 in the cold room. At 45 minutes, Dr. Jain stuck her head in the door and said "5 Minutes", but no appearance for another 45 minutes. I feel she has no respect for her patients, their feelings or even the information that is offered from other doctor examinations. Despite my warning that I have a lot of pain in my genitalia, she proceed to use a cold speculum anyway for "a look-see." During that visit, she diagnosed me with 3 problems, despite my only request was help with a bladder problem. In the next visit, she told me she wanted to treat my I.C. with a surgical procedure and remove my uterus and ovaries, because "you're old and don't need them anymore! They can just turn into cancer later. " (My brother, who is a surgeon in the NE was quite disgusted with that comment; he said surgery is never a procedure of convenience. As well as unnecessary hysterectomies were the basis of a Medicare investigation in the 1990's.). When I asked her why the long wait, she hid her face and said, "I have been in practice for 30 yrs. and it is the problem all doctor's offices have." When I stated it was very difficult for me to lose all this time, she blew me off, saying "well, let's get started then!" Her treatment room had the same dirty tissue from one visit to the next and the floors were dirty. Also, the tools on her exam table, as scissors , were rusted and dirty. Now I wonder if I will develop a vaginal infection on top of the bladder infection. She ordered a medication that had proven to be ineffective in the past and she blew me off again, saying it was what she always ordered. Her staff would make a politician proud with their avoidance of answers and lack of help. She is so disconnected with the concerns & other health issues that a patient has and is oblivious to them.
2.0 Rating
July 1st, 2016
Will never go back
I did not like my first visit at all with this doctor. The assistant greeted me with 'our scale isn't working, how much do you weigh'? Uugh! No good! The doctor came right in shooting all kinds of questions at me to try and find many issues she can start a good list for diagnosis and treatments just to get money an claims going. The Ofc staff immediately told me it was going to be charges before I was even seen. I feel she is all about money so watch out because you may get false diagnosis just so her bank roll will increase and yours will definitely decrease!!
5.0 Rating
May 11th, 2016
I can't stop telling every female I know about Dr. Jain & how amazing she is!! Before Dr. Jain, I'd been misdiagnosed for so long.Five minutes in the office with her & she knew exactly what my problem was. Everything every other doctor told me was " the norm" she shook her head no & proved them wrong. I'm 5 1/2 weeks post op & literally can not begin to tell you how alive I feel. Two days out of surgery & I was feeling like my old self b again. I kept waiting for the anesthesia to wear off thinking I'd have the pain back. NOT EVEN. Dr. Jain is truly a revolutionary surgeon. She has set the bar high for ALL other doctors in her field. From my first visit I felt her passion for her work. She's very much in tune to her profession, her patients & women's needs. So blessed to have her as my gynecologist.
Nearby Doctors

Dr. Meenakshi Jain is similar to the following 3 Doctors near Saint Petersburg, FL.