Rate Now
Share Your Experience
Have you seen Dr. Melanie Rosenblatt?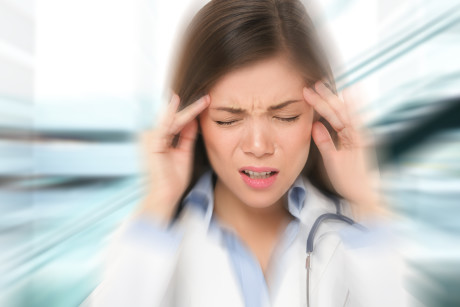 Migraine
Get the facts about migraine headaches, including the different types of migraine and migraine triggers.
70 Ratings with 23 Comments
1.0 Rating
December 15th, 2016
She is a good doctor but her bedside manners Stink!
If you are set for a procedure but it did not happen the courtesy way of being handled is by doctor giving her time to the patient and explain, not be nasty, rude, closed door on the patient and not nice at all. I thought all doctors were to have compassion, understanding of their patients needs and pain, but obviously this day she was really having a horrible day and took it out on this patient. I was not happy in pain left office crying and disgusted with her actions towards me. I work with physicians also and they have great bedside manners with all their patients even if the patient is not nice, it is called ethical.
1.0 Rating
November 8th, 2016
2 hour wait
You probably don't know how your staff is treating new patients. I was referred by Dr. Jane Rudolph who is absolutely wonderful. My original appointment was for 12:45, I was called at 8am and was asked to come in at 9:30. I did come in and then waited for an hour and a half in your waiting room. I found out it was going to be at least another half hour maybe more while I waited in an examination room.When I asked for a refund of my copay and explained why I was leaving I was confronted by the very rude receptionist. I came here because I'm in pain. What a horrible way to treat a new patient.
4.0 Rating
October 18th, 2016
No major issues
I haven't had problems with the doctor yet. I don't understand having the patient get the referral. My other specialists makes those calls, but with this doctor I have to. It's kind of a pain. I don't like having a "nothing" appointment; going, chatting with her ARNP then leaving. If I'm coming to you I need to get something done. Gimme the shot so I can go. She's nice enough though but I know the one nurse people are complaining about. She seems to be a "non-people" person, but she's never been rude, just stand-offish.
5.0 Rating
August 2nd, 2016
Top doc
5.0 Rating
August 1st, 2016
The best MD
I saw the negative reviews posted on this site. I was referred to Dr. Rosenblatt by my primary care doctor. I had been having pain and was over medicated by my previous pain management physician. The following was my experience. The staff was friendly and professional and immediately had my paperwork and appointment set for 3 days later. I showed up at at the office and was greeted by the nicest receptionist and medical assistants. The doctor met with me with her nurse and went over my entire history. A plan was discussed and I immediately had another appointment set for my injection. Now 2 months later I am pain free and no longer require any medication. I spent years in a fog of drugs and over medication. This doctor is my angel. Disregard any negative reviews on this site. Go see her and you will be helped. I wish I had met her sooner.
5.0 Rating
February 7th, 2016
Mr
My experience with Dr. Rosenblatt is very good the negative reviews I'm reading are the ones that I have noticed that runs out of their meds basically use it more than they should and when they show up they are very angry And edgy I am happy to have her because when I'm in the hospital and call her either her or shelly shows up 6 o'clock in the morning before any other doctor sees me that day they have their hands full but they are a great team and I appreciate them
1.0 Rating
September 1st, 2015
Really badly run office and terrible doctor
Funny how so many people have such negative experiences and every now and then one comes along and loves her. I would not doubt if she has someone leave a positive comment because there is really not a thing positive I can say. She is an embarrassment I waited for hours to see her and got less than 5 minutes. She was pre-occupied and had a could not care less attitude. I went to another pain doctor for many years when I lived on the west coast so I have something to compare. She is a really terrible doctor . You get a strange feeling that money is all she is after. Sorry but that's the truth.
5.0 Rating
August 25th, 2015
I saw a lot of doctors before being referred to Dr. Rosenblatt. She is a caring doctor who wants to see her patients' pain managed so they can live full lives. She works directly with my primary doctor and my nutritionist in order to manage my pain level to ensure that I can be as active as possible with as little pain as possible. If you are looking for a doctor who will help you, Dr. Rosenblatt is the one. If you are looking for a blind prescription for opioid pain killers with no underlying medical condition, she is not the one to see. Dr. Rosenblatt is highly ethical and if you are a junkie looking for drugs, go somewhere else. If you truly want help with a legitimate issue, or if you have an opioid addiction you want help to beat, she is the one to see.
1.0 Rating
June 19th, 2015
1.0 Rating
April 10th, 2015
What to do......
I agree with last review! The best advice is to call your insurance carrier and see if not seeing an md is allowed! From a former patient it was said that this office bills the highest level of care, so she will get paid more money. Also if you are scheduled for a procedure only (epidural) they bill insurance not only for shot but they add on a office visit which this was never done. Another story that was mentioned in waiting room was being charged for services during post op. How i understood this is if you had a procedure done there is a waiting period either 10 days or 90 days that will not be paid if you have a follow up. But some how this office does something to bill & it gets paid. Which means you the patient can be charged either a copay or a coinsurance. This does not seem right. It does appear for the last 6 months that she has become more greedy...its apparent by the double/triple appointments. She forces her employees to follow this protocol. I'm pleased to be gone with this place. My current pain physician is wonderful & has been accepting patients of Dr. Rosenblatts. To all that are disappointed I suggest you shop around. Good luck.
1.0 Rating
April 8th, 2015
How does she get away with it ?
Something out of a really bad movie. Unclean office and no place to sit! I have terrible back pain all my adult life and I am made to stand because she is so cheap and money hungry? Has anyone that has seen her felt she is not the most money hungry woman alive? The so called Rosenblatt is always to busy to see patients in pain who have been sitting for 2 or more hours so you are lucky if after the entire morning you see a nurse. Is it legal to double and triple book appointments, collect insurance fee's and never see the doctor? This is some racket she has got going. I heard a patient in the waiting room say she heard her on the phone for 1/2 hour making personal plans while dozens of people in pain where waiting for her. I would never recommend her to anyone in this lifetime.