Rate Now
Share Your Experience
Have you seen Dr. Melissa Mead?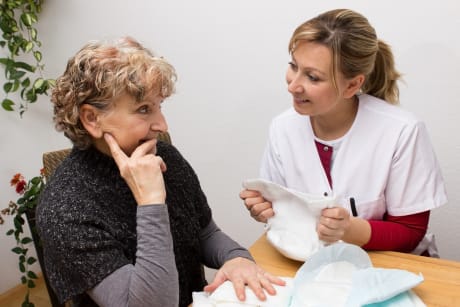 Urinary Incontinence
Learn about the symptoms and causes of urinary incontinence or urge incontinence.
26 Ratings with 20 Comments
5.0 Rating
March 30th, 2016
2.0 Rating
March 27th, 2015
I only had my experiences in the hospital setting. Therefore, I did not choose her as my doctor. The first time was when I was admitted after a miscarriage and I had no issues. My L & D is another story. She was rough, not communicative, curt, and condescending. I would not recommend her for child birth and I think I'd be afraid of a regular pap too.
1.0 Rating
December 31st, 2013
Yikes!
I was in the process of finding a new gynecologist when I was told Dr. Meade is leaving this practice. I wish I left her practice 10 years ago, and regret that I didn't. Like others have posted here, I never saw Dr. Meade in over 10 years, despite having 2 or more appointments at her practice each year. In some instances I had serious medical concerns that warranted invasive testing, and still never got to speak with Dr. Meade despite asking repeatedly if I could. The turnover of nurses and staff who worked for Dr. Meade was incredible with new personnel every few months. I had never seen anything like it. Seemed indicative of constant problems with the practice. I don't know if she left the practice in Milford, MA (Caring for Women) to open another practice somewhere else, but if she did I would think twice about choosing her!
1.0 Rating
September 12th, 2013
Go somewhere else
I am new to the practice and have had a number of appointments. Each time I waited in the exam room for over an hour. When the nurse practitioner entered, there was no explanation or apology for the delay. When I mentioned that I'd been waiting in a room for over an hour -- past my appointment time (not in the waiting room where there is something to read), there was absolutely no response. It was as if I had never spoken. She just started the exam. I never saw the doctor even for the procedures. When the NP called about results, it was to read the Dr.'s report to me verbatim - which seemed really odd - because I'd never met the woman. Surreal. I won't be back.
1.0 Rating
August 2nd, 2013
CAN NOT BE TRUSTED
After 7 years I changed Dr's because I just couldn't trust them...I had to leave after an incident where my Pap came back Abnormal, I have HPV and a history of abnormal Paps. They had to perform a Colposcopy for further tests. The procedure was performed by the NP (only saw the Dr. once in 7 years). The NP always took the time to listen to my by the way - but she left the practice last year. During my procedure she took two samples because she wasn't happy with the first one (ouch!) . I asked how bad it looked and she was forthcoming and very honest with me and said I would definitely need further treatment and gave me a pamphlet on LEEP to read. Naturally I was freaking out and restless waiting for the results. After a week passes with no call, I call the office. Of course they need to call me back with the results. I was shocked to here "Everything looks fine, see you in a year"...Um what? I asked if both samples came back normal and was told there was only one report for one sample. After probing them for information it turns out that only 1 sample made it to the lab. They blamed the lab for losing the sample of course. I was not comfortable with the result since I was told I would require further treatment, I did not want to wait a year! They reluctantly scheduled me for another Colposcopy; had to be wait 4 months to heal from the first. The results from that one - Stage 4 dysplasia-PRE CANCER!! Could you imagine if I waited a year? I went in for the LEEP, was given valium to relax so I was a little drowsy, laying on the table I see Dr. Mead enter the room. She didn't say much except for during the procedure I hear, "Oh, you have a IUD?" (Well you put it there! Read the chart before you enter the room!) After the procedure, while exiting the room she said "Since the cord on your IUD was cut you will need to get that surgically removed when it comes time"....Wish I had that information before hand, I would have had it removed before the LEEP....If I wasn't proactive with my health and the NP hadn't been straightforward with me this could have turned out very different. Makes me wonder why the NP left after so many years too. On top of it, my insurance would only pay for one Colposcopy so I was on the hook for the second one. Wasn't my fault that they lost a sample, but my body and pocket book had to pay the price... I see where their priorities lay. During a discussion with a staff member about the balance I owed them, as I was explaining all of the above-- she rolled her eyes at me...I called her out on it and she tried to justify it! Seriously? UNPROFESSIONAL, UNTRUSTWORTHY, UNCARING FOR WOMEN!
1.0 Rating
April 18th, 2013
DO NOT GO TO HER
1.0 Rating
December 1st, 2012
should be investigated
I had been a patient of Dr. Meade's for 3 years. As many others have stated you do not usually see her, it is usually a nurse practitioner even when very specific in making an appointment to see her. it also seems that it is very common practice this office to do multiple colposcopies and dnc's on an extremely high number of patients. it is not doctor Mead performing these colposcopies it is a nurse practitioner. I also agree wholeheartedly that she will never follow up with you no matter how many times you try to get in touch with her including after a hysterectomy. We can only hope that the insurance companies will see these reviews and investigate how they are being billed for many unnecessary procedures as well as being billed for doctor office visits and not nurse practitioner office visits. I hope this review will help and stop others from in during the same problems. my experience with doctor Mead has diminished any confidence I have had in a physician.
1.0 Rating
September 22nd, 2012
horrible
1.0 Rating
November 18th, 2011
yikes...
I have finaly had it! I am leaving this doctor to find another one asap. The wait time is awful sometimes an hour! There is a medical assistant woman who giggles and chats like a kid and makes stupid obsevations but she doesnt know what shes talking about but she pretends. The last straw was when i witnesed a manager freak out on a staff in front of people. Oh, I never saw Dr Mead only her np's and the one I saw was ok but kind of cold. RUN...
1.0 Rating
October 14th, 2011
I realy can not rate this Doctor because in the 8 years I have been a patient there I never even saw her once. I was okay with this because I usualy only have my annual done.I recently have had some concerns about my periods and was scheduled a ultrasound(they couldnt see anything) so then they schduled a sonohysterogram(again they didnt see anything..They never called me with results and when I called a nurse I never even met was translating message to me that I should have a DNC...they dont see anything but want me to have a surgery...THIS OFFICE SUCKS AND I WILL BE LEAVING........all about the money and I still have no idea what is wrong...find another doctor
5.0 Rating
August 9th, 2011
Always been good to me
I was reading the reviews as I was happening to get Dr. Mead's number and I am very surprised at some of the reviews. Yeah the wait time stinks but hello you will find that you are waiting with most practices these days as there is a shortage of Dr's! I waiting an hour and a half past my appointment time for my eye Dr. just last week! Dr. Mead has delivered 2 of my kids and she was there for me and NP were great all along the way. Maybe I have been lucky but I have never had any issues with anyone in the practice.
1.0 Rating
April 5th, 2011
Do Not use this OB
I was a patient with Dr. Mead for 6 years. I have issues with fibriods and cysts and I would NOT recommend her as a OB. It takes weeks to get in to see her (6 weeks one time) and you only get seen by the NP who really aren't qualified and don't have the experience for thing like surgery. They don't move on things like cysts and fibriods quick enough, their laid back, wait and see approach resulted in me having TWO adbominal surgeries, had they talked to me about options sooner, I could have had somethign less invasive. There are much better OBs in Milford.