Rate Now
Share Your Experience
Have you seen Dr. Melvin Wahl Jr?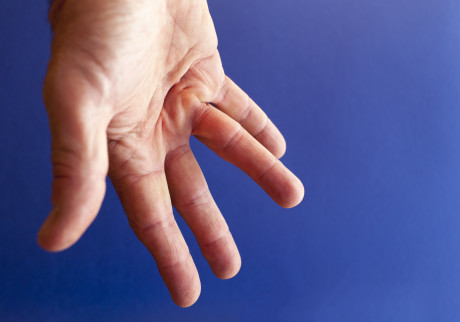 Dupuytren's Contracture
Dupuytren's contracture is a thickening of the tissue beneath the skin of the palm of your hand
50 Ratings with 16 Comments
1.0 Rating
November 4th, 2016
Go somewhere else
1.0 Rating
October 22nd, 2016
Worse since surgery
My neck surgery by him may have to be redone. Dr. Wahl only saw me once in 12 months after the surgery. Most all of my care was through his assistant Dennis who is nice but missed that my neck wasn't healing. I went to another surgeon in town on the advice of a friend and we are planning on redoing the surgery if it doesn't heal in the next 6 months. I hurt worse than before I began seeing him. I fear I may now be addicted to the pain medications that his assistant put me on after my surgery.
1.0 Rating
July 19th, 2016
Support Staff Upwards Needs an Immediate Overhaul
I don't usually do this, but I really am beside myself with this Dr., especially with regard to his assistant Dennis Ang and MA Joan. The dysfunction with this office is cumbersome in many ways with regard to bottom-up and care 'less about you as a patient' operations. Front office support staff, located within another office in Richland, is where the contrast between pleasant to tense lines are blurred. Medical Assistants are lackadaisical and act as a gateway between you and Dr. Wahl - usually his assistant Dennis Ang (and his assistant Joan). They come off as 'Godlike' in spirit and seemingly talk down to patients concerns and needs, which... is NOT what anybody really needs/wants in a physician. There exists a total lack of compassion and emphathy, and getting anything done usually comes at a cost, e.g., cancellations, back-referrals, and slow response times on return calls. Very little time is spent with the patient as far as quality and quantity of information assessment goes. The oftentimes brash and Godlike demeanor of the medical assistants is off-putting and unwelcome. Oftentimes, at least with me, the assessment protocols are completed prior to me even showing up for the long-anticipated appointments. If you catch them in a good mood, take advantage of that. The support staff needs a jump-start and infusion with emphatic leadership.
2.0 Rating
June 1st, 2016
Mixed Bag of Staff with Motivated ARNP on board.
Dennis Ang (ARNP) was superb, however, his supporting staff MA displayed uninteresting tenants, i.e., no focus, no warming smile or words, quick to get herself out of their, etc. At first the front desk personal were somewhat cold in demeanor; the second and subsequent times I had to deal with them, they warmed-up quite a bit and actually went out of their way to give support and assistance.
1.0 Rating
May 23rd, 2016
1.0 Rating
January 18th, 2016
1.0 Rating
December 29th, 2015
I had seen this good for nothing man prior to having my first back surgery by a real doctor and just had a second. I had seen him and he basically turned me away. Said that I was fine. I am now recovering nicely from my 2nd spinal fusion. I had numerous issues in my thoracic and lumbar spine (4 herniated discs in my thoracic spine and 2 in lumbar)......and my back looked great, according to him. You've got to be kidding me. I am writing to pleaassee urge anyone with spinal issues to seek care elsewhere. I suffered for so long and he just prolonged the suffering making me feel like a waste of his time and it was all in my head. I endured 2 spine surgeries within 8 months of each other but I am finally on a path to being pain free. "Dr" Wahl never even gave me a chance.. Please never consider this man for health care. As you can see by his reviews....you'll end up worse then before seeing him. I am so angry for the way he "treated" me. He doesn't deserve to call himself a doctor. He treats patients as well as a janitor does a toilet. Absolutely no offense to janitors. They do a better job then Dr. Wahl with less pay.....
1.0 Rating
July 18th, 2015
Dr. Wahl got me on disability
2.0 Rating
July 8th, 2015
I was sent to Dr. Wahl by a physician for severe back pain. He took one look at one thoracic xray and told me that my back looked great, to try some PT and prescribed some pain relief cream and sent me on my way....He's a joke. Not once did he ever examine me or even touch my back and absolutely no further investigation into what was causing such terrible pain up and down my spine. After finding a real neuro surgeon in Walla Walla I am recovering nicely from surgery that is giving me my life back. I had collapsed vertebrae that definitely required surgery. My experience with Dr. Wahl was so unpleasant and such a waste of my time. I would never recommend this man and so called doctor to anyone. I recommend that you run and run fast in the opposite direction of his office and call The Neuro Science Institute in Walla Walla. It's well worth the trip.
1.0 Rating
September 1st, 2014
wasted time
I spent 1 whole yr thinking he was a neurosurgeon when he was at the Neuroscience Building in Richland..sure was charging like he was a specialist!..boy was I wrong! 1 whole yr wasted and I think I saw his assistant more than him, told me a first I was going to have Minimal Invasive Surgery and then everything changed and I got the runaround for 1 yr, his assistant finally say to come back if It doesn't get better or if I have pain...I was in pain!! went to a real NEUROSURGEON out of town and as soon as he saw my MRI he scheduled me for surgery..5 hr surgery and went home the next day.
1.0 Rating
August 8th, 2012
Rushed me out the door
1.0 Rating
July 15th, 2012
Wrong diagnosis
I hurt for 2 years because he did not find the reason for my pain. I had surgery by someone else and was better within a few weeks!
Nearby Doctors

Dr. Melvin Wahl Jr is similar to the following 3 Doctors near Kennewick, WA.