Rate Now
Share Your Experience
Have you seen Dr. Michael Creamer?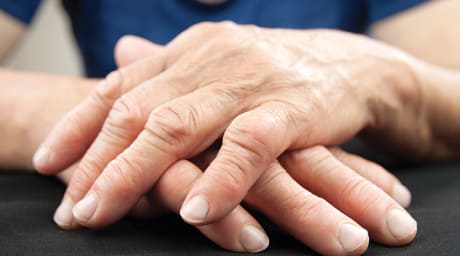 Osteoarthritis
Get the facts about osteoarthritis, including the symptoms and doctors who treat it.
62 Ratings with 20 Comments
1.0 Rating
July 18th, 2017
horrible office
5.0 Rating
February 10th, 2016
The most well rounded and welcoming doctor I've ever met!
Dr. Creamer has helped me more within the last two years than all of the other doctors (and there are MANY w/in 7 years) combined! He not only FINALLY identified and diagnosed my problem, he found a working solution and played an integral part in my SSD award! He is such a patient, understanding, compassionate and intelligent person. He LISTENS to you. He acknowledges your concerns and questions. He identifies most, if not all possible problems and offers realistic solutions that not only help in the short term, but will take you through the long term. He is very honest; sometimes painfully honest, but not harsh. He answers any and all questions to the best of his ability in terms you can understand. Although he does use injections, oral medications, implanted devices and surgery as treatment options, he doesn't come to those decisions haphazardly, nor is he reckless with your body. He gives genuine and thorough consideration to your problem, the way you live your life, the way you want to live your life and your life's circumstances. Its not about him, its ALL about you, the patient. He is by NO means a narcotic pill prescriber. If anything, he tends to avoid narcotic pain medications, and if necessary, only in small doses and bursts. He thinks of his patients as a whole, working human body with a soul; not like an individual problem, as a problem person, nor as a number and paycheck. He is quite hands on. He wants to be involved. He encourages and participates in active communication. I honestly believe that there really isn't anything the man wouldn't do (within ethical reason) if it meant helping his patients achieve a better quality of life! I trust him - and that does NOT come easily from me - with my quality of life and I see no reason why others can't do the same!
1.0 Rating
January 5th, 2016
Stay far away from lamisa Rayside
4.0 Rating
December 1st, 2015
Phone nightmare
5.0 Rating
August 5th, 2015
Very happy with Dr. Creamer
Dr. Creamer is a very compassionate physician that is so knowledgeable and polite. He explained the diagnosis and treatment options, even telling me about potential state of the art treatments if all else failed. I have complete confidence in his treatment method and would HIGHLY recommend him to anyone that needs a good pain management physician. He took adequate time with me as a new patient to understand my pain and I felt very comfortable with him the whole time. His MA, Bella, was very nice as well.
5.0 Rating
June 17th, 2015
Bad doctor
5.0 Rating
April 16th, 2015
Couldn't be happier!
Dr Creamer has a very compassionate bedside manner. A good listener, Dr Creamer promptly diagnosed my problem, then, with attention to every detail, made suggestions for a solution. It is a relief to know that he and his staff efficiently scheduled me for recommended treatment. God bless Dr Creamer and his wonderful staff. I highly recommend him.
5.0 Rating
July 23rd, 2014
Over All
5.0 Rating
June 18th, 2014
Very satisfied with Dr. Creamer
I have had a pump for 7 years - implanted by a doctor in another state.and moved to Florida. He is very knowledgeable about pump care. He is a quiet man & listens carefully. He effectively treats pain - his approach is conservative. He is easy to work with. Unfortunately, his staff lacks polish and are not the sharpest. I have checked out several pain specialists the manage pumps and he is by far the best. His mannerisms are not dynamic - but he provides good care.
1.0 Rating
August 29th, 2013
A Traumatized Patient
This doctor is a quack! stay away from him. He likes to do procedures for pain management that do not work; such as the pump, spinal cord stimulation, painful injections etc. He uses his patients as Guinea Pigs just for the insurance money. One day I went for spinal block injection and he did a set of six injection on my back at his office with out any medication to numb the area. The pain was so bad I vomit and had a major head ache. All I was told was to walk the pain for two hours. His nurse Linda is the most unprofessional person I ever met. She is a liar and can build a case against you with out any proof. Creamer believes everything she says with out verifying with his patience. I went to another doctor and was told, the injections were not done properly by Creamer. Today I am much better no thanks to Creamer.
1.0 Rating
October 23rd, 2012
No respect
5.0 Rating
August 21st, 2012
mrs. joan sickles age 70
Nearby Doctors

Dr. Michael Creamer is similar to the following 3 Doctors near Orlando, FL.