Rate Now
Share Your Experience
Have you seen Dr. Michael Loeb?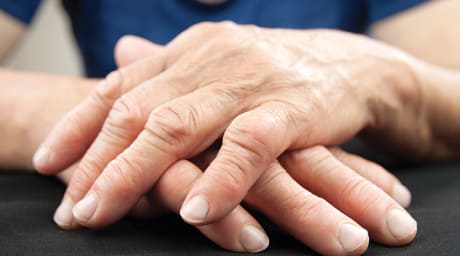 Osteoarthritis
Get the facts about osteoarthritis, including the symptoms and doctors who treat it.
Quality Rating
Highly Satisfied
22 Ratings with 12 Comments
1.0 Rating
August 21st, 2017
Terrible bedside manner
I could hear him talking with the nurse saying something along the lines of "why is she even here", her then came in and was super dissmissive, uninterested, barely said anything and then just gave me my MRI report. He made me feel silly for even being there even though I had good reason and still walked away with questions and discomfort. I would never recommend this doctor because he has zero compassion or interest in his patients.
5.0 Rating
March 28th, 2017
Experience & Compassionate
Dr. Michael Loeb treated my daughter with experience and a compassionate way. We were able to see Dr. Loeb not a PA first. Since we had a bad experience with a different doctor's office, we could easily compare the standard of service of the office staff and the doctor himself. I was surprised to hear the follow up call from Dr. Loeb, to check about my daughter's arm. My little tom boy is doing fine because of the quality of care she received from Dr. Loeb. Thank you Doctor and staff.
2.0 Rating
December 1st, 2016
No bedside manner
I ended up changing doctors because Dr. Loeb was so unconcerned about my symptoms. He simply displays no patient care manners. He was always in a hurry, was inpatient with questions and even rolled his eyes at me when he thought I had too many questions. Plus, at one point I couldn't get anyone to call me back to set up a follow-up after an MRI and when it finally happened they said to call back in 3 months. What? I insisted on getting an appointment to go over the MRI but even then, Dr. Loeb didn't want to spend the time. I have read some reviews when he is described as arrogant and that was my experience, as well. Never got the feeling he went to med school to be of service but seemed more interested if you were a surgical candiate. Also, their medical records department sucks. I sent for medical records and never got them and left 5 separate phone messages that were never returned.
5.0 Rating
July 26th, 2016
Sholder surgery
5.0 Rating
July 9th, 2016
1.0 Rating
May 19th, 2015
Beware of Dr Michael Loeb, Austin Orthopedic Surgeon
A warning for anything thinking about using Dr. Michael Loeb of Texas Orthopedics: I had decided to have him do a surgery on my arm (tendon, tennis elbow release surgery). I always thought that his manner VERY brusque and short with me in our interactions but I gave him the benefit of the doubt on being a good doctor/surgeon because i thought his company was well-regarded. I deceived myself, i think, that some good doctors are just naturally brusque and short with Clients. He did tell me that my surgery had a 60/40 or so chance of success so i was prepared for it not to work. Of course, the surgery did nothing and my problem remained. My main problem with Dr Loeb concerns the followup appointment a month or so after the the surgery. He asked me how my arm was and I told him it felt the same (or worse) than before his surgery...I was ok with this and ready to move on. He then told me, as if in confidence, that he would "Never allow any surgeon to go near his tendon in his arm". He made it seem that I was really stupid to have allowed him to operate in the first place. Initially, was caught off-guard. After thinking about it in the following weeks and months I decided that this disclosure of his was totally and absolutely inappropriate...Why would he tell me something like this??? Why wouldn't he just keep it to himself if he thought this??? It made me speculate whether he even did anything in his "surgery" or maybe just opened up my arm and did nothing other than close it again. I was and remain very upset this. I am about to undergo another the exact same surgery by another surgeon again, who I have researched very thoroughly and I hope to better results...If the new surgery doesn't help the problem, at least I will trust the surgeon to have done his best without any weird bias. My feeling will remain forever about Dr Loeb and the very bad experience i had with him. Beware of him and do your research on surgeons...
5.0 Rating
April 13th, 2015
Just took my son in for an appointment today. I have doctors in the family and my wife has cancer so I deal with doctors quite often. Dr. Loab was perfect. Clear, direct, and succinct communication. Got right to the point and took quick care of us. Answered all of our questions in a way that I can understand.
5.0 Rating
March 12th, 2015
5.0 Rating
September 2nd, 2012
I love this man!!!
5.0 Rating
April 6th, 2012
Total Shoulder Replacement - Doing Great!
I was referred to Dr. Loeb by one of the best shoulder orthos in town for a total replacement. Dr. Loeb took a lot of time and care with me. As an engineer, I wanted to understand every step of the process and he described every aspect that I wanted to know about. One of the first things I learned from him is that shoulder replacements are relatively rare. An ortho who does high volume knee and/or hip replacements may do 5 or more a week; a high volume for shoulder replacements is like 6 per year - so you have to be careful in the selection of the MD for the surgery. Secondly, I knew before meeting him that his education and medical studies were top notch - he had studied with one of the best shoulder surgeons in the world, and had done his internship at the Campbell Clinic. All boded well for an extremely competent doctor, which is what he is. My replacement was long and difficult - my shoulder was essentially 'locked', unbeknownst to us (MRIs and xrays get you part of the way to seeing what's going on, but not all the way, unfortunately). But Dr. Loeb stuck with it through what was a long and difficult surgery, and got the job done. And beyond this, he was a friend as much as my doctor during the process and my recovery. One thing I won't ever forget was looking at my xrays post-surgery in the hospital in the doctor's 'room' on the hospital floor where my room was, which gave me a real before/after view (imagine me in my gown with my bottle and IV stand, shuffling down the hospital hall to keep up with him!). Net is that after the replacement I was out of pain for the first time in years, and back to work in about a week or so. I highly recommend him and in fact have since sent several friends to him, with varying issues. There are many docs who can work on shoulders in Austin; he is likely still the best qualified to handle shoulder replacements, especially ones as onerous as mine turned out to be.
5.0 Rating
January 14th, 2012
Total shoulder replacement!
1.0 Rating
November 4th, 2011
Terrible bedside manner
Dr. Loeb is probably a very smart man with keen medical skills. However, the way he spoke to me and the way he just seemed rush and annoyed was totally frustrating. I had to work very hard to get him to actually listen to me. He misdiagnosed me 2 times and seemed to have a hard time thinking at all globally about what could be wrong with me. In general he was totally rude.