Rate Now
Share Your Experience
Have you seen Dr. Michael Lucia?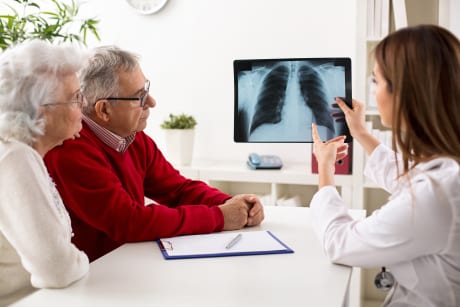 Lung Cancer
Get the facts about lung cancer, including how many people get it and what increases your risk for developing it.
30 Ratings with 15 Comments
1.0 Rating
September 22nd, 2017
5.0 Rating
August 23rd, 2017
Dr. Lucia is a great doctor
I have been a patient of Dr. Lucia's for over 3 years now. He is extremely competent, thorough and knowledgeable in his practice. He always takes plenty of time with me to address any issue, answer any question, and keep me informed about issues affecting me. He can be direct at times, but I am not the least bit put off by this, actually, I appreciate it. He is passionate about the care he provides and he genuinely cares about my well-being--which is really what is important, I wish more doctors cared about their patients this much. I trust him and wish there were more doctors like him. He takes his practice and his care of patients very seriously, but the truth is, he is very personable and has a sense of humor.
5.0 Rating
July 19th, 2016
Focused on YOU
A very competent, bright and direct practitioner. He is very intellectual, provides a complete print-out of the data from my memory card and discusses the findings with me. I think he is great! He will reward you wth an honest, straight-forward and direct approach--just what I wanted and expected. He often had to present 'tough info' in a way that made sense to me. He is reality based style which may seem to be lacking the 'warm and fuzzy' but I learned he does care, I have been with him about 3 years
1.0 Rating
June 12th, 2016
Go elsewhere!
Arrogant and unprofessional. He doesn't deserve your business.
1.0 Rating
January 16th, 2016
Malpractice
5.0 Rating
November 3rd, 2015
Wonderful dr.
He has diagnosed my husband with pulmonary occupational asthma and vocal cord disfunction with out him my husband probably would of died. He got severe chlorine burns of his lungs and vocal cords. Theses are things that without a diagnosis a workers comp claim would,go no where. He has given my husband hope for a future even though the illness is incurable he atleast has the techniques to make it threw everyday life not terrified of not being able to breathe. If you have a serious breathing problem he will find it if its,not an actual breathing problem he will point you in the right direction such a vocal cord therapy, or speach therapist. And sometimes seeing a specialist takes a while i see specialist of my own for my illnesses and the waiting room is always a long wait but thats part of seeing a,good Dr they have alot of patients and if you want to see him its worth the wait.
1.0 Rating
January 24th, 2014
Worhless lucia
Lucia is the worst doctor in the world. I took my grandmother to see him and was told it is my fault that she has problems with her breathing. Lucia refused to give her meds that she needs to be able to breath unless she pays $400 for a sleep study . I did over react and call him a piece of poop but he deserved it. worthless doctor with little man complex.
1.0 Rating
October 4th, 2013
buddy can you spare a day?
All i can say is that today after sitting in the office for 20 minutes after my appt time i politely approached the receptionist who told me that there were 2 people ahead of me. Mind you this was for an appt at 9:45 with the office closing at noon. She said he is always running behind and that this is the way he runs his practice! Also, this is the 2nd time that i drove all the way there and had to leave due to work commitments. Also, I asked for a copy of my sleep study and was told that i could not have it because he would review it with me at my next appt. I said that was fine but i still wanted it in advance. I never got it and now will formally request it under HIPPA. Unbelievable.
1.0 Rating
September 18th, 2012
Be Cautious
Please consider reviews written about Dr. Lucia before seeing him. I would highly recommend you go elsewhere. He is a completely self-centered, unprofessional, uninformed excuse for a doctor. Not only did he refuse to look at my old records which showed I had narcolepsy, hypersomnia and central apnea, but he then did his own tests which showed the same things. His notes, however, claimed that I didn't have these conditions, though the test results clearly showed I did, and that it was all in my head. He would not return any of my phone calls, emails or letters. he then called my primary doctor and completely made up lies that I had been through rehab twice when, in fact, I never have. I asked for proof of this which they couldn't give me. So, now I have incorrect medical records following me. I have filed a report with the Medical Board and I will do everything in my power to keep him from destroying another person's medical credibility and life.
1.0 Rating
August 6th, 2012
Uninformed, unprofessional excuse for a doctor
Please consider the reviews before seeing this doctor. I would highly recommend you go elsewhere. He is a completely self-centered, unprofessional, un ...
5.0 Rating
June 28th, 2012
Realist
Providing medical care to numerous people with different personality styles is often very challenging---some with minor problems believe their problems are so unique that no one is going to be able to provide adequate care. I am realistic about waiting time, and plan to relax and or read a book or magazine while I wait, so timing is not an issue, as I always take enough time from my work schedule for doctor appointments. I have had a few serious medical issues and Dr. Lucia and the staff have been professional and caring. I believe that Dr. Lucia is extremely knowledgible, compassionate, and provides an excellent quality of care.
Nearby Doctors

Dr. Michael Lucia is similar to the following 3 Doctors near Sparks, NV.

Dr. Christina Szot

Critical Care Medicine, Pulmonary Disease, Sleep Medicine, Internal Medicine

Sparks, NV 0 mi