Rate Now
Share Your Experience
Have you seen Dr. Michael Montico?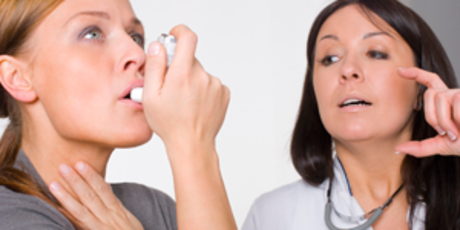 Asthma
More than 22 million Americans of all ages have asthma. Prepare to talk to your doctor about symptoms, diagnosis and treatment options.
34 Ratings with 15 Comments
1.0 Rating
May 23rd, 2017
I did like Dr Montico until I
When your Dr. is to busy to answer questions regarding your health it's time for a change. He said "don't worry about it" That did it for me. Too rushed, Not focused, not interested just doesn't seem to care. I found it sad because there was a time I really liked himself recommended him to Lots of friends.
5.0 Rating
December 28th, 2016
I've been going to him since I was 12 (22 years old now). He really really cares. When I winded up in the hospital with pneumonia he came to see me frequently when I was a kid. When I tore my acl in basketball he found a great surgeon and really helped me through the process of recovery. He doesn't try to pitch drugs to you just because Big Pharm wants it. The way I see it, he took as much care as if I was his own child. That's why everyone in my family--including the grandkids--go to him.
5.0 Rating
May 27th, 2016
5.0 Rating
January 18th, 2016
1.0 Rating
November 28th, 2013
The man is just plain stupid. Very poor diagnostic skills. I don't think much of a doctor who answers my questions with "I don't know." He talks way too much and is very interruptive which is why he is very, very poor at diagnosing. He is more fit to be a short order cook in a greasy spoon rather than a doctor.
1.0 Rating
October 23rd, 2013
Dr. Montico's office is a stickler about you being on time but does not return the favor. He also does not listen and consistently interrupts. He is a good Dr. if you are not sick and just going for routine check ups. Have a significant medical problem, you better go elsewhere. His office staff is abrupt and I only go there because my insurance dictates where I go. Changed doctors and am much happier.
1.0 Rating
October 16th, 2012
Diagnosing difficulty
Diagnosing is an issue. He had to go to a default diagnosis and not figure out what was going on with me. He did not listen to me and should have realized he did not know what he was talking about. Left me very frustrated. Had to see a qualified physician to get someone to dig deep enough to figure out the correct diagnosis. Very poor diagnostic skills.
5.0 Rating
May 23rd, 2012
Office Staff
I have been seeing Dr. Montico for almost 2 years and I think he is terrific. Great bedside manner and doesn't just dispense pills. BUT - his office person is awful. She can't answer simple questions regarding appointments and has caused me to take time off of work for appointments and then - she doesn't have me on the books. Today, I was supposed to have blood drawn - I've had this appt. for 3 weeks and she called me 3 times to confirm. I get there and - no, the phlebotimist is not in today! I took time off work for the 3rd time. I am going to a new doctor. She is the face of the doctor - and an inefficient one.
5.0 Rating
September 28th, 2011
5.0 Rating
June 7th, 2011
Great Doctor
I first visited Dr. Montico after i had a pain from running in my hip. I told exactly what my symptoms were and he automatically told me 'pelvic stress fracture' ordered an immediate bone scan and turns out that is exactly what was wrong. I have been to doctors who have beat around the bush about things, but he has always been spot on. I have been to him more recently for general check ups and he has great bedside manner and i never feel rushed. I would recommend him to anyone in the future.
2.3 Rating
June 6th, 2011
Listens only himself. Never spent enough time with me, I always felt he is rushing me. Never returned my phone calls even thought it was about difficult health condition. Clearly showed me couple time that he cares more about insurance set up then anything else. I understand that he is young doctor and has to build practice and pay off student loans, but putting financial situation above patients won't take him too far. I will never recommend him and I've never seen such not caring doctor. His staff is very nice though.