Rate Now
Share Your Experience
Have you seen Dr. Michael Ralph?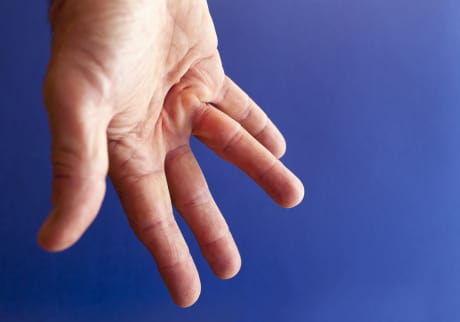 Dupuytren's Contracture
Dupuytren's contracture is a thickening of the tissue beneath the skin of the palm of your hand
24 Ratings with 9 Comments
1.0 Rating
January 28th, 2014
X- patient
I had surgery from Dr Michael Ralph and it was horrible after wards the pain has not stopped and my new doctor says i will have to have to replace my shoulder after his handy work. If you ever consider going to him do your self a favor look him up on www.case.net something i should have done first and seen all of the people he hurt.
1.0 Rating
March 19th, 2013
Run Away
Dr. Ralph not only diagnosed my son wrong he threatened to call social services when I didn't agree to allow him to perform surgery his wrist that was not broken. When the Radiologist said his wrist wasn't broken he sent him for a CT Scan when it was read as negative he wanted an MRI. I took him for a second opinion who said his wrist was not broken only badly bruised or sprained. A week later I got a letter in the mail threatening to turn us over to social services because he had an untreated scaphiod fracture. RUN AWAY!
1.0 Rating
September 5th, 2012
staff infection
1.0 Rating
February 25th, 2012
Need to go back to school for mannerism
No manners at all...dont go to this Doctor!
1.0 Rating
January 16th, 2012
misssed blood clot
After removal of a leg cast on my 57 year old leg one should consider a blood clot as the culprit causing swelling and poor color as opposed to a rather far reaching diagnosis of Reflex Sympathetic Dystrophy.. treating the latter for 4 weeks delayed the correct course of treatment. Fortunate for me I have a good Primary Physician.
3.7 Rating
May 2nd, 2011
bigsteve
I have been seeing Dr.Ralph for about 20 yrs. He has done numorous surgeries on me ,from total knee replacement to saving my shattered femur.I have to say the man knows what he is doing,not the best bedside manner but excellent surgen I would recommend him to anyone.
1.0 Rating
October 13th, 2010
Dr. Ralp review
I went to Dr. Ralph for a second opinion on a knee surgery that the Department of Labor set me up with. His total examination to determine if I get this surgery was a total of about 6 minutes. He has to be one of the most unprofessional doctors I have been to. He showed up about 40 minutes late to my appointment. He left the door to the room open the entire time. About half way through, he went to talk to his reception and all I could here was screaming from him towards her. Then when he came back into the room the receptionist came in to let him know his car was done and he could pick it up. I don't know about you, but this guys opinion is determining whether or not I get this surgery and the government set me up with this guy. This is just a glimpse of the new health care system that is being forced upon us. The Orthopedic Surgeon that suggested my surgery to the Department of Labor is well renowned within the professional sports world, but they are going to rely on this guy to determine my faint. Do not go to this guy if he is the last surgeon on Earth
4.0 Rating
August 17th, 2017
4.0 Rating
August 17th, 2017
4.0 Rating
July 4th, 2017