Rate Now
Share Your Experience
Have you seen Dr. J Wiater?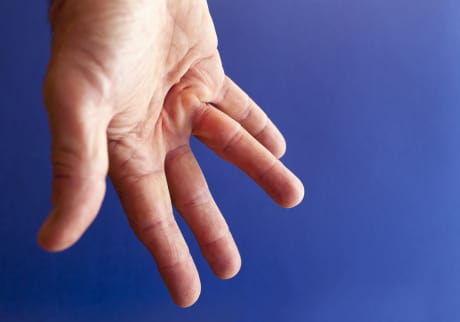 Dupuytren's Contracture
Dupuytren's contracture is a thickening of the tissue beneath the skin of the palm of your hand
95 Ratings with 23 Comments
5.0 Rating
August 31st, 2017
This Doctor is a genius
Dr j MICHEAL waiter in my opinion is a genius in his field at first I was angry with him cause he did not want to operate on me , but I had an internal infection and he was just being extra careful, and that a excellent trait in a surgeon if it was not for him I probably would not of got a skin Graf done and got rid of my infection , before the replacement he went in several times to clean my shoulder out of the infection . He finally did the replacement and it was a total success I have not had any pain from the time I went home from the hospital till present I have full use of my shoulder and it is impossible to be happier than I am know I can't see how you can get any better than Dr waiter five stars is not enough for this surgeon. I had an infection and pain in my arm for 3 years and it was a blessing to get referred to him Doc you will always get a thumbs up from me from the bottom of my heart thanks Doc. Signed an extremely happy patient T.Levine
5.0 Rating
December 29th, 2016
Very Skilled Surgeon
I sustained a serious fracture of my upper arm (proximal humerus) as the result of a fall. I knew of the Wiater family of orthopedic surgeons, so called Dr. Michael the very next day. He saw me on the same day I called, suggested surgery, which I had one week later. I had very little pain, and knew it was due to Dr. Wiater's skill in reassembling the multiple pieces of my fracture. I was always called into the office promptly, and received friendly and professional treatment from the office staff. Dr. Wiater was very courteous to me and my family members, answering all questions. Thank you, Dr. Wiater for the best possible outcome!
1.0 Rating
October 9th, 2016
LONG, LONG Wait for a 5 minute visit!! Rude staff.
1.0 Rating
August 7th, 2016
Arrogant and rude
5.0 Rating
May 16th, 2016
Total Shoulder Replacement
3.0 Rating
March 31st, 2016
Reverse Total Shoulder Replacement
I had a complex fracture to my shoulder due to a fall while at work. I was transported to ER at Beaumont by EMS and had surgery later that day. Dr Micheal Wiater did the surgery and I continued recovery in a rehab facility . I have seen Dr Wiater once since surgery 3 months ago and the visit was very brief with little information provided by the physician regarding what to expect going forward. I have since had unrelenting pain radiating from the shoulder into my hand . I have severe muscle spams at the area of my deltoid and bicep . I could not get an appointment prior to the 3 month follow up appointment and was told that Dr Wiater prefers to stay on the 6 week post-op and 3 month follow up schedule. I have attended physical therapy and continue to have difficulty performing daily tasks including driving because I am right handed and injury was to right shoulder. I have been on pain medications which just take the edge off the level of pain I have 24/7. I need to return to work and and have some semblance of use of my arm. I do not want to use emergency room for treatment as it is very expensive and in the end it is Dr Wiater who did the surgery and needs to follow up with me. I have read reviews here and majority seem negative which really concerns me. I have an upcoming appointment with Dr Wiater and am prepared to ask him questions and expect answers . I have spoke to the PA on the phone ( 3 days after I called office about severe pain ) and was informed the pain may be due to cerclage cables and may require another surgery to remove them. I am an optimist by nature and will afford Dr Wiater opportunity to address this situation before I make a final judgement on this experience.
5.0 Rating
March 20th, 2016
Saved my shoulder
After seeing 2 other Doctors the first of which said my only 2 choices were live with the pain or replace the shoulder. The second Dr. (after I told him I wanted to repair the shoulder because of the limitations of a replacement) said I would be better served by going to Dr. J. Michael Wiater. I called and made an appointment in 2 weeks. He said I had 3 options 1) Cortisone Injection, 2) Physical Therapy, 3) Repair the shoulder. When I asked why he didn't recommend replacement, he said "You're not there yet." He repaired my shoulder and I couldn't be happier.
1.0 Rating
March 8th, 2016
Wait, wait, wait. Nobody seems to care
4.0 Rating
February 18th, 2016
Dr Wiater came highly regarded through my wife's contacts at work (Beaumont nurse). So far everything is great and getting healthy. I've read the other reviews and info provided by staff and yes, if he is there only two days a week he is going to be busy. If he or the practice was crappy he would not be busy or he would have to advertise on TV. So he doesn't have time to sit and chat and he sometimes doesn't have time to kindly remove himself from an appointment with a talkative patient: he just has to leave. He and his P.A. Jaime have answered every question I had. Before you actually see him, have your questions written down. This way you won't forget. I wanted a very competent doctor and staff to fix my shoulder and they did and every thing on course so far. If you have any orthopaedic needs, including shoulders, visit Dr. Michael Wiater and rest of doctors and staff.
5.0 Rating
November 10th, 2015
3.0 Rating
November 2nd, 2015
I have been calling the office I am in horrible pain I was told the dr would call me last week never heard from him am now looking for another dr since the staff told me the office is very busy with people who r using up there insurance before the year ends . So they r booked solid and emergency don't matter . I have been going back and forth with this office for over 2 weeks I am taking advils like skittles my entire left arm is completely numb I have pain shooting down my neck and spine but can't get help from this office . Not to mention the person who does the scheduling is rude . So at this point it's off to the emergency room . This might be the worst customer service I have ever experienced .
3.0 Rating
July 22nd, 2015
Professionalism wanting
Nearby Doctors

Dr. J Wiater is similar to the following 3 Doctors near Beverly Hills, MI.