Rate Now
Share Your Experience
Have you seen Dr. Mireille Hamparian?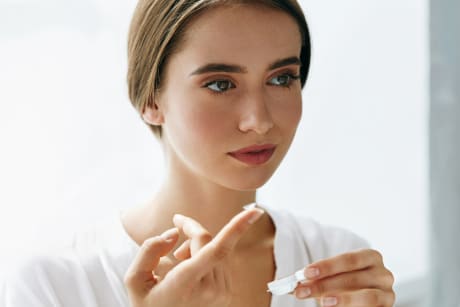 Contact Lens Care
A complete overview of what you need to know about your contact lenses.
Quality Rating
Highly Satisfied
26 Ratings with 11 Comments
1.0 Rating
April 14th, 2015
unorganized
1.0 Rating
March 2nd, 2015
5.0 Rating
November 17th, 2012
great experience!
5.0 Rating
October 24th, 2012
I need an eye exam and my coworker recommended her. Had a very pleasant experience. The staff was professional and helpful which made the appointment making process smooth. Dr. Hamparian took her time with me. Although it was just an eye exam, she was very thorough and was making sure I was comfortable at all times. I didn't feel rushed and she was really nice...not too common among doctors. As my coworker recommended her, I shall do the same. Thank you Dr. Hamparian and staff.
5.0 Rating
September 27th, 2012
Dr. Hamparian is great and is very knowledgable. She diagnosed my inflammation problem, sent me to a specialist, who was able to clear it up. Dr. Hamparian treats me for glacouma and was my father's specialist as well. She was very good with him, so that's why I went to her even though I had another eye doctor. She's done surgery on me with good results.
5.0 Rating
June 29th, 2012
Loved it
I had a great experience at Dr. Hamparian's office. I had all my tests for glaucoma done on the spot which is great because I don't have to wait for any results. Dr. Hamparian has a great weatlth of knowledge about glaucoma and I feel very comfortable with her. The staff was very friendly and I'll definitely be going back!
5.0 Rating
October 7th, 2011
Pick up your phone and make an appt!
One of the best doctors I've seen yet. She's super nice and very helpful when it comes to explaining what she's doing as she's doing it. I'm very nervous when it comes to my eyes but all I had to do was look at her pretty earrings like she directed and it was over before I knew it. Great doctor, great staff, great visit.thank you!!
5.0 Rating
October 6th, 2011
Finally!
Finally! A wonderful doctor who not knows what they're doing but is so sweet. Her staff was really on top of it. They greeted me and helped me fill out my papers right away. This was just a routine check up and Dr. Hamparian was so patient with me and that means the world to me! She's very thorough and precise. Will be going again, thank you Dr. Hamparian!
5.0 Rating
June 29th, 2011
5.0 Rating
June 28th, 2011
Hi, I don't usually write reviews but since it's so hard to find good doctors I thought I would help out. I didn't even know you could review doctors on here! My sister has been going to Dr. Hamparian for quite some time now, she's been treating her glaucoma and so I thought I'd give her a try as well. I really cant complain. Making an appt was easy, the staff really worked with my schedule, they helped me with the forms when I got there and were very friendly. The doctor greeted me with a wonderful smile and asked me how my day was, she was very appreciative that my sister recommended me. When it was time to check out my eyes, I started to get a little tense because I tend to be baby sometimes but she just asked me to focus on the beautiful earrings she was wearing and before I knew it that part was over. I felt as though she was very thorough with her exam, I didn't feel rushed one bit. She takes the time to explain things which I really liked. I'm glad I went because now I know who my eye doctor is and will be.
5.0 Rating
June 26th, 2011
Superb!
I've been going to Dr. Hamparian for years and she is one of the most caring doctors I've encountered. I took my Aunt to her last year and she treated her glaucoma. She was very attentive and accomodating. We had a ton of questions and she patiently answered all of them. I feel so at ease when I'm there, she establishes a very comfortable environment. The wait time is pretty typical for doctors office, about 15 min. Not bad at all, they've got some cool magazines to read in the meantime. Her staff is really sweet too, they give me an appt in no time. I'm very happy with my doctor and I'll continue to refer her since I've had such a great experience.
5.0 Rating
July 24th, 2017