Rate Now
Share Your Experience
Have you seen Dr. Nicholas Ogunmola?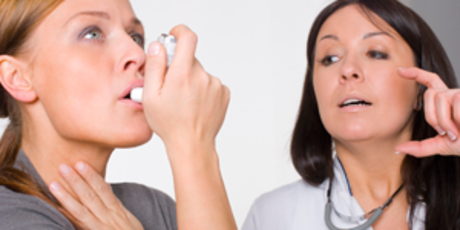 Asthma
More than 22 million Americans of all ages have asthma. Prepare to talk to your doctor about symptoms, diagnosis and treatment options.
Quality Rating
Highly Satisfied
27 Ratings with 9 Comments
5.0 Rating
July 23rd, 2015
My 8 year old son was wasting away with horrible, painful symptoms. Dr. Ogunmola quickly diagnosed the problem and worked with my son's treatment until he found the right combination. My son is 15 years old now; he is healthy, active, and symptom-free. His good health is a miracle, of which Dr. Ogunmola plays an important part. We are so thankful to have Dr. Ogunmola as our son's physician.
5.0 Rating
October 9th, 2014
Excellent Physician
We originally saw the nurse practitioner for Cooks GI, Allison Holt, and Dr. Ogunmola first treated my child when he did an upper GI to get some answers. He was very kind then and explained everything in detail. A year later, we asked to see him in the office for some issues and he was the first specialist of many that my son sees to look outside the box and try to find a reason for his symptoms. It's a bit sad when the GI orders an MRI because nobody else had but we are grateful that he did. I would recommend this doctor to anyone.
5.0 Rating
July 5th, 2013
An amazing doctor...
Dr. Ogunmola is an amazing GI doc who diagnosed my daughter quickly after 10 years of misdiagnosis by other docs. He is thorough but does not do excessive testing. He has a great bedside manner and is great both with his young patients and with the parents. He is now seeing patients in several different locations, which is very convenient for patients in different areas of the metroplex. He takes time during the appointment and makes sure that you feel comfortable with the information received, he is never rushing out of the appointment.
2.3 Rating
May 9th, 2013
Got a 2nd opinion after seeing Dr. O.
Our pediatrician said she hears wonderful things about Dr. Ogunmola, so I drove an hour and a half to see him. I was honestly really disappointed in our visit. He did change my son's reflux medication, which I knew he needed since he was reacting poorly to the first medication, but also wanted to switch him to Elecare from PurAmino, because, his his words, "I have only ever had one other patient on Nutramigen AA (the old version of PurAmino)." I saw another reviewer say he pushed Elecare on them too, so I wasn't shocked when he told me this. I gave one 3 ounce bottle of Elecare to my son, and he puked it all up and had mucous in his poop the next day. I called his nurse and she told me to keep trying to give him the Elecare anyway! As an experienced mother of other children with milk protein allergies (and also an RN), I kindly disregarded her advice. I then called back 2 weeks later because my son kept crying with spit ups, vomiting about once every day or 2, and crying during his feedings. After taking 2 days to get back to me, Dr. O's nurse told me that I had to wait another 2 weeks and if he still wasn't better, Dr. Ogunmola was going to need to do an endoscopy with a pH probe. I didn't want to make my poor 3 month old suffer for 2 more weeks, NOR do any unnecessary invasive procedures on him, so I decided to get a 2nd opinion - and am SO glad I did. Not only did the new doctor say that changing from PurAmino to Elecare is like changing from a Chevy to a Ford (as in, it makes no difference), but she said that "we already KNOW he has reflux, so why would we do an endoscopy?" She ordered an upper GI instead to make sure he has no structural abnormalities that are causing his vomiting and crying. I didn't hate Dr. O, and he did seem to listen to *most* of what I told him during the visit, but his treatment plan just didn't sit well with me, nor did the delayed responsiveness of his staff to my phone calls.
5.0 Rating
April 25th, 2013
Love Dooctor O.
I have had a long road in my diagnoses of Crohn's disease. It is very difficult to diagnose with such broad symptoms. When I first meet Dr. Ogunmola my mother and I did not like him very much, we thought he was just too smart which made his socially awkward. But after a few blood tests and a colonoscopy I was diagnosed with Crohn's. My second visit Dr. Ogunmola was AMAZING! He stayed and talked with me and my struggles with this disease for almost 45 minutes. Although it has taking a while to find the right medicine (which is normal), Dr. Ogunmola has been great. His nurse Adrianna is the best!!! But the people in the front are kind of mean. I HIGHLY recommend Dr. Ogunmola.
5.0 Rating
April 16th, 2011
A wonderful experience
5.0 Rating
January 14th, 2011
Excellent Clinician
I was impressed by his knowledge and detail. He diagnosed my son's chronic condition at the first visit and confirmed it within the same week. My son had previously been followed by another local gastroenterologist without any improvement. I was happy I sought a second opinion. For once in several months, my child is back to his old self. I have already recommended him to friends and family, who have similar views.
1.0 Rating
December 2nd, 2010
Limited bedside manner, washes hands when cannot easily diagnose
Very disappointed in Cooks Hospital and its affiliation with with Dr.Ogunmola. Not only has he not diagnosed my sons severe hospititalization required condition, but he is blaming it on psychological. He has never had any issues and lives with mom and dad without issue. Just a convenient brush off. I feel a doctor should work until symptoms subside or diagnosis is confirmed.
1.0 Rating
December 1st, 2009
Not the right doctor for my child
Dr. Ogunmola diagnosed my child as having a food allergy. All he did was listen to her tummy and press on it for a few minutes before he came to his diagnosis. He has pushed a certain formula, Elecare, on her, in which later results would find that she is allergic to. Nutramigen was more affordable and she did better on it, however he really pushed the Elecare. It constipated her for a month and since her allergy is dairy (amongst other things) the laxative they prescribed for her contained milk proteins! We are currently looking for a doctor who will listen to us and not push a product on us.
4.0 Rating
January 28th, 2017
3.0 Rating
January 28th, 2017
4.0 Rating
October 25th, 2016