Rate Now
Share Your Experience
Have you seen Dr. Nicole Lang?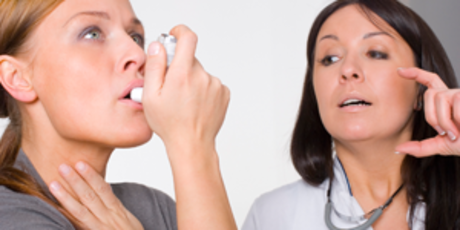 Asthma
More than 22 million Americans of all ages have asthma. Prepare to talk to your doctor about symptoms, diagnosis and treatment options.
25 Ratings with 12 Comments
1.0 Rating
November 14th, 2014
Horrible
To take an appointment u have to call many times and each time leave a message and u NEVER get a return call. Some day when u are lucky, if the staff answered ur call u may be able to take an appointment. It is usually easier for me to stop by their office either to get an appointment or to ask for a service. Wait time before seeing the nurse is not so bad (As I usually take early morning appointments). waiting in the exam room for Dr. Lang is a night mare!!! I do not know what take her so long to see her "prescheduled" patients??!! They do not ask for routine lab tests except if u ask her about that! and she never come back to u with the results... I have to call untill I am tired and then I have to go my self to ask for a copy for my daughters' lab work. SHe never interpret results (I noticed something which 9s definitely abnormal in my daughter CBC and I asked her about it, and then she tried to explain this for me). When asking for a visit report, they give u BAD HAND WRITTEN copy (if u can read it) that is filled by the nurse. Asking for the school form?, u have to pay 20$ for that (although it is very simple form that the parent can fill and just give to the office to be signed) and u will not receive it except after 2 WEEKS!!!!!! To be honest, the only thing that made me stuck with her office is that there is no other convenient clinic that accept new patients in my area... Bad practice
1.0 Rating
December 19th, 2013
Run, Run Fast, and Don't Look Back
Horrible, Unprofessional, Rude, misdiagnosed my children not once, but twice and missed the fact that my child needed OT and PT services until I brought it up and scheduled repeated meetings. Dr. Lang is a complete witch and could care less about caring for patients.
1.0 Rating
January 12th, 2012
Terrible!
First of all we are almost never able to get an appointment with Dr. Lang. I think we have seen her a total of 3 times. Secondly, when we do get an appointment with her or any of the other doctors, they are always very late. Once, I scheduled my daughter to have the first appointment of the day, and the doctor was still 25 minutes late! Thirdly, Dr. Lang will nickel and dime you for after hours calls, even if she is the one calling you. Recently, I called her office during open hours and asked her staff to fax me the results of a lead test. My daughter's daycare needed these results for their records. My husband and I called five times in one day asking them to fax the results before 5pm. They promised that they could and would fax the results. However, they did not fax the results. Instead, I received an after-hours phone call from Dr. Lang asking me if there was a medical problem. I told her that my daughter was not having a medical problem, and that I simply wanted her office to fax the lead results so that my daughter could continue to attend her school. Consequently, Dr. Lang charged me for a completely unneccessary phone call that she herself placed.
5.0 Rating
October 28th, 2010
Outstanding Pediatrician
My two girls have seen Dr. Lang since they were born. She is incredibly caring and patient and you can tell she genuinely cares. I had to have her paged several times outside of business hours and she called me back within minutes. She takes her time during examinations and always answers all my questions and, best of all, I never feel rushed like with many doctors. She always remembers mine and my girls names. Everyone in the office is genuinely nice and friendly. I would highly recommend Dr. Lang to anyone looking for a pediatrician!
1.0 Rating
October 18th, 2010
Run!
Dr. Lang has given us inaccurate medical advice and is rude. I do not know how this office gets an even decent review. I have been there for over a year and I have no excuse for that because I have had no good experiences. First, the only doctor worthy of seeing is Dr. Sage. The other doctors are not helpful, inaccurate, rude, or condescending or a combination of all of those. You will wait for an hour plus for any appointment you have. You will be on hold every time you call. And God forbid, after hours you need assistance because you will deal with this weird answering service that will read somethings to you from the internet and then send you to the hospital before you are allowed to speak to a doctor. I am pleased to say we finally organized ourselves to leave and do not recommend this practice to anyone.
1.0 Rating
July 8th, 2010
Run don't walk the other way.
I have had nothing but horrible experiences at Dr. Lang's office. As a first time parent they do nothing to address your concerns, rush you through your appts after you have often times waited for over an hour, do not diagnosis correctly and they do not notify you that if you bring up any concerns during your child's well visit they will double bill you. EVEN when it is them asking you to follow up on a previous concern. RUN don't walk to another pediatrician.
5.0 Rating
May 28th, 2010
Kind and gentle soul
WE DID NOT HAVE A LONG WAIT AS MY HUSBAND FILLED OUT THE PAPER WORK ON LINE. I LIKED HOW MY BABY WAS ONE OF THE 1ST PATIENTS AND NOT AROUND ALOT OF SICK CHILDREN. NOT TOO HAPPY ABOUT HAVING TO GET OUT OF THE HOUSE THAT EARLY. SPENT ALOT OF TIME WITH HER LACTATION CONSULTANT WHO I WANTED TO TAKE HOME WITH ME. DR. LANG SPENT ALOT OF TIME WITH US AS WE HAD MANY QUESTIONS AS NEW PARENTS. DR. LANG FOUND A HEART MURMUR AND HIP CLICK ON OUR SON THAT WAS NOT PICKED UP IN THE HOSPITAL. SHE WAS VERY CALMING, KIND AND KNOWLEDGEABLE GREAT FOR MY HUSBAND TYPE A PERSONALITY. MY HUSBAND WAS NOT HAPPY ABOUT HAVING TO PAY FOR PARKING. WELCOME TO DC
2.3 Rating
February 17th, 2010
More interested in marketing then doctoring
We hardly ever get to see a doctor in her practice ... always the Nurse practioner (who is lovely), but we would like to see the doctor sometimes. We have two kids ... they always make us wait forever, then squish out two kids into one appt. She made a completely wrong diagnosis for my daughter ... despite my gut telling me otherwise ... It seems like she has lost her focus because she has spent all her energy growing her client base.
1.0 Rating
October 2nd, 2009
pack for the day
1.0 Rating
September 9th, 2009
Waited 90+ minutes, saw no one, got money back, and left
.We arrived on time for an appointment to have my newborn son's belly button examined. Over 90 minutes after our appointment time, we were still waiting in a room for the nurse practitioner to come look at it. No one came to check on us, no one explained the delay, and when we pointed out that we'd been waiting for an hour and half, no one of the three people we talked to apologized or even cared. I guess this is par for the course. They don't value their customers/patients. We walked out, got our money back, and left. They didn't care.
1.0 Rating
August 10th, 2009
Run as fast as you can
Lang appears like a great office, but their continual incompetence eventually will drive you nuts: constant turnover of doctors, mistakes in billing (esp with cash payments), waiting times, and lack of attention. This is why you never see any older kids at the office--people get sick of the unprofessionalism at Lang's office and eventually run in the other direction.
1.0 Rating
September 11th, 2008
I dont feel they care about my son
Sadly I decided to take my son to another Pediatric, my son was seen by the Nicole Lang MD since he was born, but unfortunatelly she is getting to busy to pay attention to my son, even to get Medical record you have to wait 6 weeks, to get record for day care I had to wait for a month, and staff is not very friendly