Rate Now
Share Your Experience
Have you seen Dr. Nicole Lauinger?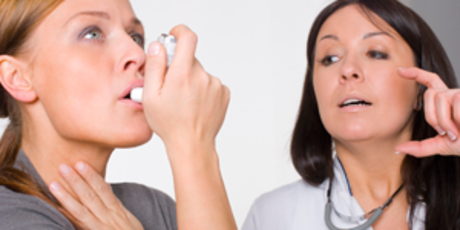 Asthma
More than 22 million Americans of all ages have asthma. Prepare to talk to your doctor about symptoms, diagnosis and treatment options.
22 Ratings with 9 Comments
5.0 Rating
May 31st, 2013
Mom of Twins - Dr. Lauinger is great
I would recommend Dr Lauinger, as other commented, she's a mom herself and will cover everything you want to know. She also always asks "What questions do you have?" which is great so we are always ready with our list. Though she must be busy, she does make time for us. What's best, she's very down to earth - she even came out and greeted us once in the reception area, not waiting for her nurse to do it. Her nurse Tiffany is super nice also!
5.0 Rating
September 16th, 2012
Great Practice!
5.0 Rating
December 5th, 2011
Excellent pediatrician
5.0 Rating
September 25th, 2011
FANTASTIC OFFICE!
5.0 Rating
March 8th, 2011
GREAT DOC!
5.0 Rating
January 31st, 2011
1.0 Rating
August 5th, 2009
Bad doctor
Terrible doctor...Don't trust her judgments
1.0 Rating
April 2nd, 2009
Terrible Doctor
We chose this clinic after searching and meeting Dr. Nicole K. Lauinger while my wife was pregnant. She was friendly at first and became his primary dr. Soon after, she became the worst doctor ever. During his initial wellness exam, she diagnosed him as having "thrush" in his mouth. We were a bit surprised since he was feeding well and not showing any symptoms. We asked her if she was sure, and she was irritated when we we asked her that. She prescribed two medications and of course, we entrusted her and gave our son as she prescribed. The next 3-5 days were horrible. Our son became VERY ill, fussy, and started developing a rash all over his body and ears that pus was oozing out behind his ears. My wife said enough and we took him to another doctor/clinic for a second opinion. This doctor concluded that our son NEVER had thrush, just milk residue left on his tongue. He had an reaction to the medication she prescribed since he didn't have thrush and told us to stop immediately since it was doing more harm to him. My wife and I decided to go back to see Dr. Lauinger two months later for a wellness appt and to let her know what happened. Throughout the appointment was horrible for us. She did not addressed our concerns properly, and answered it in a way that "well, you saw another dr., asked them." She was pretty rude and unprofessional. For a dr to not at least say she made mistake truly shows her true colors. We haven't been back since and will not recommend this clinic to anyone.
1.0 Rating
September 25th, 2008
Horrible Doctor-Dr. Nicole Lauinger
We chose this clinic after searching and meeting Dr. Nicole K. Lauinger while my wife was pregnant. She was friendly at first and became his primary dr. Soon after, she became the worst doctor ever. During his initial wellness exam, she diagnosed him as having "thrush" in his mouth. We were a bit surprised since he was feeding well and not showing any symptoms. We asked her if she was sure, and she was irritated when we we asked her that. She prescribed two medications and of course, we entrusted her and gave our son as she prescribed. The next 3-5 days were horrible. Our son became VERY ill, fussy, and started developing a rash all over his body and ears that pus was oozing out behind his ears. My wife said enough and we took him to another doctor/clinic for a second opinion. This doctor concluded that our son NEVER had thrush, just milk residue left on his tongue. He had an reaction to the medication she prescribed since he didn't have thrush and told us to stop immediately since it was doing more harm to him. My wife and I decided to go back to see Dr. Lauinger two months later for a wellness appt and to let her know what happened. Throughout the appointment was horrible for us. She did not addressed our concerns properly, and answered it in a way that "well, you saw another dr., asked them." She was pretty rude and unprofessional. For a dr to not at least say she made mistake truly shows her true colors. We haven't been back since and will not recommend this clinic to anyone
5.0 Rating
March 3rd, 2017