Rate Now
Share Your Experience
Have you seen Dr. J Onwuta?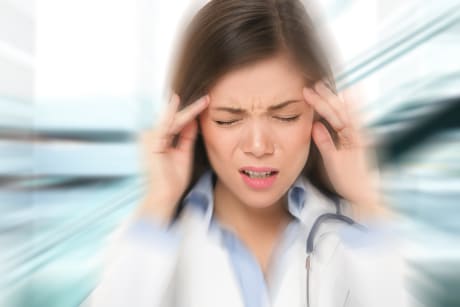 Migraine
Get the facts about migraine headaches, including the different types of migraine and migraine triggers.
Quality Rating
Highly Satisfied
60 Ratings with 14 Comments
5.0 Rating
July 23rd, 2017
Focused on the root cause
My experience to date with Dr. Onwuta has been very comfortable , as well as reassuring . At first he was a bit slow in determining the root cause of my long battle with chronic pain of 11 years , which entailed 8 different surgical interventions to no avail . Then I started to understand his reasoning and his methodical concept in isolating each area of the anatomy , which together we are continuing . Through a process of elimination of so many different intrical parts of the anatomy , I truly believe we will succeed in finally find the core of the issue , along with the aid of my other Specialists .
1.0 Rating
June 24th, 2017
Trying to get an appointment with Dr referral when I told my medical history and why I needed pain management they went with a condition Dr was still exploring and denied me my appointment I called for a second appointment having everything and telling them change of insurance I was cancelled day before appointment for insurance which they accept the lady I had to talk to lacks empathy and cancels appointments I told her it is not her job to accept patients and I demanded to talk to office manager or the Dr himself as I was a transfered patient from another pain clinic that is now closed she denied me to talk to anyone else I then said I was coming in to talk to Dr to see what he had to say she repeated over and over she will deny me to go through the door and repeated to argue with me for 45 mins I hung up. If dr Onwuta reads this I want you to know how bad your office personal are and making it hard for pain patients to be treated I check again and I see my insurance listed as I was told with 2nd appointment my insurance is fine.
5.0 Rating
March 6th, 2017
What a wonderful doctor!
What a wonderful doctor! I have been to several pain management doctors over the past four years and when I moved to Chicago my husband and I looked for me a new pain management doctor we came across Dr. Onwuta and what a blessing he has been to us. He has to have the most caring nature of any doctor I have ever been to.
3.0 Rating
March 2nd, 2017
Mehhhh
2 month wait time for new patients but did spend a significant amount of time reviewing MRI/X-Ray results. Polite person but likes his cell phone too much. Effective use of pharmaceuticals but not so much for the alternate options (i.e cortisone shots). Kinda rough for pt. experiencing pain. 1 month wait time for regular visits.
4.0 Rating
July 16th, 2016
THE BEST DOCTOR I HAVE SEEN IN YEARS! FANTASTIC!
5.0 Rating
July 1st, 2016
5.0 Rating
April 28th, 2016
nice to be a patient not a number
2.0 Rating
November 23rd, 2015
Deception and lack of ethics, can't believe Advocate Employs a Sadistic ---
The first visit is deceiving as it is thorough. All appointments after you are invisible and get 5 minutes or less. I expect a monthly appointment especially after receiving injections, but with out even consulting me, my appointments are deleted and I see I am holding 2 months of prescriptions. I was crying for 45 minutes in the exam room waiting beyond the half hour in the waiting room, and he didn't care for the past 5 months my pain has not in the least been managed. I have to repeatedly call to get scripts corrected so they can get filled. I have yet to receive medicine that allows me to participate in family functions due to chronic excessive pain. Onwuta had to be forced by a Goodsheperd Hospital nurse to reconsider hearing my cries for pain relief. After a second half hour of arguing or pleading on deaf ears, I was instructed to take an additional pill of my current prescription and a nurse or Alice, the office manager, would call to schedule more epidurals the following Wednesday AND tell me to come get a new script for stronger pain med. The call never came. I had to drive to a further office to get the script after staff thought I was making this up, only to find out the script was unable to be filled until after the weekend and I was completely out of medicine Saturday night. The staff and doctors know the new laws, and should have offered to pre-confirm my increase in dose with my pharmacy to avoid any delay in having it filled. If your pain is stable and don't like monthly visits, he's the lazy doc for you. If you have yet to have your pain at a manageable level, don't get suckered in by a deceitful first visit. I cry every night and most days in fits of pain and have even told his staff I would rather be dead than face another month of this. I told it to the doctor too, but he feels things might change in a month, which I heard for the past 5 months. Yeah they get worse with cold and storms.
5.0 Rating
December 19th, 2014
Worth the wait
Dr Onwuta took a lot of time to review my conditions, medical test history. The time to get an appointment was very long lead time, but I find that to be true of a lot of specialists lately. The thoroughness of the exam were exceptional. He's the first pain management guy that I felt listened carefully to me.
1.0 Rating
October 6th, 2014
no care and no calls
First emergency appointment,, wait time 1 hour and 15 minutes. Second emergency appointment , no apologies and a headache med for extreme pain, They called in hydromorphone after I told this Dr. Nothing stronger than norco.I took them for 2 days and threw them away. Third emergency appointment he tells me to take two headache meds after I had explained that the first one didn't work.I tried to fire them and they sent the ambulance and police to my appartment twice within a week.After three emergency appointments nothing solved.Please think carefully before you make an appointment with this place.
5.0 Rating
February 17th, 2011