Rate Now
Share Your Experience
Have you seen Noor Merchant?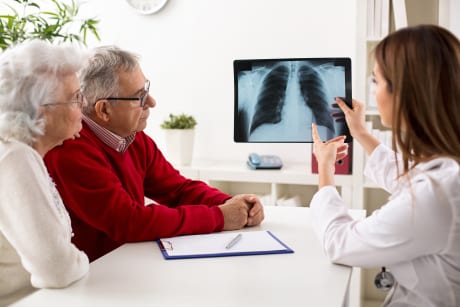 Lung Cancer
Get the facts about lung cancer, including how many people get it and what increases your risk for developing it.
22 Ratings with 9 Comments
5.0 Rating
June 6th, 2014
number One Doctor
In my 58 years of coming in contact with many doctors, Dr. Merchant is number one in my book. He is caring, patient, and compassionate. His nursing staff know their jobs and do it well. The front staff also do a great job and are such wonderful girls. I never had trouble getting in touch with him or his team with concerns or needs that we needed addressed. I cant say enough how I feel about this Dr. I do believe this man can walk on water. We lost our battle with my husbands cancer. It wasn't due to the care of Dr. Merchant. Time wasn't on our side.... I would highly recommend this doctor to anyone.
5.0 Rating
September 23rd, 2013
Cancer-Free Homemaker
5.0 Rating
April 27th, 2013
Great Dr.! He explained everything to me about my cancer and even wrote things down for me to search for on the internet. He took action right away, even called while I was sitting there to get my port put in sooner because the surgeon said he couldn't do it soon enough for Dr. Merchant! Started my chemo in less than a week!
5.0 Rating
May 16th, 2012
Outstanding review!
5.0 Rating
July 3rd, 2011
Patient
3.7 Rating
April 18th, 2011
At my moment of greatest need This doctor showed complete empathy. He was patient and kind. He gave detailed explanations and options of care. He was respectful, patient and dignified.He does an outstandding job. He puts you at ease . He makes you feel that you matter.I am very grateful for everything he did for me. Thanks.
1.0 Rating
November 6th, 2009
Avoid this doctor like the plague
Dr. Merchants insensitivity caused suffering to our dying father. When my sister and I flew to Florida to take care of our dad, we found him wasting away and on inadequate pain medication. At that point Dad had a diagnosis of cancer but no prognosis. We brought him to Dr. Merchant who had no intention of examining him, despite the fact that Dad passed out in my arms in the parking lot. We had to insist that he see our father and talk to us. He didnt look us in the eye during the whole conversation. When we asked whether Dad was treatable or dying, he wouldnt say. Dad was scheduled for a PET scan and when we asked if he should still undergo it, the doctor said if we could make him stronger over the weekend he should get the scan. So despite our poor fathers complete lack of appetite we spent the weekend urging him to eat, and he underwent the PET scan. When we called to ask about the results Dr. Merchant didnt remember telling Dad to get a PET scan. He still wouldnt give us a prognosis; I went to my parents general practitioner who finally told us our father was dying. And he knew that from before the PET scan, so there had been no need to put our father through that extremely stressful procedure. Also, in Dr. Merchants office, our father was given a glucose iv drip, despite his being diabetic. Fortunately, my sister noticed and had him taken off the iv. Worst of all, Dr. Merchants unwillingness to level with us meant that by the time we knew for sure that our father was dying, he was on serious morphine and unable to process the information. The goodbyes he may have wanted to say if hed known he was dying never got said.
1.0 Rating
August 26th, 2009
Doesn't like an educated patient
Dr. Merchant knows his stuff, but he doesn't like to be questioned. He says he will answer your questions, but after briefly answering the first couple, he is backing out the door.Dr. Merchant has an arrogant attitude. When I questioned him about a drug's potential side effects, he said I read too much.Nurses may like him because he knows his field, but they are not in the patient's shoes. Dr. Merchant has no regard for the patient's or family's emotional needs. If you or your loved one has cancer, you need compassion.If you would like to blindly follow your doctor's orders and think doctors are gods, Dr. Merchant is the doctor for you.
1.0 Rating
June 18th, 2008
5.0 Rating
November 21st, 2016
5.0 Rating
October 10th, 2016
5.0 Rating
June 24th, 2016
Nearby Doctors

Noor Merchant is similar to the following 3 Doctors near Sebastian, FL.