Rate Now
Share Your Experience
Have you seen Dr. Odette Campbell?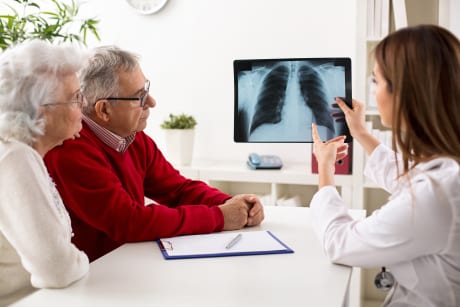 Lung Cancer
Get the facts about lung cancer, including how many people get it and what increases your risk for developing it.
26 Ratings with 13 Comments
1.0 Rating
August 19th, 2014
...THE WORST DOCTOR
Odette Campbell is the worst "doctor" I've ever encountered. She is a disgrace to the medical profession and cares nothing about her patients. I have personally heard her tell her staff to IGNORE the patients who call continually, day after day, asking for a signature on disability papers, medical equipment, etc. She is undoubtedly the most rude individual I have ever met. Treating her teenage staff as though they hung the moon, but anyone with experience who tries to work for her will be told "you're an idiot or you're stupid..." The medical review board needs to take a long look at her mannerisms with patients, who she has working in her office and how she conducts her daily business. Personally, I believe she's bi-polar and suffers from many other personality disorders. Her memory is deplorable, at best. Someone needs to get her out of the medical practice field before she ignores the wrong patient and someone finds them dead.
1.0 Rating
January 15th, 2011
5.0 Rating
April 28th, 2010
patient
5.0 Rating
March 24th, 2010
Patient of Several Years rates Dr./Staff/news items
Dr. Campbell treated my breast cancer from '01 to '06 with compassion, humor,and the latest treatments along with my entire care team of other excellent specialists in Denton. She specializes in Oncology/Radiation but is a licensed trained and experienced medical doctor so of course she can treat feet and any part of the body as regular MD's do. (see an uninformed previous rating comment)This was my second round of serious cancer and I am clear now. again. Dr. Campbell's staff changed often and many mistakes were made in calling in our insurance info and prescriptions, so we understand why some didn't stay long. They were incompetent and unprofessional. Some were even hateful and slovenly on the job. Dr. did not prescribe any meds for me unnecessarily during that time or since but treated only when necessary and seemed to have a vast up-to-date knowledge of current procedures and treatments. She DID diagnose my chronic fatigue after I'd gone to many others and wasted several years. She treated whatever I needed thru ten very long years and became my go-to person. She made sure all of my follow-up tests were up-to-date (I am at risk for further cancers) and has been very professional in all ways. I highly recommend her to others.I now have a husband who switched his cancer care to Dr. Campbell because of her vast knowledge of current treatment and her lack of B.S. in dealing with her patients with questions. We, too, dislike long waits but realize it's inevitable when the Dr. takes time with each patient as she does so we wait our turn. I think her only crime is that she cares more than most and has had terrible staffing problems. Apparently some spiteful ex-staff have an ongoing vendetta. As for the pain meds, we must take into consideration that there are currently no definitive tests for assessing pain in others and apparently she believed some who were scamming her for their fix. The Dr. and perhaps her office mgr certainly should have kept tabs on licensing better, I agree. I/we wish her well and hope things line out so she can get back to doing what she does best . . . treating her patients, without the witch hunt that seems to be ongoing.
5.0 Rating
July 28th, 2009
Very Intelligent
I have been seeing Dr. Campbell for sometime now, she is a very driven woman with a big heart, she is often overbooked because she is willing to fit people in when she can, this person can be you one day...She's a brilliant mind who actually listens intently & builds her program around patients needs & medical neccessity.
1.0 Rating
April 14th, 2009
this lady sucks
5.0 Rating
April 10th, 2009
I love Dr. Campbell...all of you people complaing are just plain CRAZY!!!! She has always been an excellent Dr. to me, she cares about her patiens. Her only problem is that she cant get good staff. She has tried over and over to get good staff and still ends up with the worst. As for her she is GREAT and CARES about all of her patients
1.0 Rating
October 17th, 2008
Can't blame the staff