Rate Now
Share Your Experience
Have you seen Dr. Padmavathi Pagadala?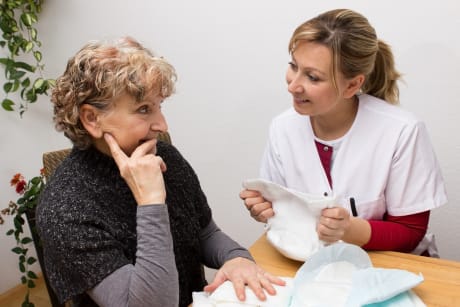 Urinary Incontinence
Learn about the symptoms and causes of urinary incontinence or urge incontinence.
47 Ratings with 5 Comments
5.0 Rating
May 14th, 2017
Loved Dr Pagadala
So patient and kind. She is straight forward but that made me love her even more. I got induced with my little girl secondary to my son being ten lbs. she helped me keep my weight and my babies down with a diet plan but allowed for some snacks and stuff too. My baby girl was healthy and my labor process although very long was great w her caring attitude and kindness. I never felt like my appointments were rushed or I was just a number to her like I had when I went to the group. She was amazing!
4.0 Rating
January 4th, 2017
Very Attentive
5.0 Rating
October 24th, 2014
I would highly recommend Dr Pagadala. She is professional, experienced, and has great beside manner. The most memorable experience I had was my last visit. I was there for a regular pap test. I had just lost my daughter to a sudden unexpected death. Dr. P asked how I had been feeling. I told her about my recent loss. She took my hand and we had a nice conversation around this experience. She was so compassionate. I could not express how much that meant to me. I know she was very busy, but took the time to make sure I was okay. She is not a person who judges you. I have gone to her for years. I am so glad she is a part of my life. She is a wonderful person and a great Dr.
1.0 Rating
May 13th, 2014
terrible excuse for a care giver
I've been to several drs on my road to having children as I have a blood condition that causes miscarriages. This dr. Walked in with an attitude from the get go. She had a med student with her and she was putting on a show. I told her I was spotting and was concerned about possible miscariage. Instead of checking me she went into a whole half hour of talking about my weight and what I ate when I ate etc. Any thing I said was dismissed and putdown as ignorance. I was told I was at fault for the miscarriages and the blood condition was just basically a side issue. Finally when she was done with her talk I seen the ultrasound tech. She was a beautiful person,very kind and understanding. We seen the sack but there was no baby. She said we had m.c. which I already knew but still was hit hard. We went back and waited in the drs office for another thirty minutes for her to come in and say well what do u want to do its already been six weeks you might as well finish on your own,or we can give you the pills to help finish. I chose the pills. I was suppose to go back for a followup but chose to go to a different dr. I will never ever go back or recomend her to anyone.
1.0 Rating
September 20th, 2017
5.0 Rating
May 25th, 2017
5.0 Rating
October 29th, 2016
1.0 Rating
August 4th, 2016
5.0 Rating
March 22nd, 2016