Rate Now
Share Your Experience
Have you seen Dr. Pankaj Karan?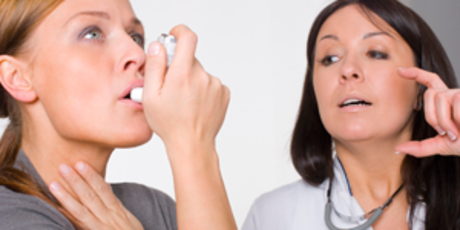 Asthma
More than 22 million Americans of all ages have asthma. Prepare to talk to your doctor about symptoms, diagnosis and treatment options.
23 Ratings with 17 Comments
5.0 Rating
September 30th, 2012
Great
1.0 Rating
August 11th, 2012
Pankaj Karan burned me
They burned me! I got a laser treatment on my upper lip from Dr. Karan's office and they literally burned me. An area on my upper lip is scabbed over and will likely leave a scar. Joey did my laser...do not use her!I went it to the office to show them and the Pankaj Karan, MD, the head doctor, wouldn't even give me anything for it...he told the receptionist to have me go to the drug store and buy some over the counter products. Really? This is what you want to hear from an establishment who has people that are working from them that are so inept that they don't know how to work the settings on the machine to the point in which it physically harms you!i also have had problem with the unprofessionalism when trying to make an appointment (that is, when they pick up the phone) and at the office. Take my advice, don't get burned like I did!
5.0 Rating
March 14th, 2012
5.0 Rating
October 11th, 2011
Finally found a Dr I will revisit!
I should have reviewed a while back. I went to see Dr. Pankaj Karen after having horrible experiences with other Dr's/Offices. Dr. Pankaj took the time to explain my procedure, gave his recommendations, and did excellent work. I will definetly be returning to Valley Asthetics and Laser. His staff was friendly and knowledgeable,the office was spotless. In the end..it's about the quality of the work...HIGHLY RECOMMEND!
1.0 Rating
July 22nd, 2011
Unprofessional
A rude, judgmental, abrasive, unprofessional, uncaring ego maniac. With a chip on his shoulder. And a god complex. This man has got some issues. He's a child in a mans body. Why anybody would allow this Doctor to put his hands on you, is beyond me. If you read the responses he has given to some of the comments here, you can see the level of professionalism. Please people do your self a favor and stay away from this man. You wonder why I feel this way. I can not discuss my situation at this time. I'm afraid he would know who it is. Too fresh on his mind. I do not enjoy saying this about anybody. I had to.
1.0 Rating
July 13th, 2011
5.0 Rating
July 1st, 2011
Fantastic!
I highly recommend Dr Karan, Valley Aesthetics and Laser, and Greater Valley Physicians Medical. Treament is a little uncomfortable but results are fantastic. Equipment and facility are beautiful and state of the art.
2.3 Rating
June 30th, 2011
2.3 Rating
June 11th, 2011
Cut off my medication from the Pharmacy for a refill without notice. Medication is critical for my life, had only one pill left. He did not tell the Pharmacy that I need to make an apppointment to see him. Has a attitute if you do not follow what he wants done. He also made a bad judgement on needing a colonoscopy since I am on coumadin. Was upset with me no going. I checked with my cardiologist and he said I could not be off my coumadin for number of days for the colonoscopy.He realize then that he was wrong.Will be looking for another Doctor.
5.0 Rating
November 25th, 2010
Highly Recommended
5.0 Rating
November 19th, 2010
Came to the office and was pleasantly surprised! The office is beautiful and the staff was really friendly. I came in because I wanted another opinion on my laser hair removal. I had been paying $700 per treatment at another doctors office and the hair was still there. I read online that Dr. Karan was offering a new laser system that offered 90% hair removal. After just the first treatment, I see the difference. Definitely more of a difference versus the previous doctor. Would highly recommend this place to anyone looking for skin or hair issues.
1.0 Rating
September 14th, 2010
Rudest man Ive ever met
He was rude to his staff... right in front of me and other people waiting. He was dismissive and pretentious with me with my condition as well as spoke if it loudly outside of the exam room. I was mortified and put off. I will never come back here.
Doctor's Response
I would like to know who the patient is and when he was seen I my staff is most spoiled ones in world and my problem is that I am just too nice to them