Rate Now
Share Your Experience
Have you seen Dr. Patrick Allen?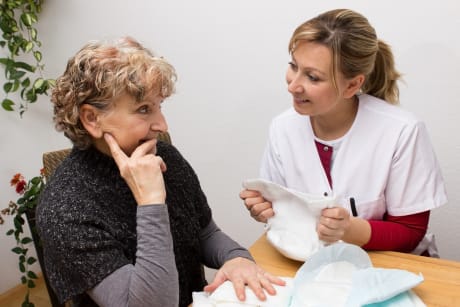 Urinary Incontinence
Learn about the symptoms and causes of urinary incontinence or urge incontinence.
Quality Rating
Highly Satisfied
42 Ratings with 17 Comments
1.0 Rating
August 10th, 2017
Unorganized practice
They staff is unpleasant. They are very unorganized. They don't get along or communicate with their lab emoployees. The doctor doesn't listen to the patient at all. He seems to suggest, very strongly, what he thinks is easier for the patient to manage instead of what they ask for. Then if you don't agree he makes you feel stupid for suggesting other treatment. I had gone to this office for years but it has deteriorated. I won't return.
5.0 Rating
February 19th, 2017
Great experience
5.0 Rating
January 26th, 2017
Dr. Allen is a GREAT doctor.
5.0 Rating
January 19th, 2017
Great Doctor
5.0 Rating
November 21st, 2016
4.0 Rating
July 6th, 2016
Dr. Patrick Allen
1.0 Rating
June 17th, 2015
Very poor service, over 2 wks to get results of blood work, when I called bc I was not feeling right! Several other problems over time, but this was my last straw.!
1.0 Rating
January 14th, 2015
2.3 Rating
August 12th, 2013
pushes for c-sections
I REALLY liked Dr. Allen until I was 37 weeks pregnant. I put my whole pregnancy in his hands, I even asked about c-section rates when I first met and these questions were all met with ease. I had confidence that he was a Dr. who would put my wants and best interests first. At 37 weeks was the first time I had ever heard of him mention c-section and inducing. It was the standard speech, baby is measuring big, big head, my wife's had 3 c-sections...etc. This was the first time I didn't feel good about Dr. Allen as my Dr., but I'd spent my whole pregnancy with him and just thought that perhaps I was being silly. I REALLY wished I had listened to my instincts, my gut and sought a different opinion. My contractions started at the end of 38 weeks and went into 39 weeks. My husband and I went to the hospital after I had endured 2 days of nonstop contractions. We got to the hospital at 2:30am. Dr. Allen's office is within walking distance from the hospital and I first saw him right before he was supposed to be at his office. Before I even saw him the nurses told me he was coming in to break my water.... what? This didn't seem right to me, but what did I know. The thing that seemed most odd was that this decision wasn't made after he evaluated me. I was only dilated to a 6-7. My water was broken, what I didn't know then that I do know now is that when your water is broken TOO early it can ensure the the position of your baby AND cause you swell, making it nearly impossible to push a baby out. I saw Dr. Allen an hour later and I was 95% effaced dilated to a 10. He told the nurse to have me start pushing to try to help me become 100% effaced. My body wasn't ready to push then, but I did as I was instructed. We later learned that my baby was face up. I pushed for about 45 mins with no luck. I saw Dr. Allen again and he informed me that my baby's head was too "big". I ended up being put on pitocin bc my contractions decreased and this caused my baby's heart rate to drop. After being placed on pitocin, I pushed for 30 more mins and then Dr. Allen came back in to check on me. Without saying a word to me, knew what the next sentence would be out of his mouth. You see, I felt like every step of the way I was slowly being prepped down the path to having a c-section. Before he even uttered a word, I said "No, not happening, I don't want to have a c-section". It was 3:30pm. Even the nurses told me stories about how face up babies can take longer to come out bc of the angle. Minutes after seeing him my epidural ran out. Because everyone had already decided that I would be having a c-section, they let me sit there for 30 mins with pitocin and no epidural. They let me sit there until I was in so much pain I gave up. My baby was born via c-section at 4:29pm. Oh and Dr. Allen was also going on vacation the following day. I failed to mention that this was one of the reasons he was talking about inducing and c-sections 2 weeks prior. This is how I knew what days he'd be on vacation. It's uncertain if I would've had a c-section had I gone to a different Dr. or midwife and I know this, but I felt like my needs and wants weren't meant. I felt like I was no longer a patient , but something standing in the way of him needing to go home for the evening. I really hate that I feel that way, but in my heart, I feel like I was on the path to having a c-section from the moment I saw Dr. Allen in the hospital. Oh and lastly, my gigantic baby was born at 7lbs 11oz and his HUGE head was in the 50th percentile.
5.0 Rating
July 7th, 2012
I love Dr. Allen.
I would totally recommend Dr. Allen. We were struggling to conceive. Dr. Allen took the time and ran all the necessary test. Now we have 2 perfect boys.
5.0 Rating
February 4th, 2012
Awesome Doctor
Dr. Allen and his staff rock. They are there for anything I need. As for the wait time, I understand because most of the time he is with another patient who is in labor or might be needing an emergency c-section. Its good to know cause I know he'll be there when I need him too. I plan my appointments accordingly making sure i'm not needed somewhere asap. I highly recommend Dr. Allen and his staff.
1.0 Rating
October 21st, 2011
Robotic Hysterectomy Nightmare
I had a partial robotic hysterectomy through Dr. Allen. I was eager to have the procedure and was told that the recovery time was minimal and that I would resume normal activities in no time. The procedure typically lasts 2 hours so my husband was very concerned when my 2 hour surgery ended 6 hours later. No one told him what was going on. What had happened was that Dr. Allen knicked my bladder during surgery, he thinks while removing my uterus. Was not aware prior to surgery, but apparently, it is very common for the surgeon to knick the bladder during this procedure. He sewed up the bladder and in doing so, he damaged some other parts inside of my body including the ureter. I had to wear a catheter for two and a half weeks which led to UTI and other discomforts. Not to mention the bloating I experienced for days from all of the gas they pump inside of you for this robotic surgery. So, fast forward. Just had an outpatient surgery with a Urologist to put in a stent to help some of the healing from Dr. Allen's handy work. During this outpatient surgery, the Urologist found that Dr. Allen had wrapped stitches around my ureter. The ureter is the tube that connects the kidney to the bladder. My kidney function is not 100% with the stitch around my ureter. So now I have to have MAJOR surgery to fix that. Total time out of work -- approximately 3 months. I had not prepared for any of this and furthermore, I am responsible for paying for all of this -- yes, I have insurance but the co-pays, medication, seeing specialists is overwhelming. He said this hasn't happened in 5 years. OK, I buy that but I am the statistic and want to let you know my experience.
Nearby Doctors

Dr. Patrick Allen is similar to the following 3 Doctors near Richland Hills, TX.