Rate Now
Share Your Experience
Have you seen Dr. Paul Daum?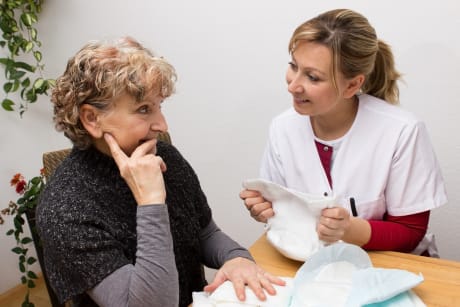 Urinary Incontinence
Learn about the symptoms and causes of urinary incontinence or urge incontinence.
Quality Rating
Highly Satisfied
48 Ratings with 26 Comments
5.0 Rating
October 27th, 2016
EXCELLENT DOCTOR
I STARTED GOING TO DR DAUM FOR 15 YEARS AND HE HAS DELIVERED ALL 3 OF MY KIDS AND HE IS AWESOME. HE IS THE BEST OB/GYN DOCTOR THAT IS AROUND THE DFW METROPLEX AREA. THEIR STAFF IS AWESOME AND I WILL NEVER EXCHANGE DR DAUM FOR ANY OTHER DOCTOR. THANK YOU DR. DAUM FOR BEING A GREAT DOCTOR.
5.0 Rating
October 13th, 2016
Best. Doctor. Ever!!!!!
Dr. Daum delivered me (28 years ago, believe it or not) and he also delivered all three of my children. He is a very well reputable doctor. Very professional, intelligent, and charismatic. His staff is amazing! I have read a few reviews with patients being upset about their appointments being re-scheduled. Let's keep in mind, his practice is OB/GYN. He brings lives into the world. Women don't decide what time they are going into labor. If you were the patient IN LABOR at the time, you would prefer Dr. Daum to leave the office to deliver your baby and cancel any appointments for the day as well. I would most definitely refer him to other patients!!!
5.0 Rating
September 27th, 2016
Awesome doctor
5.0 Rating
September 15th, 2016
He is just so good!
I have been a patient of Dr. Daum's for about 15 years. He is most wonderful. He is the king of the bedside manor and listens intently to everything you need to discuss. Dr. Daum keeps up with everything going on with me not only with his treatment but with what my other doctors are doing as well. He has great insight into the needs of his patients and works diligently to treat them to the very best of his ability. I drive quite a distance to stay with Dr. Daum and don't mind the trip one bit. He is the best!
3.0 Rating
March 14th, 2016
Needs WORK!
Dr Daum was very forward. He explained to me immediately that me delivering my baby at 40 wks would be unlikely due to a few pre existing medical conditions. He spent an aadequate amount of time with me explaining why he couldn't deliver my baby & what other options are available to me. His nurse, Monica was not the most efficient on prioritizing her work flow, meaning she doesn't take the time to call the lab to make sure everything is accurate or to check for any discrepancies, she ddoesn't call back to relay critical information regarding genetic testing & she doesn't verify that referrals for outsides specialist like perinatologist are submitted in a timely manner to ensure a visit. This is how my eexperience was with Dr.Daum & his staff! Not to mention a 45 min wait on my second office visit....
5.0 Rating
September 23rd, 2015
5.0 Rating
January 17th, 2014
Great Doctor..
1.0 Rating
October 16th, 2013
Worst Experience of My Life!!!
I am 21 weeks pregnant, my appt was set for 2 weeks ago and they cancelled to reschedule. We were scheduled for 3:00, he didn't come in until 5, no apologies. He read through my chart as if it was the 1st time he'd ever met me, giving results as if they were new (though we discussed them at previous appts). He forgot about my placenta previa, spent no time assessing me and I had to remind him I'd like the sono to check the previa status. Upon entering the sono room, he sat down and immediately started saying terrible things to the father of my child (who has come to every appt). It got so bad that the father got up, said he would not be spoken to that way and went to the waiting area. I was bawling my eyes out as he continued to bad mouth the father to me. I continued to cry, stated I was so bothered by what he did that I just wanted to get dressed and leave, if it was not for the fear of the previa, I would have. He examined me alone (crying the entire time) without staff present. The staff watched me crying as I went to the desk asking for a booklet of info with other Drs, stating I would not be coming back. Nobody asked why I was crying or offered any assistance. They refused to refund the money we were asked to pay up front for delivery fees, even though he WILL NOT be delivering our baby. Dr Daum stated he would not take a penny from us, though they want to charge the ins company and take whatever they feel they are owed before refunding the remainder. Horrible experience, I am a nurse and have never been so disgusted with any patient care situation.
5.0 Rating
July 23rd, 2013
Simply The Best
Its been since 2004 when I visited Dr. Daum. This man saved my life. He has the greatest bed side manner I have ever seen. He was kind, patient and attentive. After all these years, I never forgot him nor his kindness he showed me through the most scariest day of my life. I just love this guy, he is the best!!!! I wish him much success.
5.0 Rating
September 12th, 2011
Wonderful Dr.!
1.0 Rating
August 20th, 2011
don't recommend this doctor
5.0 Rating
June 28th, 2011
Great Doc!
I had to pick a new OB because I changed companies and found out I was pregnant. I looked at pictures of all possible docs on insurance and thats how I picked!(I had to make sure they didnt look like a creeper) I seriously lucked out because I think I got the best doc in the system!! He is an awesome doctor and truly cares about his patients. He said he would deliver my baby even if he wasnt on call bc I think he sensed I was worried being my first. He did deliver my baby as he promised and it was an enjoyable day to remember-no complaints. He has over 25 years of experience-he knows what he is doing. His staff is sweet as well, I love his part time sono lady (I forgot her name). But he also did most of my sonos which is nice. I would highly recommend him if your looking for an OB. I will definitely go back for my next baby.
Nearby Doctors

Dr. Paul Daum is similar to the following 3 Doctors near Mansfield, TX.