Rate Now
Share Your Experience
Have you seen Dr. Paul Drouillard?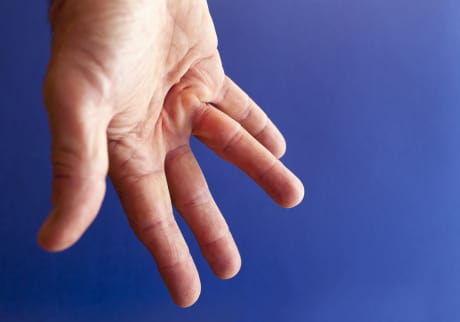 Dupuytren's Contracture
Dupuytren's contracture is a thickening of the tissue beneath the skin of the palm of your hand
48 Ratings with 20 Comments
1.0 Rating
May 25th, 2017
Hired insurance Gun
I was sent to this guy earlier this week. He spent more time asking about things unrelated to my condition and did not even examine the areas where I had pain. He spent a whole two minutes examining me. 11 minutes asking questions that were irrelevant to my pain. He wouldn't even look me in the eyes. 13 whole minutes to evaluate me. I have major back issues. And he spent more time playing with his hammer hitting my arms wrists knees and ankles Rather than paying attention to my back where the pain was! I have an area where I get a stabbing feeling since the accident. He didn't even look at the area!
1.0 Rating
January 2nd, 2017
I don't trust this doctor.
1.0 Rating
September 24th, 2016
Zero star if I could give him
I was also sent to this so called doctor by my auto insurance company to perform a an orthopeadic evaluation on me called an "Independent Medical Evaluation or and IME." In fact, I call them "Insurance" Medical Evaluation and NOT independent because they are far away from being independent, and I will tell you why they are not independent in a minute. This so called doctor evaluates patients who have been involved in auto accidents on behalf of auto insurance companies or workmans comp. So if you are being sent to this guy for an "independent" medical do not expect this doctor to say a word in your favor. He is being paid by your auto insurance company so this is not called an "independent" medical evaluation anymore. They tell him what to say in the report, and they make sure he says you do not need any attendant care. Let me tell you, this guy is rude, condescending, and would twist every single word that will come out of your mouth. Your insurance is mainly asking him to write a report that will benefit them regardless the situation you may be in. Paralyzed, your life was ruined, have had 10 different surgeries, all that is not matter to him and your insurance company. In other words, he will say there is nothing wrong with you at all, and all of your physical injuries are pre-existing conditions meaning that you have had them prior to your accident. Yes, you better believe that because it happened to me. That is exactly what the insurance company is looking for to cut your off and is more than enough to cut you off on your benefits. Your only course of action would be is to file a lawsuit against your insurance company like I did and won (thank God). These so called independent doctors are incompetent, don't care, heartless, and just lie for the money. They do not care if your life was ruined, it is all about the money to them. Their God is the almighty dollar. The question I always ask myself is, how can they go on living their life knowing they harmed so many people? How are they going to face God? How did they take the DO NO HARM Oath when they became doctors and now they are lying for the money? That is just beyond me.
5.0 Rating
August 13th, 2016
5.0 Rating
June 7th, 2016
5.0 Rating
June 3rd, 2016
Good doc
5.0 Rating
April 26th, 2016
1.0 Rating
April 21st, 2016
scary scary "doctor"
1.0 Rating
February 20th, 2016
4.0 Rating
February 5th, 2016
I read all these bad reviews and need to say that this doctor did knee replacement on 2 elderly aunts of mine...he was kind to both of them and they recovered completely from their surgeries without any problems. Follow up care was fine. We were seen quickly and he was fine and respectful to both of them. It's too bad the good reviews are never posted. I would definitely see him even for a second opinion because he knew what he was doing.
1.0 Rating
February 5th, 2016
Insurance Hatchet Man
This guy evaluates patients on behalf of insurance companies such as AAA, All States, Farmers, etc. He will twist every word that comes out of your mouth. He will write a report completely biased to the insurance company in order to get your benefits denied. He does not care about your well being or honesty. All he cares about is a pay check. He sold his license and integrity to the insurance company. Be aware.
1.0 Rating
May 1st, 2015
DO NOT TAKE YOUR ELDERLY PARENT TO THIS QUACK
Nearby Doctors

Dr. Paul Drouillard is similar to the following 3 Doctors near Garden City, MI.