Rate Now
Share Your Experience
Have you seen Dr. Paul Lama?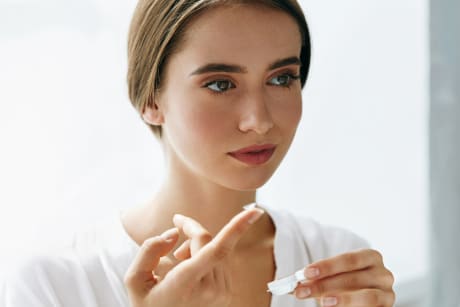 Contact Lens Care
A complete overview of what you need to know about your contact lenses.
40 Ratings with 10 Comments
5.0 Rating
August 8th, 2016
1.0 Rating
November 30th, 2015
Never again
my appointment was for 1;30. I was called in at 2;00. The first test was done and I was told to wait back in the waiting room. I was called again 1/2 hour later. Another test was done and I was sent to an examining room to wait for the doctor. He did not enter until an hour later. He examined me and sent me for another test after my eyes were dilated. They did the test and could not get it right so i waited another half hour to have the test again. The I was sent to the examining room to wait for the doctor. I waited another hour until he came in. Talked to me that all was good but the previous test was not performed correctly and they wanted to do it again. After being there for 4 hours, I repeat 4 hours, I said I am not doing the test again and I thanked him and I left. I waited in rooms for over three hours. Totally unacceptable and would never go back. One doctor and 10 people waiting in the waiting room. I should send a bill to them for my time.
1.0 Rating
August 11th, 2015
1.0 Rating
May 19th, 2014
1.0 Rating
September 5th, 2013
Patient wait time is worthless
Over two hour wait toward the end of the day. Apparently happens regularly. The staff attitude is 'oh, well. Just what it is.' If it happens regularly, why don't they fix it by better spreading out the appointment? Seems like an obvious solution. They must not care. Apprently, Doctor's time is precious but the patient's time is worthless. Geez...
5.0 Rating
January 10th, 2012
I CAN SEE AGAIN ! ! !
Although we complained about the wait time when we first starting going to Dr. Lama, 2 yrs ago, we soon realized that he is very much in demand. He is called for emergency consultations & this sometimes creates a longer wait time in the office. However, if you keep in mind that if you were the emergency on the other end of the phone, you would want Dr. Lama to care for you, the wait time doesn't seem so bad after all. Dr. Lama and his entire staff are both professional and friendly. Always willing to assist you & answer all your questions. You're not just a number, you're part of the family! Following the Trabectome procedure in both eyes and cataract surgery in one eye, it was the best feeling in the world to hear my husband say "I can see again", Thank you Dr. Lama! :)
5.0 Rating
December 1st, 2011
Awsome Dr.
Very professional .I am so grateful to have found this Dr. I trust him 100%.I have been treated by other Dr.s for 2 decades, that had no clue I had Glacomma..they said I had high eye presure (my mom is blind from Glacomma) Now with Dr, Lama as my Dr. I am relaxed ,because I know I will never lose my sight as long as he is my Dr.
5.0 Rating
November 5th, 2009
THE GREATEST DOCTOR
It's hard to get an appointment due to his popularity and expertise in Glaucoma. Nevertheless the office staff does its best to find you a spot. YOU CAN SPENT UP TO TWO HOURS IN THE OFFICE, ESPECIALLY IF YOU ARE A NEW PATIENT, BUT THAT'S BECAUSE OF ALL THE TESTING GLAUCOMA EXAM REQUIRES. HE IS VERY GOOD AT ARTICULATING AND EXPLAINING THE DIAGNOSTICS AND THE STEPS THAT ARE NEEDED TO BE TAKEN TO CONTROL THE PRESSURE IN THE EYE. I FEEL VERY FORTUNATE TO HAVE FOUND HIM. HE IS AN EXCELLENT SURGEON WITH MIRACULOUS OUTCOMES. I WILL STRONGLY RECOMMEND HIM TO ANYBODY WHO NEEDS A GLAUCOMA SPECIALIST, THE BEST GLAUCOMA SPECIALIST EVER NOT ONLY IN NJ BUT IN the entire country.
4.0 Rating
September 6th, 2017
3.0 Rating
August 17th, 2017