Rate Now
Share Your Experience
Have you seen Dr. Paul Leadem Jr?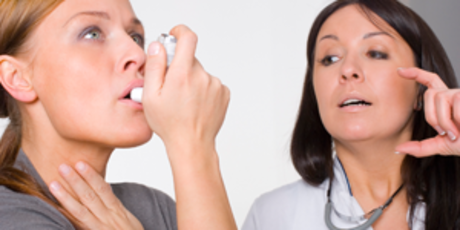 Asthma
More than 22 million Americans of all ages have asthma. Prepare to talk to your doctor about symptoms, diagnosis and treatment options.
26 Ratings with 9 Comments
1.0 Rating
March 10th, 2014
My daughter went to this Dr. for about 6 months before I gave up and found a better one. My daughter had ear infection after ear infection (to the point that when on a 14 day course of antibiotics, we'd be back in the office on the 10th day, not even making it through the whole dosing before the pain started up again.) This lasted for months before he finally referred her for ear tubes. She has minimal hearing loss in one ear now (loss of 30%) that the ENT Dr. said was scarring from the infections being allowed to go on for so long. Shots given by one nurse were horrible. Overall experiences added up until I knew I just couldn't give them any more chances to mess up.
1.0 Rating
September 3rd, 2013
Large brown stains on the filthy carpet in waiting room. Rips in the chairs sealed with duct tape . The nurse looks like he is 16 with his sloppy worn out scrubs and shaggy hair. Wait time was 25 minutes .basically old worn and tired office ,furnishings and staff. Dr was nice enough but whole experience left bad taste.
1.0 Rating
November 18th, 2011
Doesn't believe us
We used to like this doctor but lately he has just become rude and uncaring. We took my step-daughter in to be weighed and to talk to them about some concernswe had in dealing with her birht mother's care for her. His nurse acted like we were lying to her and he did the same thing! We tried to explain to him hat when she left our house, she was 34 lbs and when she came home from her BM's 1.5 weeks later, she was only 27 lbs. Big deal for a 3 y/o. We got her back up to 30 lbs by the time she went to her mother's and when she came back she as the same weight. He weighed her at his office a week later and she was 30 lb. and he said her weight was the same since her last visit in MARCH. This all happened in NOVEMBER, 8 months later!! He jsut wanted to keep telling us that her weight matched HIS records and didnt want to listen to us.My husband and I are looking for a new doctor because we do NOT like Leadem. I would NEVER recommend him to ANYONE!
1.0 Rating
August 12th, 2011
he jumps to conclusions
I took my daughter when she was 2 months old and as soon as we walked in he said she was abused which she wasnt, and then recently my daughter kept getting really sick, every time wee feed her she vomits his reply is oh she malnurished and she needs to eat more. I have switched doctors because this man always jums to conclusions and dosent bother to look and see what could be the problem
1.0 Rating
February 8th, 2011
Won't honor discounted price with insurance company!!!!
1.0 Rating
October 9th, 2010
Nice unless you disagree with him
He is nice and likes many appointments with your baby. Especially if he likes your insurance. PLEASE! Don't ask for slow vaccine schedule or even mention it. He likes to vaccinate sick kids and his face gets red when you ask to many questions and he is quite intimidating. I found another pediatrician who would listen to me and not get aggressive when questioned.Yes his staff is VERY rude and uncaring those women and the nurse that turned out to not be a nurse was very scandalous and he could care less no letters to patients or explanation. SAD! He pushes formula even when you are breastfeeding at the first sign of trouble instead of advice he give you a big plastic jug of formula YUK! If you are an exclusive pumper he will discourage you from that to use formula. His office is very sterile hospital like and he is getting to old and stuck in his way. I don't know if his wife is any different. She is his partner I had five appointments by the time my baby was 2 months just for simple slight jaundice and my insurance was great.
3.7 Rating
September 2nd, 2010
Always Right!
My overall experience with Dr. Leadem is always professional and prompt. My son was sick for a while, and I would go to them because he was the dr. on call when his pediatrician's office was closed. I actually switched to him within a month because he always gave my baby the correct medicine to clear up whatever was wrong at the time. He's in and out but I like that because as a single parent I always have somewhere. Time is very limited, and and grateful I don't have to sit in the waiting room for an hour just to have a dr. come in and be extra nice to me and my son. They are open on Saturdays (which I love) and I never have a problem scheduling an appt. I'd recommend him to anyone.
1.0 Rating
July 28th, 2009
5.0 Rating
June 2nd, 2016