Rate Now
Share Your Experience
Have you seen Dr. Peter Kemp?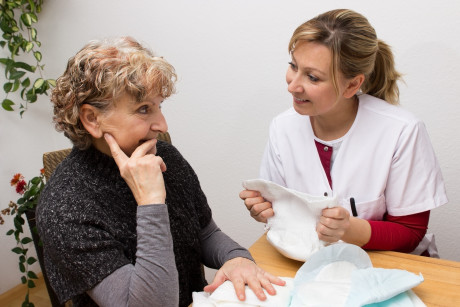 Urinary Incontinence
Learn about the symptoms and causes of urinary incontinence or urge incontinence.
32 Ratings with 16 Comments
1.0 Rating
December 1st, 2015
The Worst
I had the worst experience with Dr Kemp. He talked over me on every visit...and on each visit he was either LATE or had a Student with him. He never listened to me and I went untreated and now diagnosed with a serious health condition. I think I may have had it all along ... but I'm not sure because he never treated me or listened to me from the outset when I started going to him in 2010 or really to review my health history to ask questions to see if maybe I had any risk factors. I think if he had then perhaps I could have been Diagnosed sooner or never developed the condition. I had to ask him did he get my other results from my other Dr ..Did he review them .. I even called while I was there to have my records sent to him...I was told he would review them.. I never heard anything back. . He has the bedside manner of a gnat... I would never recommend him to anyone. Now I'll never know how long I've had my condition. I feel under treated. I would NEVER Recommend him
5.0 Rating
September 19th, 2015
Thorough! Discovered a thyroid problem!
I went in for my annual pap, but I complained of getting fatter than I already was, and that it was happening too fast. He tested me for thyroid levels and, drum roll please, I have hypothyroidism! So he got me in to my endocrinologist and we are working on it. Who knew, my GYN would discover this? He is thorough!
5.0 Rating
March 31st, 2015
Full of Awesomeness
1.0 Rating
December 19th, 2014
Rather move to another state for a better doctor
Dr. Kemp is the worst OBGYN I have ever had the displeasure of working with. Not only was he rude, he never listened to a thing I'd say. If I asked a question, he told me to read a book as if there aren't 8,000 out there that contradict everything. I would wait for up to two hours just to have my blood drawn and then 35 more minutes to be seen. The labor and delivery process with him was horrendous. His student helped me give birth. He did absolutely nothing but stitch me and assume I couldn't feel anything. I felt it all. Maybe I would have gotten over the terrible experience but instead of closing my account when it was fully paid, they put a warrant out for my debt when I didn't owe them a thing. I had to call them twice AS WELL AS the law firm they used to get anything closed so I wouldn't have to show up in court. See any other doctor but this one. I will never see him again. I can't believe he still has a license. He shouldn't be allowed near anyone at all.
5.0 Rating
June 1st, 2013
Really the best
I must say the staff blew me away. From calling making my appointment to seeing the new np Lauren to seeing dr kemp and the nursing staff. Hi how are you . Ok previously person from may 28. Sounds like your just mad person. I had a miscarriage and I have never been treated like I mattered ever. The nurse called and checked on me Thank you so much for the caring enough and getting me and my family though this. You will always be my doctors.
1.0 Rating
May 28th, 2013
terrible OBGYN
5.0 Rating
March 26th, 2013
DR.Kemp the best known doctor in virginia.
I'd like to say first of all what a wonderful awesome doctor he was he delivered my last son Gavin after my first pregnancy I went to another doctor he was not very nice to me this known doctor you or others might be seeing in a group left after birth inside of me than began to tell me if i dont push harder he was going to leave and come back when i could.Only a few days later woke up in a pool of blood and needed to go to the emergency room immeadiatly i was close to death this particular doctors a pretty famous doctor that a lot of people go to in a group. you are gambeling with your life with busy group doctors.i never sued because im alive and in order yo fix this word dont be apart of its downfall. Can I tell you how very well I was taken care of from the minute I walked into his office to the moment my son was born he is family to me and he is a wonderful person who makes you laugh is comical he's not cold nor impersonable this man should train others in personality kindness hes got a heart of gold he will remember you and your children 7 years later.he treats you actually like you are a family member of his household.I love doctor kemp he is the best and if I was to have any of my children have children they will be seen by doctor kemp. When I was at the hospital he was there when I was in labor he was laughing with me making me have a great time he took all precautions necessary I mean he is the best you will not find a better doctor than this and I will guarantee my life on it.dr.kemp if you can read this your one amazing northerner lol...10 star worthy
3.7 Rating
January 24th, 2013
Okay
5.0 Rating
November 21st, 2012
The Best!!!!
1.0 Rating
November 3rd, 2011
I was a patient in the Virginia Beach office
I have to say that going to Dr Kemps Va Beach Office was the WORST dr's office experience I have ever had. He has a bad beside manner and so does his nurse, Sylvia. He takes too many patients and you feel like just another $$ without much care for individuals. Not only did Dr Kemp mis-diagnosis me (reoccurring miscarriages) but then his nurse told me in front of staffs members and other patients that I was not pregnant and that I didnt know what I was talked about, when in fact I was very pregnant. Most of his patients are military wives and he treats them as those they are uneducated people and he doesnt listen very well to what his patients are saying. I may have married someone in the military, but I have a very successful college and professional career and I can understand medical procures and language! I would NEVER recommend him to anyone. There are plenty other drs in our area to pick from.
5.0 Rating
April 7th, 2011
LOVE LOVE LOVE DR>KEMP AND STAFF
i have been a patient since 2008 and really enjoy the services provided at Dr.Kemp's office. everyone is very sweet,and i feel as though when i walk in that everyone knows me.Kathleen Waters the np is also a great lady...nothing bad about this office and would recommend and have recommended this office to several friends!!
Nearby Doctors

Dr. Peter Kemp is similar to the following 3 Doctors near Virginia Beach, VA.