Rate Now
Share Your Experience
Have you seen Dr. Peter Sanfilippo?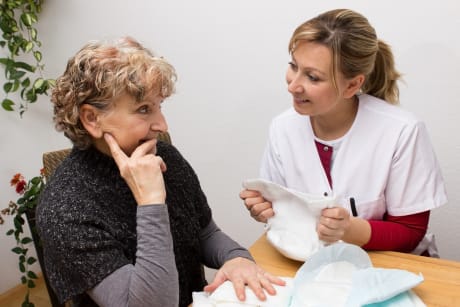 Urinary Incontinence
Learn about the symptoms and causes of urinary incontinence or urge incontinence.
Quality Rating
Highly Satisfied
97 Ratings with 25 Comments
5.0 Rating
January 22nd, 2017
Amazing
4.0 Rating
September 1st, 2016
Great doctor and sono technican but the staff has to go
When you walk into a specialist during your first pregnancy you want to see faces that will make you feel at ease. The experience is scary enough and if you are having any type of complications, which I was, you're a nervous wreck. The girls in the front don't smile, don't have a happy tone to their voice, they just look unhappy like they don't want to be there. If you call the office they're not nice, they just give you a lot of I don't know answers, when even if they didn't know you could be more understanding of how someone might feel waiting for a test result. The doctor himself is very pleasant and so is the sonography woman Debra. They should really consider hiring more polite staff who looks like they actually enjoy their job.
5.0 Rating
February 28th, 2016
Excellent Doctor who cares
Dr. Sanfillipo is a wonderful doctor. He is such a warm person, and genuinely cares about your and your baby's well being. I really feel that we have his undivided attention when we are with him, and he always gives us as much time as we need to address any concerns. We have been seeing him throughout this current pregnancy, and he has never made us feel rushed. He has taken the time to learn our history and expresses a detailed interest in our progression. He makes you feel very comfortable. I also have to say that Debra is amazing at what she does when she performs your sonograms. She is extremely knowlegable and will also take her time and talk to you during the ultrasounds. Her and Dr. Sanfillipo work wonderfully together. I am very thankful for the care they provide my husband and I. I would recommend Dr. Sanfillipo to anyone who is looking for a high risk doctor.
5.0 Rating
February 17th, 2016
Very Professional Knowledgeable Doctor
5.0 Rating
February 12th, 2016
Wonderful Doctor
I lost my daughter at 19 weeks due to a serious genetic disorder where I knew she would not survive. My careless OBGYN didn't even bother to call me to see if I was ok. I met Doctor Sanfillipo ones and he was carrying so symphatetic towards my situation. He called to see how I was doing and picked up the phone at all times when I had questions. He is a very caring, warm and I truly believe a great doctor so stop with your stupid reviews!!!!! Dr Sanfillipo gave me hope and guidance.
5.0 Rating
February 11th, 2016
Dr. Sanfilippo is a briliant doctor!
I have use Dr. Sanfilipp for the past 10 years. He is a briliant and wonderful caring doctor. His office staff is also very kind and considerate. His ultrasoundographer is sweet and caring taking her time to explain what she is doing. I have recommended Dr. Sanfilippo to many family members and friends. They all love him and think he is a excellent doctor.He takes his time with me and explains everything so that I understand completely. He answeres all my questions. More doctors should be like him. I am 100% satisfied with him and trust him completely.
5.0 Rating
November 3rd, 2015
Best Doctor Ever!
Dr. Sanfilippo is a great doctor. He is caring, experienced, and smart and no I am not a friend or family member of his. I am a patient plain and simple. He truly is wonderful and I encourage everyone to consider using him and not be discouraged by negative reviews here from a few disgruntled former patients. I am seeing Dr. sanfilipo currently for my pregnancy and I couldn't be doing this without him. He did not pressure me to buy his vitamins and in fact encouraged me to compare prices and brands on my own. He did not force me to use the lab. below him, while I have used it I have also used Quest, a different lab and he is fine with it. Yes, his office can get busy but with today's health care system I honestly expect to wait in any doctors office and do not feel that I have ever waited to see him an extraordinary amount of time....he's worth the wait by the way!
5.0 Rating
October 13th, 2015
Best dr
My wife and I went through a horrible experience losing our son late in her pregnancy. This doctor is the most caring and effective dr i have even known. Knowing as the husband i was going through the difficult time as well as my wife, dr sanfilipo took the time to call me every now and than to check up on us and truly was there for us as a medical proffesional but also as a sympathetic shoulder to cry on and provide life advice.
1.0 Rating
September 10th, 2015
Absolutely horrible. Don't go. He pushes for abortions when the babies always turn out okay. I've spoken to other patients of his who he forced to terminate and they didn't like I didn't and their babies are healthy and beautiful like mine. Horrible. And he forces you to buy his vitamins which cost a fortune when the over the counter ones are just fine. Avoid him at all costs. He had a sonigrapher there but I heard she left. She had the audacity to tell me to terminate because she was 100% sure my son had downs. Nope. He's fine. I hope she got fired. She as a technician had no right to tell me that.
2.0 Rating
July 18th, 2015
Does not know his stuff.
His ultrasoundographer is evil and mean. At such a joyous and scary time during one's life, a kind bedSide manner would be appreciated. I saw him over two years ago when I was pregnant with twins. I found out that he and the evil woman missed a few warning signs that sent me into preterm labor. I also found out I could have been doing a few things that might have prevented myself from ending in the hospital at 24 weeks for preterm labor. He also over books. I once showed up to my appointment and the waiting room was packed with pregnant women sitting on the floor. Not kidding. Although the doctor is kind, and sweet, he also tries to scam you any which way he can. My next pregnancy will be handled by high risk doctors that know their stuff!
1.0 Rating
April 30th, 2015
Run for your life
run for your life... you never want to go to this Dr. if you are pregnant. He has single handedly sent my pregnant girlfriend into a tailspin and the hospital with a terrible bed side manner and managed to scare her and myself with everything from too much fluid to swallowing problems. We have had a flawless pregnancy up to this point and within a matter of a week he has turned us into crazy people searching the web for every sign he has mentioned the baby "may have".
Nearby Doctors

Dr. Peter Sanfilippo is similar to the following 3 Doctors near Staten Island, NY.