Rate Now
Share Your Experience
Have you seen Dr. Prema Kothandaraman?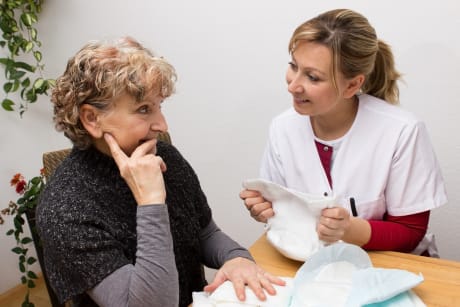 Urinary Incontinence
Learn about the symptoms and causes of urinary incontinence or urge incontinence.
32 Ratings with 13 Comments
1.0 Rating
September 9th, 2016
Do your research
1.0 Rating
January 30th, 2015
She had me pay up front in full for my visit, then sent me a bill later that showed she had also billed my insurance and asking me for more money. She also refused to give me the results of my lab test over the phone saying I had to come in, but when I accused her of doing this just to try and bill me for another office visit, she admitted that I didn't really need to come in. I am getting the results directly from the lab.
5.0 Rating
July 17th, 2014
Very Nice
I am surprised at the few negative reviews posted. I want to write to empower other women and let them know, they should be fearless in Dr. Prema's hands. After suffering from two miscarriages Dr. Prema had made my third pregnancy stress free. She was very considerate and compassionate knowing the fear of loosing another pregnancy. Dr. Prema gave me strength and hope to put me at ease. The nurses and staff were also understanding and caring. Dr. Prema answered all of my concerns and was quick and efficient with my prenatal care. She put my worries to rest, and was on top of things and incredibly thorough with all the test, etc. The delivery itself was amazing, she stayed in the hospital as my labor progressed for many hours not leaving and attending her office like some physicians would. Dr. Prema delivered my beautiful daughter. My postnatal care was also great. Dr. Prema stills continues with my annual exams and notifies me when it's time for the next exam. If your looking for a professional, caring, and want all of yours concerns addressed, she is the one. All I can say, "trust your body with her".
5.0 Rating
July 4th, 2014
Comfortable
I feel blessed to have Dr. Prema as my physician. She performed a surgery for me a few weeks ago at Huntington Hospital in Pasadena. Dr. Prema's loving, warm, and reassuring presence calmed me and made me feel comfortable. The surgery went extremely well due to Dr. Prema's excellent surgical skills. (She is Yale trained.) I work in the health care industry and call on OBGYN's all across the Los Angeles area, and Dr. Prema is the doctor I picked for myself because she is the best there is. She embodies the love, the care, and the intelligence you would want from your health care provider.
5.0 Rating
January 24th, 2012
5.0 Rating
July 22nd, 2011
Best doctor for Incontinence
5.0 Rating
May 11th, 2011
EXCELLENT!
Amazed by all of the negative comments, but please don't judge her by them. Dr. Prema and her staff are amazing! Dr. Prema is an outstanding doctor who genuinely cares for her patients. She always gives you her undivided attention and makes you feel at ease. Dr. Prema transmits a sense of serenity and peace that is exactly what one needs during a doctors visit. Thank you for being and extraordinary doctor whom I have completely trusted throughout my first pregnancy and now with my second
2.3 Rating
October 18th, 2010
Rushed and forgetful
I have had good appointments and bad appointments. I decided to leave her care in my third trimester because she would look me in the eyes in the office and say "I will see you next time" when we make an appointment in the office, and then I would end up with the NP. She also forgot my due date and used a completely different one without explaining why. I am high risk and it is unacceptable to not see her every time. It would be 8 weeks to see her and I am 34 weeks. She kept sticking me with the NP. She seemed distracted and rushed during my appointments when she bothered to show up for them.
1.0 Rating
September 21st, 2010
1.0 Rating
July 29th, 2010
2.3 Rating
April 27th, 2010
the girls in the front are not very friendly and rude and they are not very helpful. They don't give you a whole lot of information and I had the one to be asking for my prenatal prescription. No one ever offered to ask me if I needed prenatal vitamins. Dr Prema is a nice lady but the staff I feel does a lousy job and the wait time takes forever, I don't even know why I bother to make appointments when they never see me on time anyways. I spend more time waiting to see the doctor than the doctor spending time with me. I will never go back to this office again.
1.0 Rating
May 26th, 2009
Disappointing