Rate Now
Share Your Experience
Have you seen Dr. Qili Li?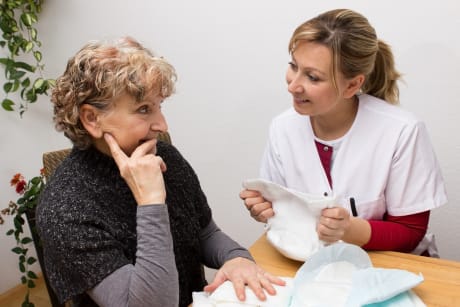 Urinary Incontinence
Learn about the symptoms and causes of urinary incontinence or urge incontinence.
51 Ratings with 21 Comments
1.0 Rating
October 17th, 2016
1.0 Rating
April 22nd, 2015
The worst experience!
The worst experience! While doing a D&c instead of helping me to relax during the procedure, she told me that my nervousness would interrupt her job! Also, she asked me to pay 2 copayment for doing the procedure & sending it to the lap. Then she just storm out for the next patient & told me to Chang fast!!! It's a shame to be called doctor!
1.0 Rating
February 24th, 2015
1.0 Rating
August 20th, 2014
worst doctor I've ever seen in my life
The whole clinic staff have no respect for their patients. They only want your money and are helpless. I've seen other clinics where the staff were rude but the doctor was nice, so it made up for it, but this clinic I dont understand how the doctor even got her license. She has no respect for her patients. I've asked her about a drug if I was able to take it during pregnancy, she not only didn't answer my question but when I asked the second time, the employees asked if I was done or not in a very rude manner as if I was annoying them. I went there for only one time, and that would definitely be my last. This clinic should be closed!
1.0 Rating
July 7th, 2014
will not recommend to friends and family!!
1.0 Rating
June 2nd, 2013
rude and unprofessional dr
For normal annual check up. Dr needs to perform the breast tests and Pap test. Also, Dr needs to put on a lubricated glove, checks uterus by placing 1 or 2 fingers in your vagina until touching the cervix, pressing gently with the other hand on the abdomen, also should ask if any tenderness or pain, which might indicate infection, and the presence of enlarged ovaries, cysts, or tumors. Dr Qili Li DID NONE OF ABOVE. What she did was only wore a glove without any lubrication. Poke her finger in and out in 1 second. I was shocked that was it! The person who performs the breast test and Pat test was a young girl called herself an assistant. I will never go back to her again! She's an unprofessional and rude Dr. Shame on her. I would give her zero star if there's an option for the score.
1.0 Rating
April 7th, 2013
When I was at my six months of pregnancy, I was introduced to Qi Lili. She was the most horrible dr. I ever had in my entire life. The wait time was extremely long because she always overbooked appointments. It could range from 1-2 hrs long and the actual time of seeing Qi Lili was only less than 15 minutes. She was always impatient and annoyed. I felt very miserable every time after seeing her because she never showed me with respect. I did not decide to change my OB GYN until the day after I had a vaginal examination, and I ended going to the emergence room in the middle of the night due to unstop bleeding. I suffered a lot of pain because she always did examination very rough and fast and she never explained anything to me before a procedure was given. A week after the ER visit, my water broke unexpectedly. I was blessed that my baby came out very healthy. I could have ended up suing her but because my water did not break a week after the incident I believe there was not enough evidence to file lawsuit against this freaking dr.
1.0 Rating
February 14th, 2013
Financial Analyst
Dr. Li did a procedure without informing me the risk such as bleeding, pain and infection, She just asked me to sign a consent form in a second. However, in the report, she indicated she did. She did the test very rough and fast. She did not spend time to explain the procedures. I got hurt for almost two weeks, that I had to go to see another GYN doctor. Watch out how she billed insurance company. She could bill for serveral days even you went to see her once. She might tell you to do unnessary procedures. Be sure to ask why. I would not recommend her to anyone because I feel she cares more about money than patient.
1.0 Rating
January 16th, 2013
Horrible Doctor
Qili Li is a terrible doctor. Not only is the wait time over an hour even with an appointment but the staff is rude as well. She has no compassion, very arrogant, rude and dismisses my questions. I didnt receive her undivided attention during my visit as she was shouting to her recepitionist regarding matters of another patient when she was suppose to be focusing on me. That was the minimum she could have at least given me since i waited over an hour to see her. She is also very rough with my procedures, I felt like she was more like a butcher rather than a doctor. I left in tears and will never go back to her nor will I ever recommend her to anyone.
1.0 Rating
October 29th, 2012
worst doctor
She has no care, only for money, don't go there if you have any chance.
1.0 Rating
August 27th, 2012
Do not see this Doctor ever!!!!