Rate Now
Share Your Experience
Have you seen Dr. Rachel Kramer?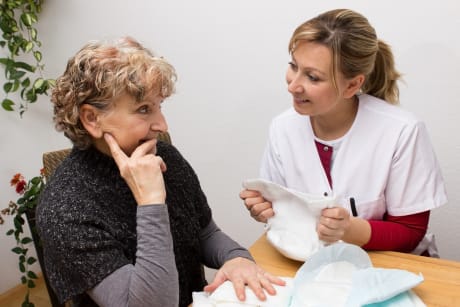 Urinary Incontinence
Learn about the symptoms and causes of urinary incontinence or urge incontinence.
48 Ratings with 20 Comments
5.0 Rating
April 1st, 2016
The BEST doctor!
5.0 Rating
March 31st, 2016
Recommend highly
Dr. Kramer is a complete professional who brings incredible knowledge and compassion to treating patients. My regular exams were conducted quickly but thoroughly and with sensitivity to my dignity and well-being. She returns calls to answer questions promptly and takes an interest in the lives of her patients, treating the whole person with consideration of their lifestyle, family context, and hopes for the future. I can't recommend her enough & compare all other providers to her excellence.
4.0 Rating
March 31st, 2016
Very happy with new baby!
1.0 Rating
December 30th, 2015
ageing whacko
she is the worst doctor I have ever seen. she will make you feel you are going to die either of cancer, or stroke or some terrible disease. This middle aged woman's license should be seized . she is an aeging whacko . she does not listen to you and pronounces the worst possible diagnosis. never go to her.
1.0 Rating
April 9th, 2015
I'm going elsewhere for help with my pre-menopausal symptoms.
Dr. Kramer made assumptions about me and my health without listening to what I had to say or even looking at my history. She cut me off mid-sentence, telling me "there is no data to support what you're saying." I replied, "Fine. Get the exam over with and I'll go somewhere else to deal with my health issues." Of course, she was mortified by my bluntness. Why do some doctors think they can treat patients like we're idiots and then act surprised when we fire them? She assumed (wrongly) that I was asking her for hormone therapy when I just wanted to discuss changes I've been experiencing in my 40's. I went to her because it said in her bio that she had expertise in pre- and peri-menopausal issues. If she had any experience at all, she should have known not to mess with a woman who's hormones are acting up! : )
1.0 Rating
March 25th, 2015
The worst!
I was patient at her practice for 7 years (2 babies born) and I always made app. with other doctors there and whenever I had to see Dr. Kramer it was terrible!!!! It looks like she hates her job, her patients and the most if you have any opinion about what would you like! She is rude, doesn't care, and at the end they somehow closed down their office here in MA and didn't even let their patients know... Now I will have to try to find a way to get somewhere my records... Anyway - FIND DIFFERENT DOCTOR!
1.0 Rating
March 5th, 2015
Callous and immature.
1.0 Rating
January 16th, 2014
Awful!
Do not see this doctor find someone else! She barely gives you enough time for you to tell her your name. Extremely rushed every appointment I've ever had. Everyone in the office, including the doctor, is extremely rude and didn't help answer any questions or concerns. Every time they've said they would call me back they have not and insist they are right 100% of the time. Not worth your time (you will sit and wait for every appointment) or hassle!
1.0 Rating
November 10th, 2011
The WORST doctor ever
This doctor made me cry the day of my delivery. She has NO bedside mannor. She actually YELLED at me the morning I was to go into the office. I had to pull the phone away from my ear, my husband, sister and niece all heard her screaming at me. 20 mins later she did call to appoloygize and to tell me I could get another doctor. WHAT?! Another doctor when I am overdue. She is insane. After the delivery we asked her if she would like to see our baby, she said "No, I was there." How rude. She also told my sister that she doesn't want to be delivery babies anymore. She should retire.
1.0 Rating
October 7th, 2011
1.0 Rating
July 20th, 2011
Very uneasy experience
I finally made the decision to leave this practice because of a gut feeling that Dr. Kramer is not the right OBGYN for me. She is uneven with her demeanor being short and somewhat abrasive (after delivering my baby she was sweet as pie, and that was a very rough delivery). I never left her office feeling great, and was secretly hoping one of the other doctors at the practice would be there on delivery day. I have met three complete strangers who were her former patients as well, at mother's groups and each had similar stories. I feel sad that so many women have had a bad experience.
Nearby Doctors

Dr. Rachel Kramer is similar to the following 3 Doctors near Moorestown, NJ.