Rate Now
Share Your Experience
Have you seen Dr. Radhika Kakarla?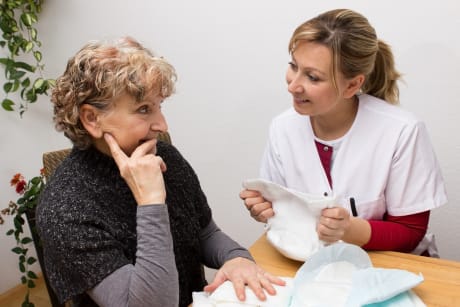 Urinary Incontinence
Learn about the symptoms and causes of urinary incontinence or urge incontinence.
39 Ratings with 21 Comments
5.0 Rating
February 7th, 2017
5.0 Rating
September 19th, 2016
Amazing
5.0 Rating
April 7th, 2016
1.0 Rating
June 6th, 2014
1.0 Rating
July 3rd, 2013
Run Far Away....
I would never recommend Dr. Kakarla to anyone. She rushes through your visit..once answering her cell phone during one of my appointments. I have recently been diagnosed with endometriosis and had some questions that I needed her to answer. After my 3rd phone call to her, over a span of 2 weeks, she finally called me back to tell me she worked nights the week prior (seriously??) and then while on the phone with me kept telling me how her daughter kept texting her through our phone call and kept laughing about it as she texted her back while trying to answer my questions. The following week, I called their answering service because I had some issues related to my endometriosis the night prior and was very sick. The answering service asked me if it was an emergency and didn't seem very interested in my problem. They would have someone call me back within the hour..that was 3 weeks ago and still haven't heard from anyone!!!! I would never recommend her or this practice to anyone.
1.0 Rating
May 2nd, 2013
Do not go to her!!!
First of all she doesn't know what she is upto..I told her my problems, she said she needs to do a check up under anesthesia, and after that I didn't get any feedback from her nor solution for my probs..and she sends a message asking me to meet her after a month..this is ridiculous!! And im still SUFFERING from the same problems.. I just felt one thing about her...she is zero in her diagnosis and MONEY MAKING!!!
1.0 Rating
November 14th, 2012
Not good
1.0 Rating
April 16th, 2012
I have been going to Dr. Kakarla for over three years and my experiences with her have been getting worse and worse. Not only did she put me on a TEMPORARY birth control for three years, but after going off the birth control and having issues, she put me on the wrong dose of another medication, which I only found out through googling the drug information. She has even laughed at me when I came to her with problems as a result of finally going off the incorrect birth control she had me on (which was making me super depressed and insane, I might add). It is nearly impossible to get her on the phone, and when visiting her she spends little to no time talking to you and then rushes out the door. In all but one of my appointments she did something incorrectly and left me with an unnecessary injury. I would absolutely not recommend her to anyone. She does not seem to care about her patients and has a terrible bedside manner. Bottom line, she doesn't know what she is doing and I am now suffering the consequences of that and looking for a new doctor ASAP.
3.7 Rating
September 22nd, 2011
I have been going to Main Line OBGYN for many years. I started seeing Dr. Kakarla when I was pregnant with my second child. I thought she was an excellent Dr. I can not believe some of the reviews here. I have never once had an issue with her or anything other Dr at this office. They are always happy and very accomidating. I always recommend this practice and Dr Kakarla to my friends and family.
1.0 Rating
September 17th, 2011
Dr. Kakarla did a vaginal hysterectomy in 2002. I kept telling her that I was having problems but she did not do anything. I started having recurring ecoli UTI's. So I went to a different ob/gyn. He said that she my vaginal wall was abcessed due to the fact that she had left in permanent sutures in my vaginal wall. He said that I needed surgery to remove the sutures. I had surgery and found out that she had left in 12 permanent stitches. I had a partial removal of my vaginal wall and I am still having problems. DO NOT GO TO THIS DOCTOR. She is not fit to be a Dr. much less perform surgery on you.
1.0 Rating
September 17th, 2011
ms.
I had a vaginal hysterectomy by Dr. Kakarla in 2002. I found out 2 years later and after a lot of problems that she had left in 12 permanent stitches ...
5.0 Rating
July 8th, 2011