Rate Now
Share Your Experience
Have you seen Dr. Randall Schaefer?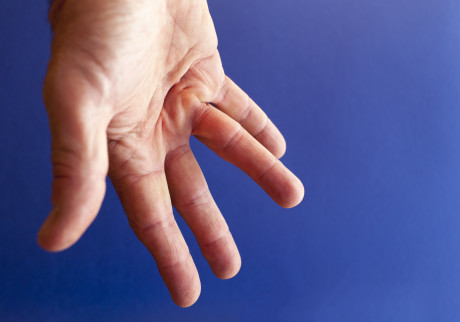 Dupuytren's Contracture
Dupuytren's contracture is a thickening of the tissue beneath the skin of the palm of your hand
45 Ratings with 21 Comments
1.0 Rating
February 17th, 2017
Find a better doctor
1.0 Rating
September 24th, 2016
Dont do it
5.0 Rating
September 6th, 2016
1.0 Rating
February 23rd, 2016
Find a different doctor
1.0 Rating
November 10th, 2015
Bad choice
5.0 Rating
February 11th, 2015
Correctional Sergeant
5.0 Rating
June 23rd, 2014
Outstanding experience!
After reading through the reviews, I choose to make my own to refute some of the negativity. I had two procedures by Dr. Schaefer in 1998 and 1999 and am so pleased with the results I chose him to perform another procedure "if needed". I will find out this week. I appreciate his approach and demeanor which is no nonsense and straight to the point of my visit and condition. I don't desire a physician treating me like his/her new best friend; I desire professionalism. Dr. Schaefer is that: Professional. I also appreciate the way he intensely looks at me and listens as I describe my symptoms and questions. (Former patients understand what I mean) He then provides a complete answer and asks if there are any other concerns. After my last visit 6 weeks ago, I asked his staff if they could recommend a good physical therapist. As they were searching, Dr. Schaefer joined the search using his cellphone because he couldn't think if a particular P/T office was where he remembered it was! I was impressed and not surprised. That demonstrated he genuinely cared about me as a patient and desired the best for me; in my opinion. I recommend Dr. Randall K. Schaefer. (By the way, commenting on the negative.......if you waited a long time, wouldn't you think it's because Dr. Schaefer takes his time with each patient as opposed to rushing them out of the office?)
5.0 Rating
April 24th, 2014
Knee surgen
Just wanted to say how happy I am with my new knee. I thought the worst going into having surgery on my knee. Dr Schaefer reassured me that it would fine. I would not have the swelling and pain, that I had before surgery. He is one of the best surgeons and a wonderful man. Thank you again
5.0 Rating
March 20th, 2014
Quality Care
After waiting 5 years trying to find a workerscomp surgeon to take my case Dr. Schaefer agreed to do my surgery. After only 3 months I have complete range of motion. At this time I no longer need to have any more follow up visits. He has told me that if I need any additional care he will be happy to provide it.
5.0 Rating
February 3rd, 2014
5.0 Rating
August 7th, 2013
Surgery
5.0 Rating
July 5th, 2013
What a pro!
Within 1 week of injuring my left knee, I was able to get into to see Dr. Schaefer. His staff was courteous and polite and made me feel welcomed. His office was busy, but the wait time was normal compared to other office visits that I have experienced. I certainly didn't feel like it took too long. There's a reason why his office is so busy, and it's because he's so good. Within a few minutes Dr. Schaefer made his diagnosis, then sent me for an MRI to confirm his analysis. Upon my follow up visit, we learned that his initial diagnosis was 100% accurate. I have no idea what the whiners are talking about, "Curt", "No bedside manner", etc... I found it refreshing to have an experienced intelligent surgeon tell me what I NEEDED to hear and not what I WANTED to hear. Maybe it's my law enforcement mentality, but I just wanted to hear the facts. I was fortunate to have Dr. Schaefer perform my left ACL replacement and meniscus trimming. There were absolutley zero complications. I was then referred to Parry Physical Therapy by Schaefer and his staff. They were outstanding as well, and let me know immediately that I would only get out, what I put into it. This was five years ago!!!!I have not missed a beat, and if anything my knee is stronger than it has ever been. Walking, jumping, jogging, twisting, turning, I can do it all thanks to Dr. Schaefer.
Nearby Doctors

Dr. Randall Schaefer is similar to the following 3 Doctors near Sacramento, CA.