Rate Now
Share Your Experience
Have you seen Dr. Randolph Whitford?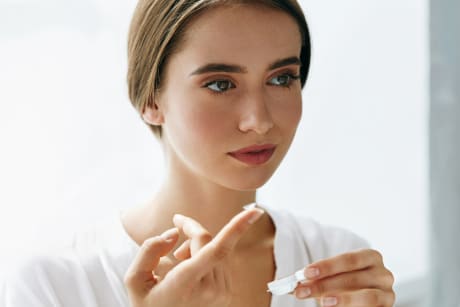 Contact Lens Care
A complete overview of what you need to know about your contact lenses.
27 Ratings with 8 Comments
5.0 Rating
November 19th, 2013
I think Dr. Whitford is a very good doctor, and I trust his expertise. Patti Stull is so wonderful too. She the other reason my husband and I continue to use Dr. Whitford. She explains what test she is doing and answers all of our questions. She is so sweet and makes us feel comfortable. Both Patti and Dr. Whitford are the reason we keep coming back. Sometimes the wait time is longer than we like, but we are so glad to be in both of their capable hands.
5.0 Rating
May 28th, 2012
1.0 Rating
November 9th, 2011
Waited 1 1/2 hours to be seen, just to get a fake diagnosis
I started suffering from verticle double vision (seeing double object on top of one another). I had an appointment at 4 pm and was not brought back to a room until 5:30 pm. I already explained to the nurse that even if I closed one eye, I was still seing double vision in the open eye. I finally was able to see Dr. Whitford at 5:45. He told me I was seeing double because one of my eyes wondered upwards (This is false) I then asked him "If my double vision is caused from my eyes being misaligned, then would I see double when I closed one eye?" He said no, because if double vision is caused from a misalignment, then the vision problem goes away when you close one eye (I already knew this). I then repeated the fact that I still see double even after I close one eye. His reponce was.... I DOUBT THAT IS HAPPENING. It felt like such a waste of time and money. I felt like he was making up a diagnosis to fit my problem, and was rude when he realized his made up diagnosis wasn't going to work. The best thing Dr. Whitford did was refer me to another eye doctors. The other place was wonderful and although my symptoms were strange,it turns out the I am just severely far sighted. The new eye doctor spent an hour with me one on one to figure out my problem, versus Dr. Whitford..... He spent a whole 15 minutes with me. PLEASE look for a different eye care specialist!
1.0 Rating
November 2nd, 2011
do NOT go to Dr. Whitford
Dr. Whitford misdiagnosed my mother's glaucoma as allergies. It was impossible to get an appointment with him to simply check the pressure in her eye when it was causing so much pain and discomfort. By the time my mom went to another doctor, it was too late and the dangerously high pressure had caused permanent eye loss in her left eye.Dr. Whitford not only made a mistake but failed to give us my mom a well-deserved apology and meet with my family. His actions have truly changed our life in a very negative way and I hope no one opts to be his patient. It is not only the mistake that makes us upset, the poor way it was handled afterwards.
1.0 Rating
June 7th, 2011
I really had a bad experience with Dr.Whitford and his staff. Due to his mistakes,neglect,ignorance and misdiagnosed, I lost quite a bit of my left eye vision. The last time I saw him I already had some nerve damaged due to his misdiagnosed, instead of taking quick action he wants me to have vision field exam after 2 weeks. I won't recommend this doctor to anyone.
5.0 Rating
December 6th, 2010
My husband and I have been going to Dr. Whitford for approx. 10 years. We highly trust his judgement and skills. He performed cataract surgery for me, and he and his staff were very thorough in explaining the options and preparing me for the surgery. He is busy, but never gives the impression of being in a hurry.
5.0 Rating
October 4th, 2010
Caring Doctors
Dr. Whitford and his associate are very caring and very thorough. My family and friends have been going to Dr. Whitford's office for years for everything from Cataract and Lasik surgeries to regular eye exams and we have no complaints. We have referred many people who have been very satisfied. There have been issues with a longer wait than normal sometimes. Dr. Whitford likes to make sure all patients have all of their questions answered. He will explain everything in detail. I would highly recommend him.
2.3 Rating
January 4th, 2010
No complaints about the service offered by Dr Whitford, but getting an appointment is a nightmare. I have tried to talk to the accounts department about an invoice 3 times on the telephone, but each time they are either not available, or in a meeting. I've been told to ring back - not once have they offered to call me.Due to this I'm changing Doctors, which is a shame as Dr Whitford was a recommendation from a happy customer.
5.0 Rating
July 5th, 2017
5.0 Rating
March 21st, 2017
3.0 Rating
August 11th, 2016