Rate Now
Share Your Experience
Have you seen Dr. Rathnasabhapathi Amarnath?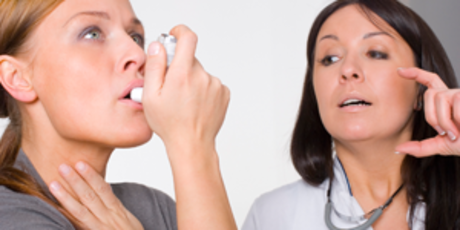 Asthma
More than 22 million Americans of all ages have asthma. Prepare to talk to your doctor about symptoms, diagnosis and treatment options.
40 Ratings with 9 Comments
5.0 Rating
September 17th, 2015
My daughter has seen Dr. A since she was 2 1/2 years old, she is now 13. We adore him and his staff. He may be difficult to understand at times; but I ask questions and ask for clarification as I do with ALL her Drs. He has always been thorough and knowledgeable. He makes my child smile. There is a bit of a wait time at apts. due to the many pts. seen and emergency procedures that tend to happen to specialist. We highly recommend Dr. Amarnath, he takes excellent care of my little girl.
1.0 Rating
May 9th, 2015
Totally lack of professionalism does not begin to describe my onion of this group. Never saw the "specialist", only the nurse practitioner. We were referred to this facility because it is the only group in town. We wanted more choices and a better life for our son. We had the test done, per the nurses' recommendation. Took them OVER a week to give me the results after I called them twice demanding them. When they did finally call me back, I was told by either a office staff or a tech that my son had "no issues". I was stunned. When I asked was this a "medical opinion", I was told I could make an appointment to see the doctor. Why bother? The medical opinion is that my child has "no issues". My son was born with a nueral tube defect and it's well documented thru the children's hospital all of the other procedures he's had done. His condition is NOT imaginary or behavoral. The "specialist" either never saw my child's file or is stupid. Either way I'm thinking of consulting an medical malpractice attorney.
1.0 Rating
April 27th, 2015
nightmare
Do not recommend, right now, we are still going through this nightmare. Dr.A see on routine, whom he took over from previous GI. Let's just say instead of testing what needed to be done, we are back and forth in hospital because Dr. A didn't do job, and while in hospital, he never saw my child, just coughed up to behavior. Now we are going to MUSC, to have testing and such. Dr.A mal practice hhhas caused life time damage to my son, who will now have to have a bag on him rest of life.
1.0 Rating
July 20th, 2014
My daughter was admitted to Palmetto Children's Hospital. We were very impressed with the peds staff; however, when they requested Dr. Amarnath as a consult, we began to have issues. The team met with my daughter, ran tests, etc. they said it could be a few things. On the other hand, Dr. A was adamant about his diagnosis without even meeting my daughter or running any tests. My daughter was refusing the formula he wanted her to try, and he said she would be OK going all weekend without eating. When I expressed my concern, he said our next step was to do a feeding tube.. The team did not see eye to eye with him, and tried hard to advocate for our daughter. The frustrating part was that she had none of the hallmark symptoms of the diagnosis, and his rationale for not agreeing with what the team thought it may be did not carry any weight. I immediately had our daughter transferred to MUSC, where the doctor suggested several different tests (not just a scope) and possible solutions ( not just changing the formula). If you want your concerns to be heard and a comprehensive review, DO NOT go to this doctor. It is worth the drive to MUSC!!
1.0 Rating
December 14th, 2013
waste of time
5.0 Rating
September 11th, 2013
Life saving!!
2.3 Rating
May 9th, 2012
Not involved
2.3 Rating
October 26th, 2010
so so
5.0 Rating
May 19th, 2017