Rate Now
Share Your Experience
Have you seen Dr. Ravi Panjabi?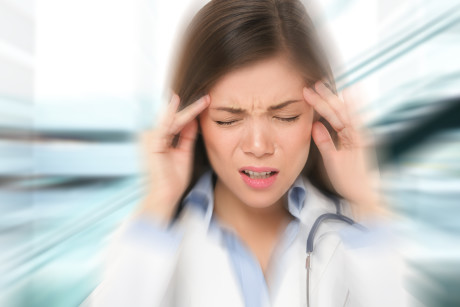 Migraine
Get the facts about migraine headaches, including the different types of migraine and migraine triggers.
29 Ratings with 9 Comments
5.0 Rating
May 19th, 2015
Great doctor !
1.0 Rating
July 4th, 2013
DO NOT GO HERE
2.3 Rating
September 10th, 2012
I really wish people wouldn't be so hard on this office. The people who work there are great people, they really care. I have never seen people work so hard in my life. Yes, they always look stressed, but they always welcome you with a smile. I love Jody F. in the front, she is great at what she does. I love hearing her voice on the phone and she always works me in for an app. I love the new PA they have, her bedside is out of this world. As for the MAS in the back.. WOW!! I can't believe how smart they are. Dr. Panjabi talks like 100 words in a sec and they always understand what he is saying. And if they don't they always ask to make sure they do it right. I really like my Doc. I feel like this office has become my family. I am a WC pt and I wouldnt want to go to any other doc. Please give Dr. Panjabi a chance, you wont be let down.
2.3 Rating
June 21st, 2012
Revolving Staff,,,Doctor???
Ive been a patient in this office for 5 years. Dr Panjabi is great, except for the the LONG wait, the revolving door of staff, and the obvious office overload. As soon as he gets good staff they leave. He FINALLY hired a great scheduler/insurance person, and of course they split after a few months, not to blame her because I cant even imagine the mess she walked into. He has a couple other good staff left, but I cant help to think of the saying..."Lead by Example"...Doctor???
1.0 Rating
June 12th, 2012
extraordinarily unsatisfactory
Took 2 months to get an appointmment, my Initial visit, waited 90 minutes in a very crowded front space. Staff is rude. Authorization clerk not doing her job, but no one knew it. She would not return calls. She was fired, incompetent office manager and took over, then she left. Did not get procedures authorized in 4 months of trying. Back to previous MD -had authorization in under 2 weeks. Waited over an hour each visit, staff would not answer the phone or return calls. MD does not listen, told me he would personally call for athorization and he did not. He would not correct the codes for procedures, and added a DX that I have never had before, which caused the problems that ensued.
2.3 Rating
May 15th, 2012
Poor Poor Staff Care
Dr Panjabi does not have a helpful team to back him up. His office is usually a bit chaotic, confused, and full of attitude. The front office treat patients as if they should have never walked through the door or called on the phone. The impression they give is "How dare these people come and ask me about their injury or bother me asking for an appointment." Is this really how Dr. Panjabi wants his office represented? The doctor is good at his profession, but relies on an incompatent staff to take care of things for him. Then he gets backed up and upset because of the mistakes his staff create, which leads to lack of proper care for patients. However, people have been saying these things about his office for a few years now, and he has yet to do anything about it. Dr. Panjabi could have a better reputation if he fired his current staff and rehired people who want to work and know how to treat people with care.
1.0 Rating
April 12th, 2012
Incompetent doctor and staff
Clearly Dr. Ravi Panjabi is incompetent. His staff is incompetent as well. This doctor and his staff jeopardized my safety and wellness with their prescription practice and complete lack of caring or concern for my safety. Complaints have been filed with California Medical Boards and Workers Comp. Stay away from this office.
3.7 Rating
January 10th, 2011
Castro Valley Patient
I am so tired of the very long wait in Dr. Panjabi's office. I usually see his assistant, which is really not OK, but that is how his office works. If your insurance will pay for you to see the asst, then you rarely see the doctor. Today's wait was almost 2 hours when the gentleman next to me (he was in terrible pain) told me he had the same appt time with the same asst. Unacceptable, as was the fact that drug representatives with no appointment were allowed to see the Dr. and took 1/2 hour of his time. VERY Unacceptable. I can find another doctor.
1.0 Rating
January 10th, 2010
All these Indian doctors should be out of the practice. They all run nursing homes and home health, hospice on the side business. There is a big mafia of all these Indian/ Pakistani doctors.Dr Punjabi and his associates are very unethical, they all do con practice. I was very disapponited with Dr. Panjabi.
5.0 Rating
May 10th, 2017
4.0 Rating
April 20th, 2017
4.0 Rating
April 18th, 2017
Nearby Doctors

Dr. Ravi Panjabi is similar to the following 3 Doctors near Castro Valley, CA.

Dr. Neeru Agarwal

General Surgery, Pain Management, Physical Medicine and Rehabilitation

Castro Valley, CA 0.06 mi