Rate Now
Share Your Experience
Have you seen Dr. Rebecca Kurzon?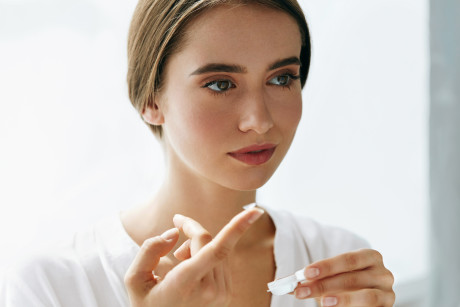 Contact Lens Care
A complete overview of what you need to know about your contact lenses.
20 Ratings with 8 Comments
5.0 Rating
August 14th, 2017
Buyer beware.
Lack of professionalism. Not hygienic. Husband left office without being cleaned after an invasive procedure caused blood to get on face. She never sent in a tech to clean off the blood. The tech works the front office and the back, which is obvious to save money but not run in a dignified manner. Doctor has NO bedside manner, no introduction and spends as little time as possible with patient. Did not explain healing time, whether there would be excessive blood after, etc.
1.0 Rating
August 3rd, 2016
5.0 Rating
July 25th, 2016
5.0 Rating
January 22nd, 2016
5.0 Rating
March 30th, 2015
"I Can See Clearly now"
I had cataract eye surgery about 3 months ago. When the time came that my cataracts were ready to be removed, I began to do research on ophthalmologist.. I had been with my mother and mother-in-law when they had their cataracts removed several years ago. After my experience with their surgery, I knew I did not want to go to a large eye institute or clinic. The atmosphere there was impersonal and made me think of herding and conveyors. After a recommendation from a friend, I made an apt. for a consultation with Dr. Kurzon at Winter Park Ophthalmology. I was immediately impressed with her. She was professional, yet friendly, and I felt very comfortable with her. She took time to listen and answered all my questions. After careful consideration and a trial run wearing monovision contacts, I decided to have laser cataract surgery with monofocal lens. The procedure was done at Winter Park Fl. Outpatient Center. I felt very comfortable and safe there before, during and after the procedure. I was given a mild sedative and felt no stress or apprehension. I could not be happier with the results. I now have 20/20 vision and do not need to wear glasses for distance or close-up. The office staff was friendly, thoughtful and courteous throughout the entire process. I highly recommended Dr. Rebecca Kurzon. Dr. Kurzon and her staff lived up to all my expectations.
1.0 Rating
July 1st, 2013
Look for anothe doctor
After seeing Dr. Kurson, I decided to have cataract surgery with her. Dr. Kurson mixed my measurements with another patient's measurements and data. The end result was a bill over $5,000 between her and the hospital. DR. KURSON PLACED THE WRONG LENS IN MY EYE. I ended up seeing another Dr and having another surgery done. It has been almost a year now and I'm still waiting for her phone call to see how I'm doing. I highly suggest to see another doctor if you are planning to have surgery.
1.0 Rating
September 9th, 2012
BUYER BEWARE
I chose Dr. Kurzon because my eye current doctor no longer accepts my insurance and Dr. Kurzon accepts Humana Vision Care. I was informed that my co-pay would be $10 for the exam. After the initial exam, Dr. Kurzon told me that I have an asymmetrical optic nerve and that it could be an early sign of glaucoma and vision threatening. She recommended more tests to rule out glaucoma.She never informed me that the additional testing would not be covered by my insurance. Of course when I heard that the condition could cause blindness,I agreed to have the tests. The additional tests revealed no reason for concern. I paid my $10 copay and left the office. You can imagine my surprise when I received a bill for $200 for the additional testing. When I called the office, I was told the tests were medical and not covered by my vision insurance. I called my former eye doctor and explained what had occurred at Dr. Kurzon's office.He said he had noted the asymmetrical optic nerve and but that no additional testing was indicated because there was a lack of Fuchs disease which led me to believe that the additional tests were unnecessary. The circumstances made me feel that the additional tests were just a way to pad the bill which cost me an additional $200. Dr. Kurzon never spoke to me personally about the bill and Joanna on her staff was unwilling to compromise. At a minimum, this office needs to upgrade its notification process regarding testing that falls outside vision insurance and provide a fair estimate of the costs prior to performing additional procedures. Needless to say, my wife and I will not return.
3.0 Rating
June 17th, 2016
5.0 Rating
August 11th, 2015
1.0 Rating
July 28th, 2015