Rate Now
Share Your Experience
Have you seen Dr. Richard Konsens?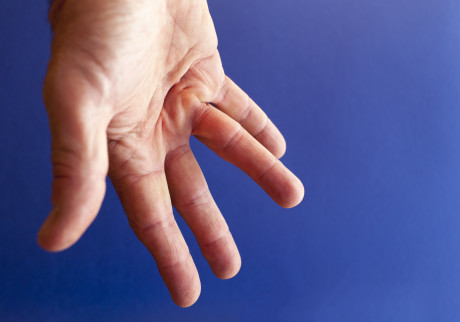 Dupuytren's Contracture
Dupuytren's contracture is a thickening of the tissue beneath the skin of the palm of your hand
34 Ratings with 18 Comments
5.0 Rating
September 18th, 2016
5.0 Rating
December 4th, 2013
Expert in his Field
Dr. Konsens is an expert in his field. There is nothing he doesn't know about your knee. I have found him to be the most prompt doctor I've seen at Jewett Orthopedic. He spends the right amount of time with me; sometimes longer than other times. He has been courteous, professional, and friendly. There is a reason he is a Top Doctor in Castle Connelly. I highly recommend him for any problem you have with your knee.
1.0 Rating
September 23rd, 2013
Awful office staff
5.0 Rating
March 28th, 2013
Highly Recommend Dr Konsens
If you are looking for someone to hold your hand or just give you a script for pain meds... Dr Konsens is not your Doctor... If you are looking for a highly skilled surgeon to repair your damage, I highly recommend Dr Konsens. He has performed surgery on both my husband (MMT, PCL Tear, LMT) and my knees (osteochondroma excision). He explains the problem, the options and lets you choose what to do. He had both of us back to our normal active lives relatively quickly after surgery. The staff at JOC is always professional and prompt. Don't be discouraged by the complainers... Dr Konsens is an outstanding Physician.
5.0 Rating
October 24th, 2012
Can't get much better than Dr. Konsens for knee problems
Dr. Konsens is an excellent doctor and surgeon. No, he doesn't sit and hold your hand or linger during an appointment but I have found him to be quite personable, extremely knowledgeable and definitely concerned about his patients. Every doctor is different and Dr. Konsens moves at a faster pace than some but I have no complaints. I wouldn't see anyone else!!!
1.0 Rating
October 5th, 2012
Did absolutely nothing for me on my shoulder injury refer me for physical theraphy 3x a week. . I went for a 2nd opinion and I'm headed for surgery next month.This tear could never repair itself.
2.3 Rating
June 2nd, 2012
1.0 Rating
March 27th, 2012
Terrible bedside manner
Dr. Konsens is rude, arrogant, and always in a hurry. The worst bedside manner I've encountered. I would not recommend him.
5.0 Rating
February 3rd, 2012
Excellent doctor
I am completely satisfied with the care I have received from Dr. Konsens. Yes, he moves at a faster pace than some doctors but he has patients that come from all over the state, if not all over the country to be treated by him. The comments made, in some of the previous reviews, about his bedside manner make me wonder what kind of patient they were. I have had no issues with his bedside manner and he has, in fact, been very cordial and friendly each time I've seen him. I have never heard him be anything other than respectful and cordial to other patients in the office. I recently had knee surgery and when we walked into the surgery center he was out giving a family member a report on the patient and sat with the gentlemen for a few minutes afterward discussing a friendly topic other than surgery. In the pre-op holding area he was very relaxed and friendly with everyone in the area as well as occasionally joking with me as I was being prepared to go back to the OR for my surgery. I have asked the nurses and staff he works with at Jewett, as well as the staff at the surgery center, how they feel about him and without fail every one of them has said he is a pleasure to work with and spoke very highly of him. He is a very smart guy and when he is doing his work he is very focused. I am of the opinion the people that have complained about him being "short, rude, impatient," or whatever are sorely mistaking focus for rudeness. They are at opposite ends of the spectrum. I have worked in the hospital setting for many years at a well known hospital in Florida and yet I drive 3 hours to see Dr. Konsens instead of seeing a physician at this very popular hospital, which, by the way, is less than 30 minutes from my home. There are no doctors in my area that can hold a candle to Dr. Konsens. If you want to see someone that know's what they are doing go to Jewett and see Dr. Konsens. If you want someone that will just give you drugs or randomly inject you with steriods without looking to find the root of the problem, go to someone else.
1.0 Rating
October 24th, 2011
Torn Rotator Cuff
1.0 Rating
October 20th, 2011
Arrogant and Pompous
The words "aloof" and "short and rude" are highly accurate. Let me add "arrogant" and "pompous" to the list. He visited me in the hospital, did not explain anything to me, and gave me the impression he could hardly wait to leave. When I explained my condition, he told me about a similar situation he had. He did not exhibit the least bit of empathy whatsoever, and I certainly was not interested in his problems. With that said, the Physicians' Assistants and other physicians at Jewitt are some of the best I have encountered and would not hesitate to visit them again. Jewitt is excellent, Dr Konsens, not so much!
Nearby Doctors

Dr. Richard Konsens is similar to the following 3 Doctors near Winter Park, FL.