Rate Now
Share Your Experience
Have you seen Dr. Richard Rouhe?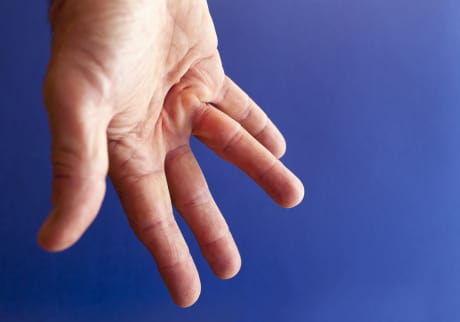 Dupuytren's Contracture
Dupuytren's contracture is a thickening of the tissue beneath the skin of the palm of your hand
18 Ratings with 7 Comments
1.0 Rating
August 2nd, 2017
bad job
hip replacement 20 months ago and still in pain, gone back to him twice to be told do more pt. 24 sessions of pt and still in pain. I also have 3/4 of an in difference in length from one leg to another. I got a shoe lift and I still have from 3 9 pain levels. time for a 2nd opinion. very frustrated.
1.0 Rating
March 6th, 2015
RUDE DOCTOR
1.0 Rating
October 15th, 2014
Patient
DO NOT....I repeat DO NOT go to this doctor. if he is the only one on your medical plan switch medical plans. I had hand surgery and am in more pain than I was before the surgery. he has a horrible bedside manner. He does not only not connect with his patients, he does not seem to care about his patients. After my surgery I called Dr. rouhe 10 (ten) times and he never called me back. I had to go to Urgent Care because I was in so much pain. the urgent care doctor said I had an infection and put me on antibiotics. The following day I was still experiencing excruciating pain I wnt to the emergency hospital. It is so unfortunate that just because you graduate from medical school you can practice medicine. dr. rouhe could not pass a class in human relations because he does not know how to relate to his patients. Additionally, the office staff is not helpful nor are they friendly.
1.0 Rating
April 4th, 2014
Don't go to this doctor at all!! Uncaring, does not communicate with the patient. God knows if he really did see what needed to be done on my knee. Did not say anything before and after the operation.
1.0 Rating
November 20th, 2013
terrible
I've had three surgeries on my knee by this doctor. That should be explanation enough but apparently I'm a glutton for punishment. My experience was absolutely horrific. I've been in pain for a month post op ( probably normal for a 3rd knee surgery, 2nd ACL reconstruction) but nobody at the office will return my phone calls or fill my prescription. Sleeping and eating have ceased to occur in my life for the past month but nobody at this practice seems to care. Appointments take an hour minimum, only to be seen for two minutes and rushed out as fast s humanly possible. There's virtually no communication with what they're doing to you and why. Patient advocacy is literally their last priority. I could go on for days about this place but I'm sure you get the point by now. AVOID THIS PLACE LIKE THE PLAGUE
1.0 Rating
January 26th, 2011
Negligent
I can't even begin to express how horrible my experience.-Surgery was awful, I was not stablized- they could not get rid of me fast enough.-They would not return my phone calls. I ended up with an infection. They did not care.-After years of suffering I had to have surgery to fix the problem he created! I wish I would have never stepped foot into his office.Awful Awful Awful!
1.0 Rating
March 2nd, 2009
DO NOT go to this guy unless you want to be in pain for the rest of your life! I got a surgery from him and have been in constant pain since. I went back a year after the surgery and he told me I'd need physical therapy and he'd send the referral to my primary, and then he NEVER did. Every time I went I'd wait about 45 mins to an hour only for him to spend 2 minutes looking at my knee then telling me there is nothing wrong!
5.0 Rating
January 1st, 2017
3.0 Rating
December 9th, 2016
5.0 Rating
April 4th, 2016
5.0 Rating
November 17th, 2015
5.0 Rating
November 14th, 2015