Rate Now
Share Your Experience
Have you seen Riley Williams III?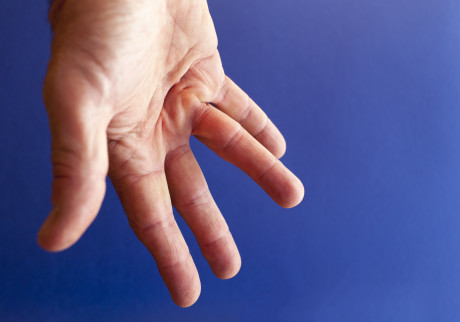 Dupuytren's Contracture
Dupuytren's contracture is a thickening of the tissue beneath the skin of the palm of your hand
38 Ratings with 16 Comments
1.0 Rating
July 7th, 2017
Arrogant Dr., AWFULoffice staff
Called office 6x over 1 month to schedule cortisone shot. No calls back. As i tried to express my displeasure with RUDE receptionist she HUNG up on me. Are you kidding me? Im an existing patient. Finally get shot and 3 days later get certified letter from Dr Williams saying he is dropping me as a patient. Arrogant as they come and office team that is rude, nasty and worst ever dealt with. Great doctors in NYC stay far away from this team. More to a Dr then a surgery his team is awful and they lead by his example.
5.0 Rating
April 25th, 2017
For several years I have had a separated shoulder which does not require any medical treatment to live a normal life. For a few months I have had a pain in my shoulder blade extending up to the base of my neck which caused migraines. I was told by another doctor the surgery would likely help and recommended it. I have had ACL replacement in the past and like most try to avoid surgery so I got a second opinion which was from Dr. Williams. Within 5 minutes Dr Williams identified the problem and touched the exact spot were the source of the issue was which was on the front of my shoulder which I had no idea was causing the issue. In the end he told prescribed physical therapy. This was almost a year ago and since then the issue has gone away and I do not have the pain in my shoulder blade anymore. In addition his staff was extremely friendly. I left forgetting a piece of paper work and the young lady ran to the elevator bank on a separate floor to get it to me.
5.0 Rating
November 14th, 2016
Everything about the experience was great. Quick, efficient and very helpful staff. Dr. WIlliams immediately inspired confidence. Operation was smooth as was recovery and follow-up. I really haven't had a better professional services experience anywhere else for anything. Totally world-class soup to nuts.
1.0 Rating
August 25th, 2016
Dr Williams disappears after surgery. Does not respond to emergencies. Has no on call staff. Horrific experience. He is DANGEROUS.
5.0 Rating
November 13th, 2015
HAPPY PATIENT
Extremely happy with appointment, they called my daughter in and I was not even done completing the forms (normally other doctors offices make you wait at least 30 after you complete the forms to call your name). Very accommodating, staff super friendly!!! Dr. Riley Williams was very professional and explained everything in detail regarding what to expect from operation.
5.0 Rating
December 14th, 2013
Excellent. I've had two previous surgeries one shoulder. I should have went to him from the start. He found and repaired everything and knew what was going on while other doctors were refusing. Staff is friendly. The wait is not very long (per doctor appointment timeframes). He spends the necessary time with you explaining everything you need to know. Ask questions, he will have an answer. I'm shocked people had bad visits here. I just don't see it. I have and will continue to recommend Dr. Williams.
5.0 Rating
July 22nd, 2013
Great Doctor; Horrible Office Staff
Dr, Williams is a wonderful surgeon. He was able to give me options where other Doctors did not. I believe he has helped me avoid knee replacement for the next several years. His office staff gets a poor rating. I have had several experiences where I left messages for call back which have gone unanswered. I even referred a co-worker to Dr. Williams. This individual never received a call back.
1.0 Rating
April 3rd, 2013
Poor bedside manner
1.0 Rating
March 31st, 2013
Dr. Williams is as arrogant as they come
Dr. Williams performed a surgery on me about 9 weeks ago. Per his instruction, I scheduled a follow up visit for week 7. The night before that appt, his staff called me to inform that he wouldn't be able to see me and rescheduled the appt for a week later. Getting there on time and still in pain, I was put to wait for over 1 hour. When i asked his nurse to see him quickly since i had to go back to work and didn't want to leave without telling the procedure had not yet produced the desired results. She told me that he was with a more important case and couldn't see me anytime soon. I protested asking why had they schedule the appt then?! I insisted to talk with him. As he enters the room, I asked: "dude, what happened?". His answer: "this is not going to work for me" and stormed out of the room. His poor management skills and disregard for patient's pain compounded with poorly trained staff made me ask for my charts and take my case somewhere else. Don't see him. There are much better options in NY.
2.3 Rating
February 13th, 2013
Terrible follow up
2.3 Rating
September 14th, 2012
Worst Dr. Staff I've Ever Experienced
After having surgery, I called and left message asking for help because I was experiencing nausea and vomiting. It took 3 additional calls and staying on the line to get an answer and some help. I had some follow up questions today (4 days after surgery) so I left 2 messages and did not receive a call back. In total, I left 6 messages and got one call back. The directions they give you at discharge is vague and useless.
1.0 Rating
January 6th, 2012
Don't think about followup
Nearby Doctors

Riley Williams III is similar to the following 3 Doctors near New York, NY.