Rate Now
Share Your Experience
Have you seen Dr. R Fowler?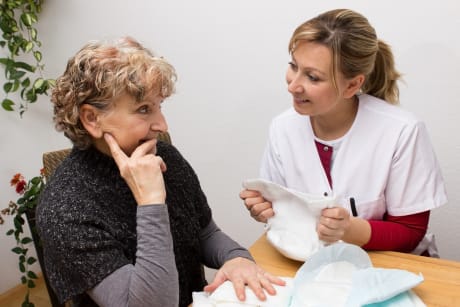 Urinary Incontinence
Learn about the symptoms and causes of urinary incontinence or urge incontinence.
Quality Rating
Highly Satisfied
150 Ratings with 89 Comments
5.0 Rating
September 23rd, 2017
I am so thankful I found Dr. Fowler over two years ago.  Months after delivering my second child, I began to have a lot of discharge accompanied by burning and itching at the vaginal opening.  Sex with my husband was not possible without repercussions or worsening of symptoms. Tests at my regular ob-gyn came back positive for a high bacterial count and I was put on antibiotics.  This would help temporarily and the problem would always return.  I was on antibiotics pretty regularly for close to 7 months before I started to research solutions.  I knew that the long term antibiotic use was not ideal and was most likely making my problem worse long term by getting rid of the beneficial bacteria in my body.  Within a few months after seeing Dr. Fowler, my symptoms improved 80% and by 8 months I was 100% better and have remained symptom free for the last two years. If you have had problems for years and have lost hope, please come see Dr. Fowler.  It is worth the trip:) I don't believe there is anyone better at helping with these issues.
5.0 Rating
September 17th, 2017
highly recommended!
I have struggled with ongoing vaginal infections (BV/yeast) intermittently for 3 years then had a consistent vaginal infection for 4 years along with a slue of new food allergies. I tried everything before seeing Dr. Fowler including seeking alternative medicine (naturopathic supplements, garlic, etc) and nothing worked. I might see temporary relief however within a day the infection (along with burning/discharge) had returned. Clearly there was some underlying condition affecting my vaginal sensitivity, however no OBGYN was able to accurately to diagnose me. I was up late one night reading blogs of women who had similar vaginal symptoms when I came across Dr. Fowler's name. I made an appointment and immediately I felt some sense of relief after that first visit. He placed me on a customized treatment protocol and one year later I am 100% better, my food allergies have cleared and getting married next month. Occasionally, I might feel some symptoms if I drink too much coffee, but these quickly resolve when I consume less and continue with the recommended treatment plan. Dr. Fowler has completely changed my life and I am so grateful for everything he has done!
5.0 Rating
September 5th, 2017
Vestibular burning
've suffered from vulvodynia for 35 years. I've seen a plethora of doctors, so many I've lost count. It's at least 100 doctors. I've spent enough money on homeopaths, natural-paths, acupuncture, physical therapy, supplements, shamans and allopathic doctors to buy a house. The good news is I finally found Doctor Fowler while scouring the internet in a desperate search for relief. And relief is what I've found. Finally, an expert in this silent, mis-understood and misdiagnosed syndrome. I now live free of chronic vaginal and vestibular burning. I'm not sexually active, but believe I will be able to engage when the day comes that I'm no longer single. I will continue to see Dr. Fowler for my follow-ups and ongoing care. Dr. Fowler takes the guess work out of the equation and tailor makes the right protocol for you. Don't give up!
5.0 Rating
August 26th, 2017
Finally an answer to my problem!
Today I saw Dr. Fowler for a 10 month check up. I have followed my protocol almost exactly to the instructions. I had not been sexually active in 8 years prior until after 3 months of new treatments and some dilators from Dr Fowler. I am 64 years old. Today I am joyous that I have improved 80% and having great sex! I highly recommend Dr. Fowler to any one suffering from LS! I went to 5 physicians before finally getting the right protocol. Some had me on extremely strong steroids and some wanted me to use the lasers. I even went to a oncologist because I was so fearful I had cancer per my PCP because I had let the LS go so long. I ride horses and my condition was to the point that sometimes after a ride I would be so sore I didn't know what to do! I would have cracks in the white skin of the vulva with deep fissures, peeling skin and excruciating pain during urination if it got on the cracks. I thought my intimate life was over! This caused great tension in my marriage of 8 years and then 8 years w/o relations now divorcing after 16 years of marriage because we lost touch with each other. I have a new partner that is following my protocol as well and very careful with me. We have a wonderful life together intimately. I am so happy to have found Dr. Fowler on the internet as he has given me my life back!
5.0 Rating
August 7th, 2017
started having yeast and bacterial infections for the first time 2 years ago. I was constantly at my gynecologists office for relief. She could not figure out what the issue was and referred me to another specialist. That specialist too was at a loss. I was not only frustrated but was starting to get depressed due to the constant pain and irritation. I then decided to switch doctors and went to the Mayo clinic. My new gynecologist at Mayo recommended I see Dr. Fowler in his private who specializes in Vulvovaginal issues. After meeting with Dr. Fowler he explained to me exactly what was wrong and what our game plan was going forward. I left the office with such a sense of relief. I had been dealing with these issues for two years and I finally had a solution. Within 2 weeks of treatment I finally started to see results. After 3-5 months I was 60% better and within a year I am now 95% better. The summer in Arizona is extremely hot and I have slight itching occasional in the summer months but I anticipate that resolving too. Dr. Fowler is by far one of the best Vulvovaginal specialists in the country. He figured out in 1 visit what 3 different doctors could not figure out over 2 years. I would highly recommend any one having issues to meet with Dr. Fowler. You will leave with an understanding of your issues, a game plan and piece of mind. Dr. Fowler changed my life!!!!
5.0 Rating
July 28th, 2017
Visit an Expert
I have already seen 5 doctors trying to get well. I have suffered pain in the vaginal area for over 3 years and have experienced depression and loss of my joy for life. While I am only beginning my treatment, I already feel better based on supplied protocol. In addition, in 45 minutes Dr. Fowler diagnosed me correctly. I had been diagnosed with a yeast infection which he definitely told me was wrong. I just got word back from the other doctor that my yeast test did come back negative (I had been on yeast based treatments for over 2 months and knew in my heart it wasn't true) as I had not felt better after taking medications for something I didn't have.
5.0 Rating
July 27th, 2017
M G
Prior to seeing Dr. Fowler I dealt with chronic yeast and bacteria infections for many years. After seeing several OBGYN'S for treatment and no results I was referred to Dr. Fowler from my primary OBGYN. I finally decided to make the trip to Scottsdale. After our meeting, Dr. Fowler gave me hope. I was excited to begin treatment. After 4 months of treatment my yeast and bacteria infections have improved by 80%. I am happy with the results I have seen up to this point and look forward to being 100% cured of yeast and bacteria infections. I do wish I had known of Dr. Fowler many years ago, however I am grateful today for finding him.
5.0 Rating
July 26th, 2017
I've had recurring yeast infections for the past 27 years. My symptoms were itching, dryness, discharge, rawness, odor, irritable, etc. I have seen countless doctors over the years so many I can't count on my two hands. Each doctor would prescribe the usual OTC meds. I also tried boric acid, which didn't work, and other medications which took away the symptoms, but it always came back. Most recently I tried Diflucan on an ongoing basis, but the yeast always came back. I'd given up hope that I'd ever be normal when I found Dr. Fowler online and decided to give him a try. I am SO GLAD I did! After only a few weeks following my first visit with him using his hypocontactant regimen, and the medications he prescribed, I felt 40% better. He told me I had vulvodynia, and lichen sclerosis, which no doctor has ever told me. After 4 months of treatment I feel 80% better and have hope that I will be normal again very soon. I can't thank Dr. Fowler enough. He has changed my world for the better!
5.0 Rating
June 16th, 2017
Amazing doctor!
I cannot say enough great things about Dr. Fowler and how he has helped me. I was in a very painful, on some days debilaliting state, with what was diagnosed in Canada as vulvodynia. Over six months, I had seen 3 GPs, 1 Obgyn, 2 acupuncturists, a pelvic floor physiotherapist, an osteopath, had changed my diet, and was trying every natural supplement I could get my hands on. I was prescribed an anti-convulsant used for seizures and an anti-depressant (which I had never required previously) to try to stop 'nerve pain.' Eventually, I needed the anti-depressant to help my mood since I was so down from all the pain I was having. It hurt to walk, sit, drive, go to the bathroom, etc, along with anything else you would simply do on a daily basis. The most upsetting part of this was no doctor in Canada (particularly in Edmonton) had any idea how to treat my vaginal pain. The Obgyn told me, "I need to come to terms with my vulvodynia and that will help me deal with it better." I was completely devastated at 35 years old, thinking my life was over without any possibility of getting married and having children, never mind even having sexual intercourse ever again. This problem literally had changed my life so negatively and there was nothing any doctor could do to help me. After countless hours online researching, one night I found Dr. Fowler's website and a sense of hope came over me. It looked like he had helped many women with my same issue! I phoned immediately, left a voicemail and he called me the next day to ask me questions to ensure I was a patient he felt he could help. I took the first available appointment, about 3 weeks later. Dr. Fowler diagnosed me with inflammatory vaginitis. I was now with a doctor who knew what I had, was able to treat it and had many years experience with helping other patients like myself. The emotional relief was like nothing I'd ever felt before. I was easily able to get the medications compounded in Edmonton and within 1 month, I had a significant improvement in my symptoms. I told every doctor and other specialists I had seen in Edmonton, since none of them had any idea how to treat for this. At 4 months, I have returned for my follow up visit and ! am about 70% better. I would recommend for any woman who is having issues that are affecting your life to see Dr. Fowler. For me, the cost of the appointment and medication is priceless considering that I am now substantially better (and very reasonable, actually). Dr. Fowler is the only doctor to see for this, he has really saved me. Thank you, Dr. Fowler!
5.0 Rating
May 26th, 2017
Miraculous recovery from LS!!!!
5.0 Rating
May 12th, 2017
Thanks
Before I found Dr. Fowler I had vaginal discharge and odor that was affecting my personal life, at work as well as in the bedroom. I could smell myself and so could my co-workers and sex partner. I knew I needed to find someone who could help since it was several failed attempts at my regular OB-GYN. I found Dr. Fowler on google and was very thankful. Two months into Dr. Fowler regiment I was 100% better with no more odor or discharge and continue to be asymptomatic. Thanks so much Dr. Fowler!
5.0 Rating
May 5th, 2017
Dr. Fowler literally saved my life. After battling chronic vaginal infection for nearly a year, I developed unprovoked vulvodynia. I saw 9 specialists in my region and no one knew how to treat me except to numb my pain. I spent over $20,000 on both traditional and alternative medical treatment plans. I was unable to have intercourse for nearly 5 years. I was unable to wear pants or panties for 3 years. I needed to resign from my job because I was unable to function as the pain was a 10/10. I was hopeless and my vulva/vaginal pain was ruining my life.The first time I spoke with Dr. Fowler on the phone, he was patient, kind and encouraging. He even allowed me to pray with him. I scheduled my visit to AZ and started treatment immediately. My recovery was slow, and at times discouraging. Dr. Fowler kept encouraging me and said that for some women recovery is slow, to be patient, and to stay the course. After nearly 2 years of following his treatment plan, I am 95% better. I am so grateful to God for Dr. Fowler and the FGI staff! I'm now in a loving relationship able to have intercourse and reach orgasm without any pain. I never knew that sexual intimacy could be so pleasurable. Dr. Fowler has given me my life back in a manner that I never thought was possible. God bless you, Dr. Fowler! You are changing the lives of women worldwide! Ladies, call Dr. Fowler NOW, he will change your life too!
Nearby Doctors

Dr. R Fowler is similar to the following 3 Doctors near Paradise Valley, AZ.

Dr. William Gardella

Hospitalist, Family Medicine, Obstetrics and Gynecology

Scottsdale, AZ 1.73 mi