Rate Now
Share Your Experience
Have you seen Dr. Robert Orfaly?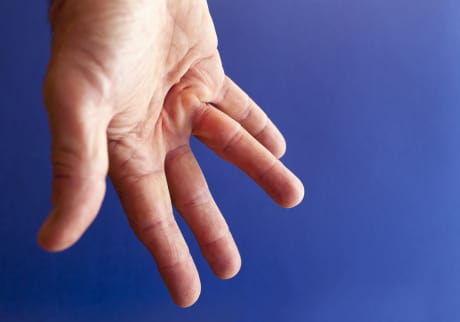 Dupuytren's Contracture
Dupuytren's contracture is a thickening of the tissue beneath the skin of the palm of your hand
27 Ratings with 15 Comments
1.0 Rating
August 16th, 2016
Avoid if possible.
I was taken to OHSU after being literally hit by a semi truck. He was very dismissive when I complained about pain in my arms.. Dr. Orfaly insisted that all of my pain after the collision was due to old age and arthritis and not to the collision so I couldn't get the proper treatment for my pain and I am suffering. Two other doctors tried to claim that some of my conditions and pain was caused by the collision. Since he was the primary doctor that 1st treated me, his decision overruled theirs. I will be returning to work with no restrictions and in a lot of pain.
1.0 Rating
October 10th, 2014
No good all I'm going to say is avoid this mean little man at all costs. There are much better doctors in Portland
1.0 Rating
April 5th, 2014
Worst Doctor Ever
Dr Orfaly refused to listen to anything I said and proceeded to tell me where I hurt rather than listen to what was really wrong. Did two minute exam and decided that the doctors I've been seeing for the last 18 months were all wrong and he was the only one that knew what he was talking about. Worst experience of my life. Ive never had a doctor tell me where and how bad I hurt. Couldn't answer my questions and smiled and enjoyed watching me get upset and frustrated to the point of tears. Doctors are supposed to help not make it worse.
5.0 Rating
September 17th, 2013
VERY PLEASED
I was very pleased with Dr. Orfaly! I had surgery on my shoulder and it has helped so much. I'm 3 months out and have another month of recovery but Dr. Orfaly is great. I only waited more than 10 minutes one time in all my visits. I was told he ran late in surgery and he was running 25 minute late. It was exactly 25 minutes when I was called in. He answered ALL my questions and I didn't feel I was talked down to at all. I would recommend him without question.
1.0 Rating
June 25th, 2013
frustrated
5.0 Rating
March 31st, 2013
Great experience
5.0 Rating
March 4th, 2013
good doctor
I can not vouch for Dr. Orfaly's surgical abilities, because I have seen him only for a consult. But I thought he was incredible, not only the best doctor I've seen in regards to the injury, but one of the best doctors I've seen in my life. He gave my arm a thorough examination which others failed to do. He didn't try to cut our appointment short even though he was behind the schedule. Dr. Orfaly appeared very knowledgeable and did not dismiss my injury as insignificant (it was 6 months after my elbow dislocation). But most importantly, he was able to persuade me to take a different approach to recovery, and through humor allowed me to see my lack of desirable improvement in a new light. It was a worthwhile visit - I left with a new-found optimism and a clear plan of action. I would recommend this doctor to others.
5.0 Rating
February 6th, 2013
highly recommend this doctor
Very thorough with questions and exam. Actually listened to my concerns and addressed them. I left the appointment feeling very confident in my doctor.
1.0 Rating
April 23rd, 2012
Avoid this doctor
1.0 Rating
March 14th, 2012
Forget this doctor!!
I had visited the Orthopedics office twice before and was treated very well by Dr. Adam Mirachi, but when I called this time, I was told that he was no longer at this the H&H building, and I would have to book with Dr. Orfaly. I did, and came early as instructed, so as to get an x-ray of my hand, but instead waited for an hour and 15 min. before walking out!! I had approached the indifferent and unwelcoming receptionist about the reason for the delay, and was told that there were no rooms available, and I would have to wait until one came open. After another 20 minutes, I left. If this is how Dr. Orfaly treats his patients, then I want nothing to do with the man, whether he is the head of Orthopedics at OHSU or not. I am sorry I did not read the other reviews prior to going in the first place.
1.0 Rating
June 29th, 2010
Useless Doctor
I was the first appt for the day. He stood outside the door talking about the kind of coffee with, I assume the receptionist for 20 min before he came in. He didn't listen to anything I had to say, didn't look into anything about me. Rushed through the appt. Then left aft about 3 min to his other appt came back was rude and short with me. Then left. I guess I just paid for him to chat with the girl in the hall. This is not a good doctor if you want someone that cares to find out what is going on with you and/or someone who will try to fix your problem. I WILL NEVER GO BACK TO HIM!