Rate Now
Share Your Experience
Have you seen Dr. Romath Waghmarae?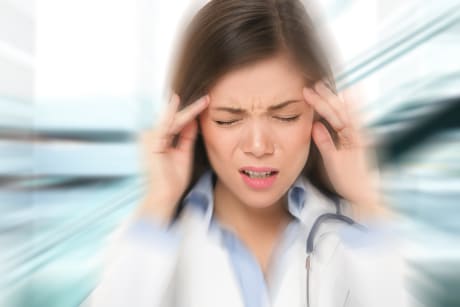 Migraine
Get the facts about migraine headaches, including the different types of migraine and migraine triggers.
38 Ratings with 15 Comments
5.0 Rating
July 15th, 2017
A real Pain Management Doctor
I have been with Dr. Waghmarae for over 10 years he has always treated me properly. Recently New York State has forced Dr Waghmarae to cut all his patients scripts in half forcing us patients with real world pain to have constant stomach upheavel and renewed pain issues. The abusers of narcotic pain relievers continue getting illegal street, and illegal prescription drugs, to help with their situation while those of us with real pain issues have their prescription strengths cut in half. Thanks New York State for failing to realize that their are real patients with real pain issues and making us pay for abusers!
5.0 Rating
February 22nd, 2017
Best Pain Management Dr. Romath Waghmarae
This Dr. I would highly recommended 5*****. He doesn't give up on trying to help his patients. He spends the time and listen to you and your needs. He works very hard and is gentle when giving injections. His staff are excellent and very helpful in many ways. The receptionist is a sweetheart very kind, caring and helpful with any questions, paperwork. The office is very clean with magazine to read and a television to watch. The bathroom is very clean and the offices are professional decorated and clean. Very nice place they all welcome you and understand your pain which helps a lot. They smile especially when they know a patient is hurting and they are understanding. Thank God for all of them.
1.0 Rating
December 26th, 2016
Would not recommend
1.0 Rating
November 26th, 2016
I have suffered pain for 10 years. Diagnosed fibro, arthritis and cfs. Whcen I overdo activity thr pasig reaches about a 8 or 9.
3.0 Rating
September 14th, 2016
mediocre
I was treated by Dr Wag for about 3 yrs. In beginning, I tho't he was wonderful. My pain was under control & I actually liked his nurses altho' the secretaries were abrasive. Then the insurance company started complaining to the Dr that my meds were too expensive. He gave me a DNA test to see what meds would work best with my body. He wanted to completely take me off my meds & prescribe a cheaper substitute. I wouldn't have refused a change in meds, but I can't bear my pain without any meds. He didn't seem to care that I had a baby at home without help during the day when husband's at work & other kids in school. I found a different Dr & asked for my file to take with me. I was shocked at what was written in my file. I will never again trust another Dr...I will always keep one eye on whats in my file, no matter HOW nice I think they are.
1.0 Rating
April 28th, 2016
slow as molasses going uphill
5.0 Rating
January 7th, 2016
5.0 Rating
May 2nd, 2015
Dr Wagmarae helped me get my life back
I have Chronic Pain, Neuropathy & Muscle Spasticity. My PCP was "uncomfortable" prescribing anything stronger than Tylenol w Codeine & my pain was getting worse after my insurance company stopped covering Physical Therapy. Out of desperation, I randomly chose Dr Wagmarae from my insurance plan. At my first appt he did a thorough History & Physical. He actually seemed interested in me & improving the quality of my life. Many Physician's have tunnel vision & quickly make judgements about women with chronic pain - that we're all just "depressed" &/or attention seeking, drug seeking - or just manipulative by nature. He seemed to understand that the pain was making me miserable, & not the other way around! And since there is no way to objectively measure pain, it is important for the pain management Dr to believe the patient's experience. He also didn't push for meds or therapy's that I didn't want, or that I had tried before with poor results. Dr Wagmarae is incredibly smart & well versed in ALL aspects of pain management. Over the course of about 3 - 4 months, my pain started to become well controlled - and after 6 very long years of suffering, without ANY Dr's giving a d@mn about me, I was finally able to get a liveable life back. The only "con" was the wait time. At first it was about 30mins, but after a year of seeing him, his wait times increased substantially to about 1 hr & a few times it was really bad, like 2hrs. I would much rather wait for a competent Dr, than to continually go through the hassle of trying to "find" one like him with shorter wait times, etc. Also Dr Wagmarae is obviously busy & at times, he is rushed - there were many times I forgot to ask/tell him something. I simply started writing it down. The ofc staff were great if I needed something taken care of urgently.
5.0 Rating
December 26th, 2014
patient review
2.3 Rating
April 18th, 2014
Like to Wait, Then be Rushed, Not enough time with Doc/PA?
Drove 2 hrs to be there 30 min early; waited 80 min to see exam room with nurse (didn't wear ID, no name)? Didn't see PA for another 40 min; Then 1 hr w/PA promised me ended up bout 20 min. Staff RUDE & Slow! ALL interrupt during important info. Have CRPT - PA told me Opiods don't help but countless links to treatment list opiods as one of meds used w/this disease? Want to put me on Ketamine and s/e of that scare me! Lyrica too. Cybalta and SSRI's almost turned me in psych patient already. What Are Doctors Doing to Us These Days?? I don't mind random UA or pill counting. But with 2 hr drive each way which I must make arrangements for (I can't do it) - I know I cannot always drive 2 hr each way Within 24 hrs to have pills counted. Unreasonable in my circumstance but staff didn't care less. Animals aren't allowed to suffer - why are humans? If docs won't help and no hope, I should have choice to be put down like horse or dog; but more concern for animals than humans. All the many suffering people cuz small % people abuse them. IT's WRONG! Pain has taken over my life & everything centers around it. I'm condemned to lay in bed or recliner, unable to function, isolated, taken care of by family (mid-age) WHAT am I supposed to do with rest of life? Pain so bad most of time I can't focus or function at all - even personal hygience almost impossible; Miserable life! Docs- Either really help us and tell the truth or just put permanently disabled people in agony out of our misery! W/O unreasonable hassles.
3.7 Rating
January 30th, 2014
Doctor was wonderful!! Very knowledgeable about my condition which is rare. Staff however was nowhere near as pleasant. I'm not sure what role "Dawn" plays in his office but she is very rude and actually YELLED at me over the phone. I spoke to Dr. about it at my next appointment and he said it would be taken care of so hopefully this was a one time thing. Despite this one unpleasant experience, I would gladly recommend him to friends and family (I already have)!