Rate Now
Share Your Experience
Have you seen Roseann Russo?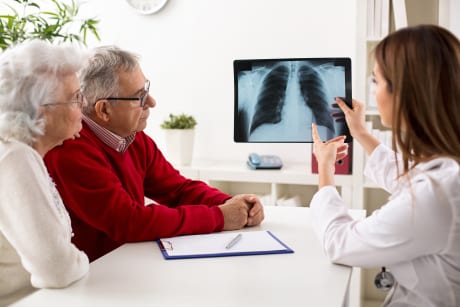 Lung Cancer
Get the facts about lung cancer, including how many people get it and what increases your risk for developing it.
Quality Rating
Highly Satisfied
27 Ratings with 7 Comments
1.0 Rating
November 8th, 2016
Bizarre Vetting System to Get an Appointment
I called Dr. Russo's office to secure a first-time appointment. I was told that I had to be "approved" to secure this appointment. It took two full weeks to get the "approval" so I could actually make the appointment. Does Dr. Russo use some kind of "filtering" system to research individuals before she deigns them acceptable to be one of her patients?????? I have never before encountered this in making an appointment with any other doctor. In the two weeks it took the office to get back to me to let me know I was "approved" and could then make an appointment with Dr. Russo, I had already secured an appointment with another doctor and had already been seen by this doctor - no preapproval necessary. How is this doctor deciding who she is willing to see? is she googling each individual to see if they have a criminal record? The situation is bizarre and I would steer clear of any doctor who uses a filtering system before she accepts you as a new patient.
4.0 Rating
September 28th, 2016
she is the best
5.0 Rating
April 14th, 2016
5.0 Rating
April 5th, 2014
The Best of the Best
Dr. Roseann M. Russo, Department of Medicine, North Shore Long Island Jewish Medical Group, is the Best of the Best. Dr. Russo is everything a doctor should be. She is articulate, compassionate, dedicated, and extremely knowledgeable in her field of pulmonology. Dr. Russo accepted me as a new last-minute patient at 5:00 pm., Her medical examination was from head to toe and lasted about 45 minutes to an hour. Dr. Russo told me that I had this new strain of flu. I felt so sick before I saw Dr. Russo. I was literally in my bed flat on my back for days. By the way, I work in the medical field and I knew that what I had was not good. I could hardly take more than 10 steps without feeling out of breath. I had the chills, I was coughing uncontrollably, a slight headache, a terrible case of laryngitis. It was an extreme effort for me to even speak. I don't think I ever felt as sick as I was. Dr. Russo carefully listened to my complaints and documented everything in my chart. She and her lovely, professional office staff performed the necessary tests for my care and treatment. Dr. Russo carefully explained the diagnosis and plan of care to my husband and me. What I especially admired about Dr. Russo is that she listened attentively to everything I had to say with regard to my past medical history and sensitivity to certain medications that I do not wish to take. What is wonderful about her, besides the fact that she is extremely thorough and really knows her stuff, is that she did not speak to me in a condescending way. She discussed the choices of medication that were helpful to her patients in the past. I was able to feel so comfortable with her as I am very selective as to what medications I would take. Dr. Russo called me personally the day after the office visit to see how I was feeling. She gave me all my test results over the telephone. I am looking forward to going to Dr. Russo for a follow-up visit. I certainly will express to her how she helped me to feel 100% better. I would highly recommend Dr. Russo to anyone who is looking for a competent, dedicated, knowledgeable physician.
5.0 Rating
September 1st, 2013
PATIENT
2.0 Rating
September 20th, 2011
great doctor, bad practice
i have been seeing dr. russo as my primary care physican for about 5 years and although i love her, i strongly dislike dealing with the staff in her o ...
5.0 Rating
December 3rd, 2009
Very Nice
Dr. Russo was very professional, detailed and through. She took the additional time to make sure I understood my ailment in detail. I would highly recommend her.
5.0 Rating
September 22nd, 2017
5.0 Rating
September 21st, 2017
5.0 Rating
September 21st, 2017
5.0 Rating
August 24th, 2017
1.0 Rating
August 8th, 2017