Rate Now
Share Your Experience
Have you seen Dr. Roselyn Dinsay?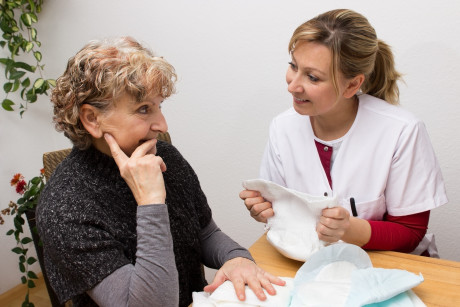 Urinary Incontinence
Learn about the symptoms and causes of urinary incontinence or urge incontinence.
87 Ratings with 46 Comments
1.0 Rating
July 26th, 2016
Don't go here!!!
Wow!?! I just read the reviews (not the good ones) and they have mirrored my experience with this doctor. I got there 15 minutes early and spent another 45+ minutes waiting to see the doctor. I was told that I would receive a phone call regarding my results. I took that as they would give me the results over the phone. Nope. I got a phone call saying that I have to schedule an appointment to get my results in person. I couldn't receive them over the phone because of "HIPPA." It sounded sketchy so I decided to call my insurance company. They called the office and the insurance was told it was the doctors policy. Not 5 minutes later, I got a call from the doctors office asking for my email to send the results. Still haven't received them, but based on the previous reviews, doubt I'll believe what I read anyways.
1.0 Rating
May 14th, 2016
1.0 Rating
December 16th, 2015
VERY UNPROFESSIONAL & RUDe
I never got to see Dr. Dinsay. Someone else did my papsmear and annual check, without even telling me in advance or explaining why someone else was doing it. After I wanted my results from their office. Dr. Dinsay got on the phone with me and said there were anomalies,she couldn't go over this on the phone. I said I didn't want to drive an hour back to her office and wanted my results. She started yelling at me and being beyond RUDE and UNPROFESSIONAL. I have NEVER experience this with a dr. She acted like a collections agent. I am extremely shocked with her behavior.
1.0 Rating
April 15th, 2015
1.0 Rating
October 5th, 2014
patient
VThat staff is great very caring and compassionate never went to a Dr office were the staff was belittle so bad I seen the staff eyes watery red but managed to continued to work after the Doctor made me wait so long the staffing new my history more than the Dr. I've never seen a office go through so many people I had to leave and change doctors I know she knows who I am I left after an IUI was not successful. If Dr Dinsay wants to be successful learn more about your patients.
5.0 Rating
March 31st, 2014
Loving and Understanding Dr and Clean Clinic.. Affordable!!!
I visited Dr Dinsay in October. After many highly priced and unfriendly Fertility Clinics and 3 years of me and my husband trying to get pregnant, we finally found a place that was such an uplifting positive and hopeful experience!! Other fertility clinics treated us as a way of supporting their business by immediately highly recommending us to do the most expensive treatment... IVF treatment... After Dr. Dinsay reviewed my medical records and my husbands she told us that we are far from that step and that she felt highly confident that we could get pregnant doing the IUI procedure for a more affordable rate... She literally saved us 15k. What was really amazing was that she met us where we were emotionally.. She understood what we have been going through the past 3 years and was very sensitive to that. When we left our first consultation we knew for sure we finally met a dr that cares, and that would walk along side us step by step in this new season in our lives. The staff was super friendly and always were patient and answered all of the questions we had in person and on email. Clinic itself was super clean and just the atmosphere was always positive. I would recommend this to any woman or man or couple out there that is searching for a place that is clean, positive and for a dr that truly cares!!! The entire staff including the CEO really cares for their patients and to top off the experience they were able to work out payments for the procedures.. I was allowed to break down payments however I liked and whatever was comfortable for me and my husband with out them constantly micromanaging or follow up calls to make payments. They told me from the beginning not to worry about the finances so much because there were options and they would do whatever it takes to help us get pregnant.. And they did after 2 rounds of IUI we are 7 weeks Preggo!!!! Definitely would highly recommend!!!
1.0 Rating
November 22nd, 2013
STAY AWAY
If I could give this psycho Dr a negative review, I would! Stay away from her. Money hungry, misdiagnoses, rude to her staff in front of me! That really turned me off. Tells me to take medication with out telling me why. Trust me dont waste your time, go anywhere else but here. I have no idea how this Dr received her MD but she's a joke!
5.0 Rating
September 24th, 2013
Great Doctor
1.0 Rating
September 10th, 2013
money hungry doctor
Where do I start. I'm perplexed that this doctor has decent reviews on this site. All other sites show 2 stars or less. Wish I had seen that before I went to her. This doctor is completely money focused. Zero bedside manner. Was pushing IVF on every single visit even though I had a baby successfully with IUI through a different doctor. I knew the procedure and I felt like I was telling her what I needed. I only completed one IUI cycle with her and they were still billing insurance 10 months later. I quickly got out of there, went to another doctor and quickly got pregnant with IUI. Avoid her at all costs!! Even when she did IUI, she makes you drink like 64 oz +of H2O. Your bladder is bursting during procedure and you have to hold it. No other doctor that has done an IUI on me has ever done that. In fact, they ask that you empty your bladder. She's Horrible!!! She fired her front end staff to try to improve her ratings. They were incompetent too, but she's just as bad.
1.0 Rating
August 27th, 2013
Anywhere is better than here
The staff is very rude and both times I went to the office I had to call out for someone to give me assistance. I felt like an inconvenience. Dr. Dinsay was no exception; she used medical terminology that I didn't understand when seemed annoyed when I would asked for clarification. Honestly, I have never been so put off by a doctor. It's common courtesy that you don't drop a heavy diagnosis on someone, then kick them out of your office three minutes later. Awful. Awful. Anywhere is better than here.
1.0 Rating
June 4th, 2013
Money Motivated Doctor
Overall, the experience with this doctor was very negative. She was adamant about pushing IVF even though I had previously had a child with an IUI on the first try. The wait was a minimum of 30 mins. The staff was inexperienced and the nurse pricked me two times in order to draw blood. I have pcos, so obviously an hcg trigger shot is required to drop the egg. She failed to prescribe on time even though I constantly reminded her. I completed the IUI without it...as if I ovulate on my own...$1400 wasted. I feel sorry for newbies who go to her and don't know the process. She charges $400 for initial consult and another $400 for IUI and charged insurance as well. I knew she was not good from the beginning when she said that since I was 44, IVF was the only way. I said, no, I'm 34 and she said well its probably still the best solution. Trying to get her to transfer your medical history to a new doctor, expect to pay again...and expect it to take a month unless you call them constantly. Avoid at all costs!!!
5.0 Rating
March 19th, 2013
I have been working with this doctor for a few weeks and I'm thrilled with the process. I sought other doctors and quotes and Dr. Dinsey was the only doctor that didn't "push" me into anything. I was able to move at my own pace and decide what was best for me and my family. I went for a consulation with another doctor and by the end of the consultation he was pushing me into procedures I was not comfortable with. The Dr. Dinsy's staff has been great since the beginning and do their best to work around my employment schedule. All my calls have been returned within 24hrs and they are always willing to answer any questions or concerns I have. Its only been a few weeks but so far so good. I'm looking forward and feel extremley comfortable with Dr. Dinsey and her staff.
Nearby Doctors

Dr. Roselyn Dinsay is similar to the following 3 Doctors near Corona, CA.