Rate Now
Share Your Experience
Have you seen Dr. Roz Nanda?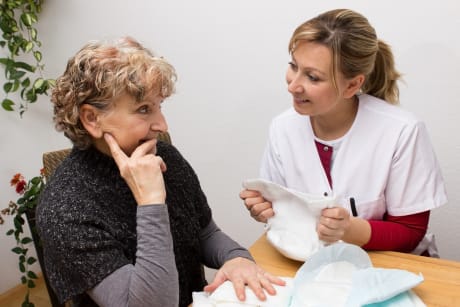 Urinary Incontinence
Learn about the symptoms and causes of urinary incontinence or urge incontinence.
36 Ratings with 15 Comments
5.0 Rating
February 19th, 2017
A Doctor we really care about her patients and their well being would trade for no other.
5.0 Rating
May 1st, 2016
I absolutely Love Dr.Nanda I have never had a horrible experience ever! She has been very kind and very patient. It irritates me that people made a bad review about her. This job is her life and she cares for everyone. She has been my obgyn for my two sons and now my daughter. I wouldn't want anyone else but her. She is amazing and deserves more credit than people are giving. I would definantly use her as my obgyn if you are looking for one.
3.0 Rating
March 25th, 2016
I have read the terrible reviews about dr. Nanda and all I can say is that I have had a completely opposite experience.i agree that the office is ridiculously busy and runs behind. I have learned to book the first appointment of the day and still be prepared to wait because her expertise is worth it to me. Dr. Nanda has cared for me since I was pregnant with my now 17 year old son. I was having marriage problems and she made sure u had counseling and spent extra time with me. She has never steered me wrong and when I question her opinion I do my own research and suggest something else. I do wish I could spend more time during my visit but I understand how busy she is. I hope she reads the comments and does her best to listen. Dr. Nanda has my respect and always will.
1.0 Rating
February 26th, 2015
warning
She is an awful person period.. told me if we lose our baby it was out of our hands. If I could give her no stars I would but that wasn't an option.. she also prescribed zofran for nasua which isn't even FDA approved for the use of pregnant women, only for the use in chemotherapy for cancer.. Don't trust her & do your research.
1.0 Rating
January 30th, 2015
premature delivery with c-section
She made me deliver one week earlier of my regular due date for my first pregnancy because she wanted to do a c-section to make more money. They said the baby is too big but he was just the average in everything. I was being forced to deliver early by the nurses who had specific instructions and she just came for a few minutes in the middle of everything and never came back after delivery too. I will never forgive her. I really believe this woman and Noelle Niemand should be in prison!
5.0 Rating
October 10th, 2012
Cannot believe the negative reviews!
I am shocked at the negative reviews. Dr. Nanda was my doctor since my first pregnancy in 1998. She is helpful, respectful, and an amazingly capable doctor. She guided me safely through 4 pregnancies, one of which became very precarious when I developed a rare blood disorder. She returned calls day or night, and I fully trust her care. I have sadly moved too far to have her as my OB anymore, and I miss her skills! Wish she could travel here to oversee my fifth pregnancy. Fantastic doctor and wonderful person.
2.3 Rating
July 17th, 2012
Never Again!
This experience was the pits!I took off work to wait not a few minutes but close to an hour. She was not pleasant and seemed to be put off with the questions I had for her. The Receptionist/Front Desk lady was an absolute nightmare, you could tell that she was very comfortable in her position and did not have any compassion towards any of the patients...her attitude towards everyone I saw that walked in was 'NEXT'. I do not approve of this office at all!!
1.0 Rating
September 21st, 2011
racist doctor
1.0 Rating
April 10th, 2011
Worst Dr in town
5.0 Rating
December 29th, 2010
Mommy of two
1.0 Rating
December 14th, 2010
never again
i will never again use this obgyn.. after waiting over a week to find out bloodwork results and calling almost every day, i found out she had them for four days and never called me.. i was told it was because i didn't go in for the ultrasounds she ordered.. but she never gave me any paperwork or told me that i was to go to the radiology dept. following my appt. so i was unaware of this.. so instead of calling me, she just waited until i got ahold of her.. i then went back in to get the necessary ultrasounds and was told they would be read that same day.. it has now been one week and i still have not heard anything back after repeated phone calls.. her bedside manner while i was in the office was rude and when i began bleeding after the pap she handed me a box of tissues and said i should clean myself up, and walked out.. never said another word to me after that..
1.0 Rating
November 13th, 2010
Dr. Nanda roz is the worst you can get. She spends with my wife no more than 1-2 minutes when we go there. My wife can not evey ask questions because Dr. Roz raps the meeting so fast and so rude that we can do anything. We are so upset with what we got there, but we are stuck becuase of the insurance.