Rate Now
Share Your Experience
Have you seen Dr. Russell Clayton?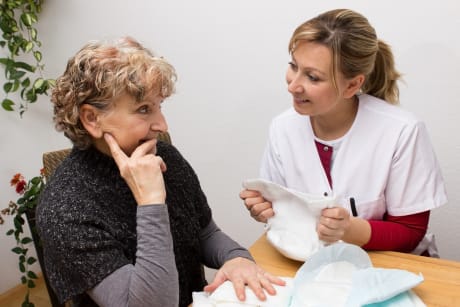 Urinary Incontinence
Learn about the symptoms and causes of urinary incontinence or urge incontinence.
19 Ratings with 10 Comments
3.0 Rating
May 23rd, 2017
1.0 Rating
October 1st, 2016
Horrible
I went for an appointment with Dr. Clayton because my wedding was less than 1 month away, and my period was behaving erratically. I wanted to make sure that I won't get my period on my wedding day, and one way to do that is to take a birth control pill and skip the placebo week. I explained to him that I wanted the progesterone-only pill because taking combined-hormone birth control pills has caused me to have pain with intercourse in the past. I wasn't making this up - it was diagnosed by a pelvic spain specialist at UCLA before I had Kaiser. Dr. Clayton told me he doesn't know of any link between combined-hormone birth control pills and pain. He also said that the progesterone-only pill isn't as effective at preventing pregnancy. I tried to explain to him that I'm getting married, and it's ok if I get pregnant (only a 5% chance with this pill). He still refused. Basically I was choosing the type of birth control I wanted to take, there was no medical risk associated with my choice, and he refused. After 30 minutes of arguing with him (and keep in mind, I have a Masters degree in Biochemistry - I was using every scientifically valid reason I had), I finally had to give up. I ended up scheduling an appointment with another doctor and she prescribed me the progesterone-only pill immediately. Thankfully, it was just in time to stop my period before my wedding. I would never recommend Dr. Clayton to anyone.
1.0 Rating
July 21st, 2016
Not to happy
He always rushes me out of my appointment he just puts hand on my stomach and uses the heart monitor and says go to his office and schueldes nst for me and I told him I have s rash and he says I don't see a rash your fine and it's fine if you feel pressure . He is not someone I recommend ever! Worst experience I have gave him chance after chance. He didn't even look at my nst results when in nst they said he heart rate dropped a little bit. He is not someone I trust
1.0 Rating
June 23rd, 2016
Very Rude, Rushed my Appointment
1.0 Rating
August 28th, 2015
Worse Dr. I ever met!!!!
Previous to seeing this Dr. (If you can call it so) I decided to go online and do a little more research about him and his previous history you know the common things as of being a good Dr. , the way he treats patients, helpfulness, etc... what I found was actually a surprise for me because with the experience I saw he has and the kind of raiting people gave him diesnt make sense at all.. I was told that Kaiser was number one at everything (customer service, Dr's, nurses, etc) but to be hinest with the experience I had I dont see it that way... First after seeing the reviews about this Dr. I was a little reluctant on keeping my appointment with him, so I decided to talk to my husband and he told me just to give it a try and see how my first experience was, right there and then I could tell how full if himself he was just by looking at him then I got out of there not so happy at all, also during my second visit He got pretty upset at me for telling him that I didnt want to re secheduke my appointment for next day cause I needed to go to work and I couldnt be missing days at work just cause he decided to reschedule me for whatever proceedure I needed to get done. Besides him getting mad all the staff noticed he was mad and it was embarrassing, Im a nice person but just dont mess with me cause you are going to know me better.. But at the end i decided not to argue with him cause i wasnt in the mood but im for sure writing this review so other people avoid him at all costs. Having a healthy pregnancy is very important and I think this Dr didnt do the necessary in irder for me to keep my baby he kept on sending me back home and now as result of that I ended up loosing my baby just cause he was too busy with other patients and gave me ways around it. Thanks alot as*****!!!! Dont recommend him!! Dont waiste your time neither his. Totally not worth it!!!!
1.0 Rating
March 17th, 2015
5.0 Rating
October 27th, 2014
Excellent doctor
Dr Clayton is a respectful, down to earth, brilliant doctor. He fields every question respectfully and helped me to relax and understand both my pregnancies. He's kind and considerate while also able to be honest if you need real straight talk about anything you should be doing differently. I've moved away and will always regret having to leave him as my doctor. He's a real asset to KP.
5.0 Rating
November 5th, 2013
GREAT DOCTOR AND VERY NICE PERSON
1.0 Rating
June 15th, 2013
5.0 Rating
February 20th, 2013
Great Dr.
5.0 Rating
September 11th, 2017
3.0 Rating
May 23rd, 2017