Rate Now
Share Your Experience
Have you seen Dr. Russell Meldrum?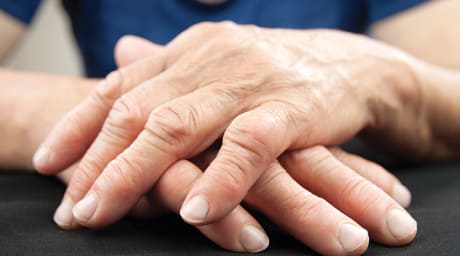 Osteoarthritis
Get the facts about osteoarthritis, including the symptoms and doctors who treat it.
32 Ratings with 14 Comments
1.0 Rating
October 10th, 2015
Meldrum is a jerk who lacks proper etiquette and diagnostic skills
Meldrum is the worst. He didn't even spend 5 minutes with me after I spent over an hour waiting on him. Meldrum dismissed my hip issues. I had an MRI done on my hip after a car wreck injured it months ago. The radiology report said I have an Ischiofemoral impingement. Dr. Meldrum said that the radiologist is wrong and that the stated impingement doesn't exist and that my hip pain is probably due to me being born breach. When I told him my mother had a c-section he couldn't even give me answers and started rushing me out; he hardly spoke to me. He told me to go back to my primary Doctor. So I did. I told my doc what happened and everything that Meldrum told me and I asked him if there was a way to get an MRI Arthrogram (a procedure where they shoot contrast into the joint to get a better look at the issues) done on my hip because there has to be an explanation to why I'm having so much pain. Well my doc agreed with me and said that Meldrum shouldn't have dismissed me like that and telling me that my impingement doesn't exist when it clearly does. I had my MRI Arthrogram this week which was read by a different radiologist than the first MRI (no contrast) and not only did it prove that the Ischiofemoral impingement exists it also shows that I have a torn labrum with degeneration. It's been 7 months since my car wreck and I've been in this pain ever since then. If this guy hadn't blown me off my hip would have been fixed by now and there probably wouldn't be any degeneration. I have to wait another month for the VA hospital to get me in to speak to a different surgeon because I made it absolutely clear that I don't want this lazy, arrogant man touching me. It speaks volumes, that my service in the Marine corps means nothing to this man who is supposed to be helping veterans not causing more harm. The fact this man is still employed is far beyond a miracle. I'm surely going to file a formal complaint with his superiors. The sad thing is that this guy is apparently the only one who does the arthroscopic surgeries at the VA hospital, labrum tears are 99% of the time fixed with arthroscopic surgery; but this jerk put it in his notes that I'm not a candidate for scope procedure! He acted like I was wasting his time and he was too busy telling me there isn't anything wrong with me and that radiologists make stuff up. At this point I'm considering an open procedure just so I don't have to tell this guy how I feel to his face (I have aspergers autism. I can't filter things that come out of my mouth, I say what I feel no matter how brutally honest it may be); and I'll get a cool scar out of it. I'm severely disappointed in the lack of care I received from this medical monstrosity. One should expect to receive the best care for this nations veterans; but Meldrum does work at the VA hospital. They take pride in putting vets on waiting lists, falsifying medical records, practically giving our personal health information to hackers, and not to mention withholding care in hopes that we die first before having to spend the money to fix something/someone they already broke to begin with. My primary care doctor is the only faith I have in the VA hospital because he listens to me and cares about my health; not many who work for the government care about veterans anymore. Especially not Meldrum. I'm a 30 yr old female but I'm also a Marine Corps Veteran, Ordained Minister, Volunteer, Animal Trainer, AKC CGC Evaluator, Pharmacy Technician, Wife, Pet Lover, Student, & Teacher. This man calls himself a doctor but he has made me live in this pain for three months longer than I should have. He has caused suffering, and loss of several potential jobs. If he had even made an effort to show compassion and a sense of caring he wouldn't be getting low marks on this website; but he made his choices and now he must deal with them.
1.0 Rating
May 19th, 2015
Dr. Russell Meldrum is a poor doctor at best.
5.0 Rating
February 12th, 2015
Exceptional Surgeon
I highly recommend Dr. Russell Meldrum. Seven years ago I needed hip replacements. I had a complicated case and I couldn't find a surgeon willing to attempt the surgeries. I was referred to Dr. Meldrum who took my case enthusiastically. He presented the options and explained the risks clearly. The replacements and a follow-up surgery were complete successes. I have been pain free for six years and am doing things I wasn't able to do for decades, including hiking, swimming, kayaking. His manner is friendly and professional. Post-op questions that occurred the months following the surgeries were answered almost immediately. Dr. Meldrum is a gifted surgeon and I could not be more pleased with the care he gave me.
1.0 Rating
February 9th, 2015
5.0 Rating
February 8th, 2015
Bi lateral hip replacement
5.0 Rating
February 8th, 2015
5.0 Rating
February 8th, 2015
outstanding doctor
I became a patient of Dr. Meldrum in 2001 after I fell and broke my femur in half. Because of my pre-existing condition there were complications during my surgery. After my operation Dr. Meldrum made sure I was taken care of checking on me frequently and personally addressing issues with the nurses of their mistakes and oversights. I was under workman's comp. at the time. Dr. Meldrum was not a workman's comp. doctor so the insurance company sent me to another doctor that they had a contract with. The doctor they sent me to admitted he couldn't handle my medical case. He thought Dr. Meldrum was more suitable to handle my case so he sent me back to see Dr. Meldrum. I have severe scoliosis that creates complications and challenges for doctors to treat me. Dr. Meldrum never turned away from these challenges. He always gave me the best care. When he sees a procedure that isn't in my best interest he ALWAYS takes the time to explain the probability of the risk versus the success. He guides me in my decisions keeping in mind the complications that may occur and compromise my life. Dr. Meldrum is one of my most trusted doctors. I trust his advice, recommendations, and opinion.
5.0 Rating
February 8th, 2015
Grateful 4 Knee
5.0 Rating
February 7th, 2015
5.0 Rating
February 7th, 2015
Exceptional Doctor
Dr Meldrum did bi lateral knee replacement in 2004, After rehab he had to revise one because my leg was broken, the other had infection and he did surgery on it to clean it out. In 2008 he revised the knee that had the infection because it simply wore out. If I had to do all of this again, I would have Dr Meldrum do it. He was the most professional, nice, and caring Doctor I have been to. He spent all of the time that I needed in each visit to talk and suggested things that could help me further. I have felt better since the surgery than I did before, because of him.
5.0 Rating
February 7th, 2015
5.0 Rating
February 6th, 2015
Dr meld rum was the only doctor that would replace both of my knees. All other doctors said get a wheelchair and wait until you are older. He save my life and gave me a chance to walk again. I was only 50 at the time. He also care about each patient. I only wish he was in private practice again. All star doc to me. I would not trust any other.